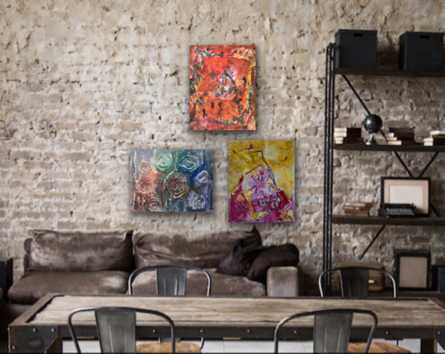 In Situ - Living Room/Dining area
From top, left to right….Mashach, Rainbow Covenant, and Lev Tahor. The artworks are 16x20'; traditional canvases.
Mashach means to anoint with oil or smear with paint. Psalm 23:5 "You prepare a table before me in the presence of my enemies. You anoint my head with oil, my cup overflows."
Rainbow Covenant..I have set my rainbow in the clouds and it will be a sign of the covenant between me and the earth. Genesis 9:13
Lev Tahor (A Pure Heart)…Create for me a pure heart O God and renew a right spirit within me. Psalm 55:10
In Situ - The Baby's Room
Here is displayed three artworks. From top to bottom, Awakening, Love Hope Peace, and Resplendence (12x12 traditional canvases) Two are taken already (Awakening and Resplendence).
Awakening: Psalm 57:8 "Wake up, my heart, wake up, O lyre and harp! I will wake the dawn with my song."
Love Hope Peace: Proverbs 16:7 "When the Lord takes pleasure in anyone's way, He causes their enemies to make peace with them."
Resplendence: Habakkuk 2:14 "For the earth will be filled with the knowledge of the glory of the Lord as the waters cover the sea."