Abiding
Mixed Media Encaustic. Traditional 16x20 canvas. Given as a gift to my folks for their 50th Wedding Anniversary.
"If you abide in My Word, then you are truly disciples of mine." John 8:31.
Abiding comes from the Old English abidan, gebiden meaning "to remain, wait, delay, remain behind." The Greek word for abide is translated abide, remain, dwell, continue, tarry, endure. It means to continue to be present, to be held or kept, to last and not to perish, to endure, to survive and live in a condition of waiting [Strong's 3306].
Materials and other elements: Almost all the florals used come from my folks vow renewal event in 2006. Other elements included encaustic gesso, crayon wax, and metal embellishments.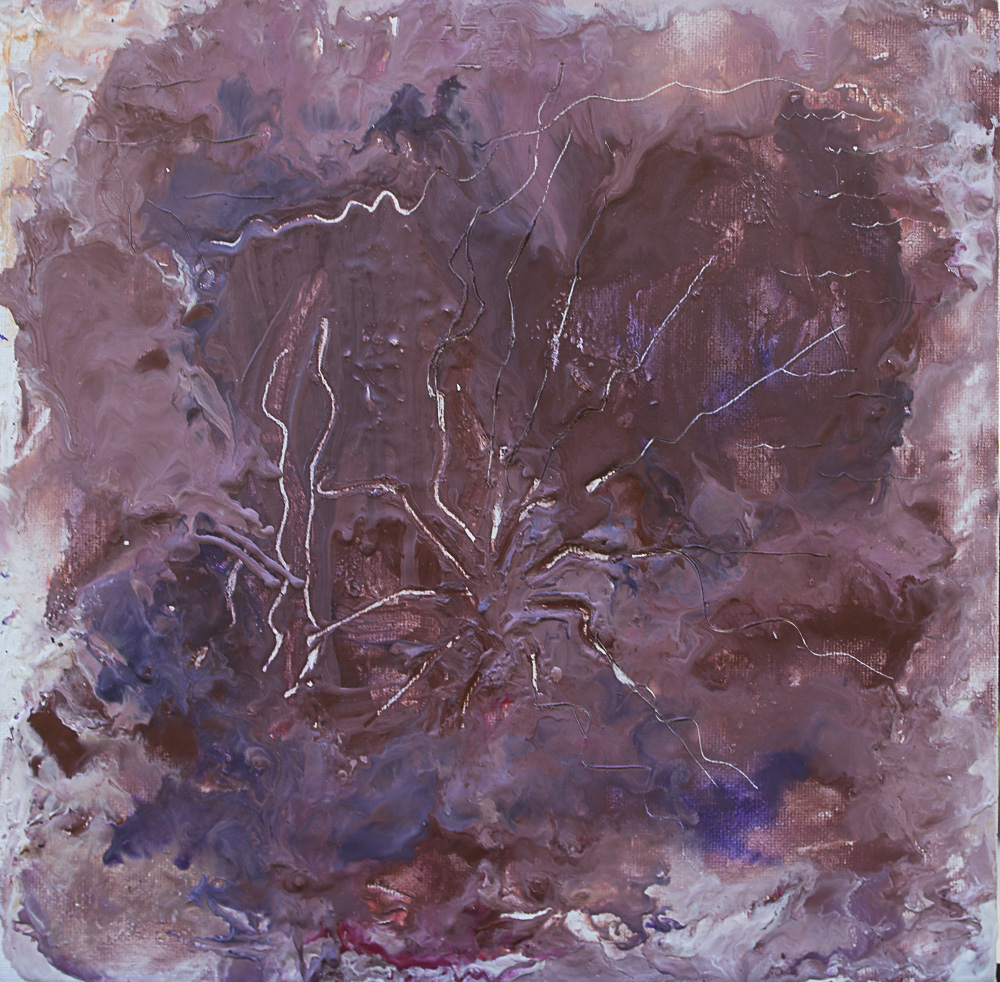 Adam
This is an encaustic piece. 12x12 Canvas Panel. Encaustic means two things…using some kind of wax, usually beeswax, but can also be crayon wax and it means to create using heat. Using a sharp object I made a few scratches into it while it was a little soft. In the end it made me think of sand dollars on the beach. I named it Adam as in the story man and woman was made from the earth. My favorite verse for this one is 1 Corinthians 15:45 "And so it is written, 'The first man Adam was made a living soul; the last Adam (was made) a quickening spirit." The second Adam, of course, refers to Jesus.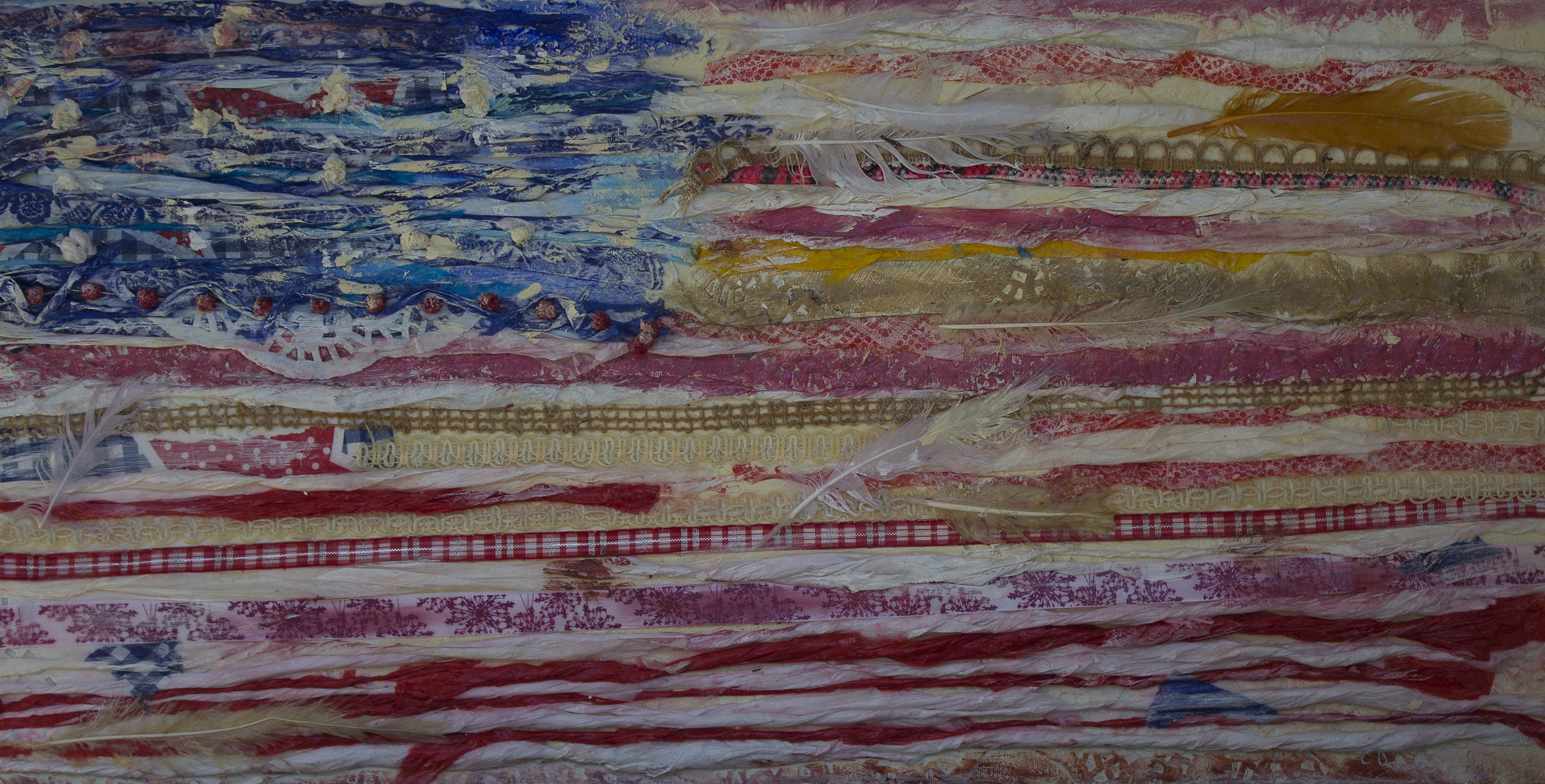 A Nation's Hope
12x24 traditional canvas, mixed media collage (Sold)
Psalm 33:12-22 "Blessed is the nation whose God is the Lord, the people he chose for his inheritance. From heaven the Lord looks down and sees all mankind; from his dwelling place he watches all who live on earth - he who forms the hearts of all, who considers everything they do. No king is saved by the size of his army; no warrior escapes by his great strength. A horse is a vain hope for deliverance; despite all its strength, it cannot save. But the eyes of the Lord are on those who fear him, on those whose hope is in his unfailing love, to deliver them from death and keep them alive in famine. We wait in hope for the Lord; he is our help and our shield. In him our hearts rejoice, for we trust in his holy name.May your unfailing love be with us Lord, even as we put our hope in you."
Alah
20x20 Traditional Canvas, Mixed media encaustic, Alah is Hebrew for leaf, also meaning to go up, ascend, climb or approach according to Strong's concordance. Genesis 3:7 says "Then the eyes of both of them were opened, and they knew they were naked, and they sewed fig leaves together and made for themselves loin coverings." It was a sermon I heard which inspired this artwork. The idea was that like the way Adam and Eve tried to "cover up" the issue with leaves, we use our own set of means or methods (leaves) to fix our problems instead of just coming to God. Our own way is inadequate. But the promise given to our first parents extends to us if we will just act on it. That promise of a Savior which is Jesus Christ.
I love autumn actually with its falling leaves and in so many colors. A nice reminder of the beginning of things and promises.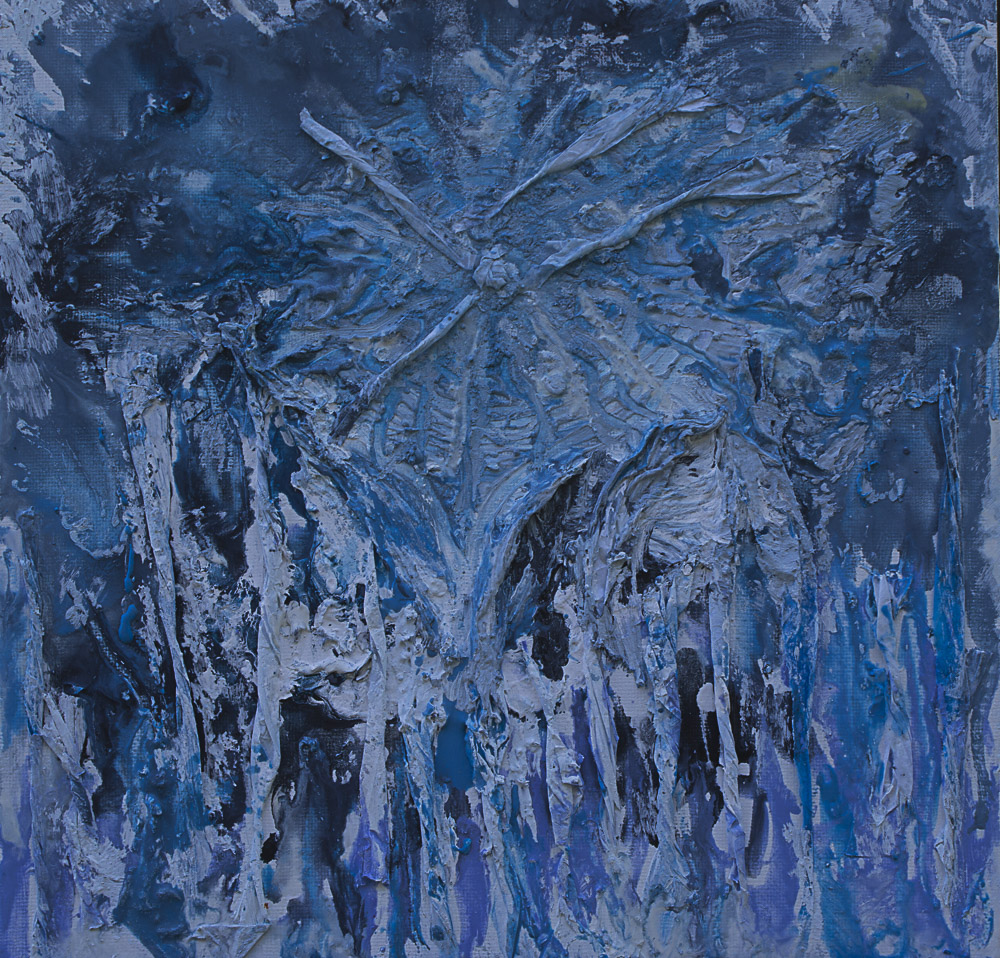 Alien
12x12 Canvas Panel, Mixed media encaustic
Alien depicts the outcast state of the Christian in the world. A sojourner passing through. In John 17:16 Christ says, "They are not of the world, even as I am not of the world." While this piece seems at first to be gloomy, it is actually a message of hope for the believer. The term alien gets used a lot these days to describe any number of groups of people. The scriptures also say that a servant is not above his master. The student not above the teacher. It is a message of hope in the sense to say that our path is par for the course. It is expected; it is normal. Though, it will not be forever.
Materials included blue tissue wrap, encaustic gesso, and crayola crayon wax.
Altogether Beautiful
16x20 Traditional Canvas, Mixed Media Collage
Song of Songs 4:7 "You are altogether beautiful, my darling, beautiful in every way." A comment on womanhood and more.
Others have described it as having an almost Victorian vibe with a hint of steampunk. I think another translation of Song of Songs says "there is no flaw in you…" Perhaps the flaws in ourselves and in our art is part of the beauty?
Materials include scrapbook paper backgrounds, charms, ribbons and other fibers.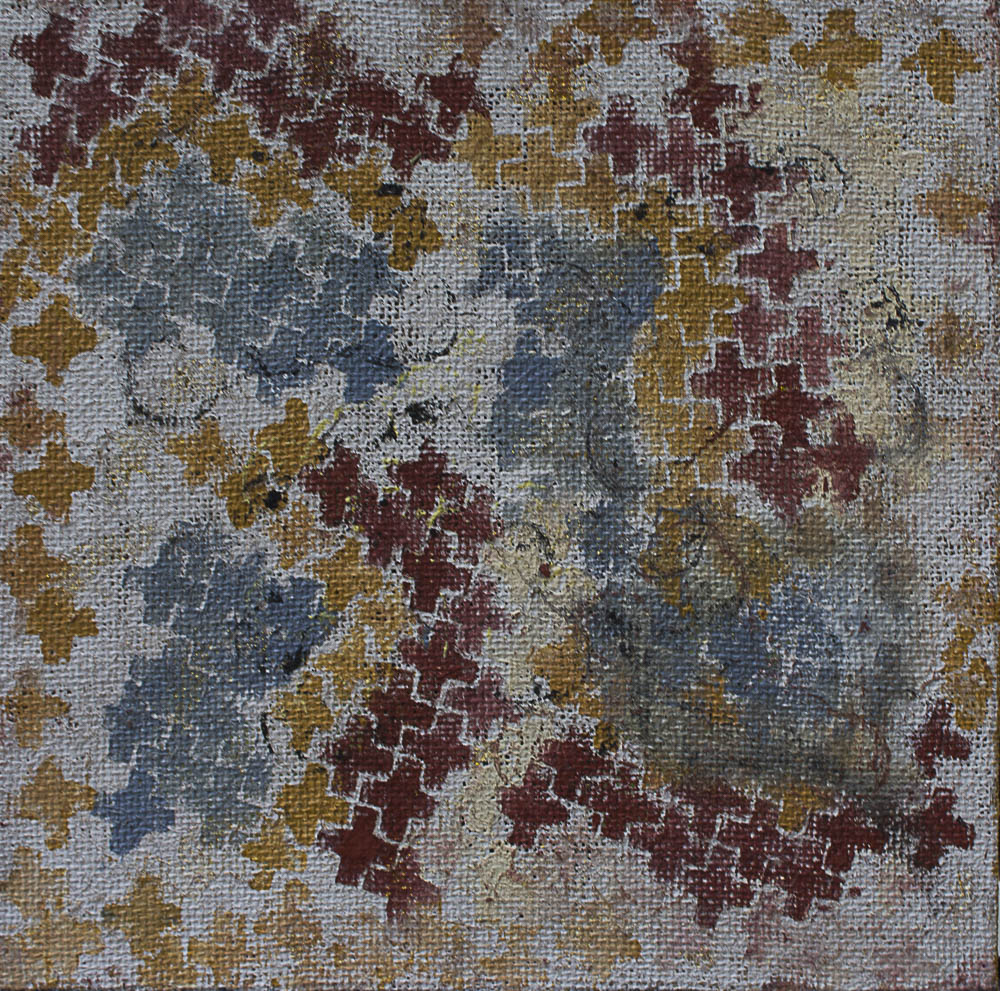 At Play
12x12 Burlap Canvas, Traditional. Mixed media acrylic and oil pigment.
"This is what the Lord of the Heavenly Armies says: 'There will be old men and old women sitting in the parks of Jerusalem, each of them holding canes in their hands due to their old age! The city parks will be filled with boys and girls. They will play in the city's open parks." Zechariah 8:4-5.
As an abstract, I tried to give a sense of something part of childhood and that was playing with jacks. The design over the canvas I think implies the lands and sea of the world.
Materials included were a TCW stencil with a combination of acrylic paints and pigment oil sticks by R&F.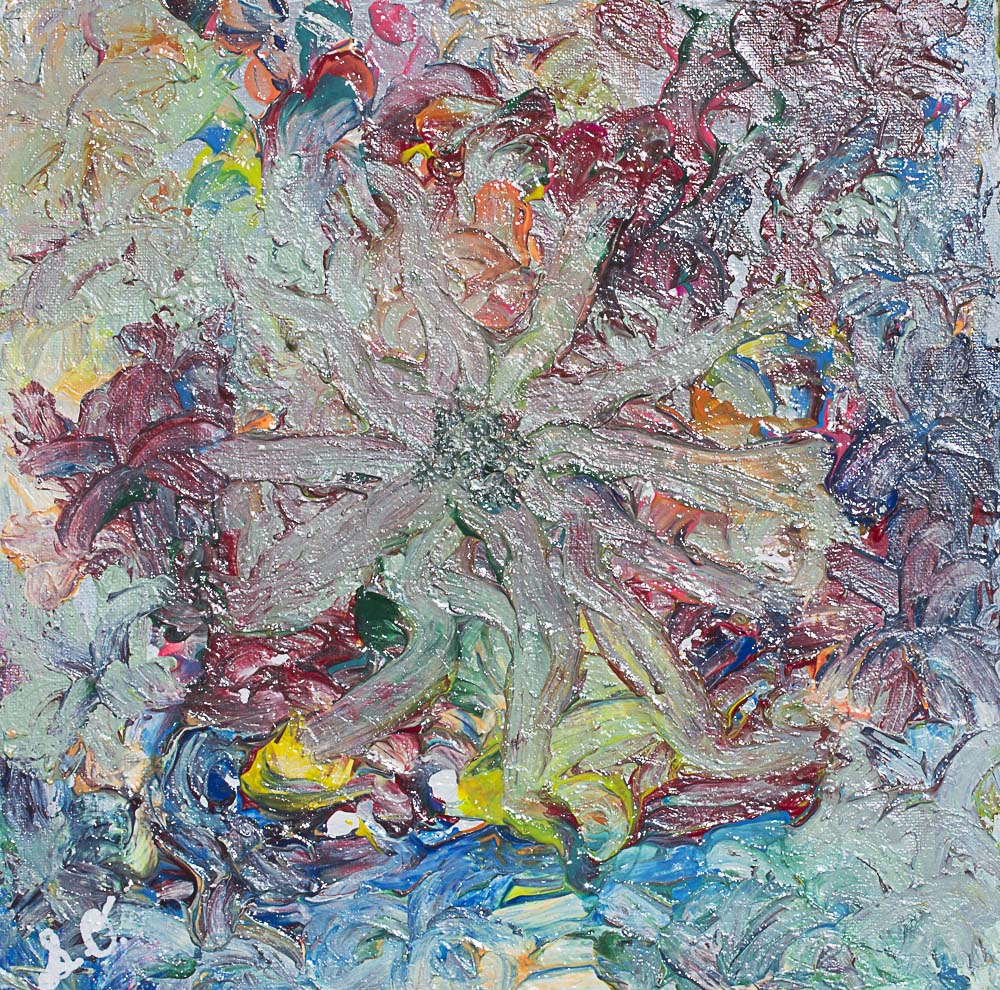 Awakening
12x12 Traditional Cotton Canvas, Mixed media acrylic
"Wake up, my heart! Wake up, O lyre and harp! I will wake the dawn with my song." Psalm 57:8
Whether in the sea below or in the sea of space, creation awakes in worship.
Materials include acrylic and fabric paints applied through fingerpainting.
This piece is sold.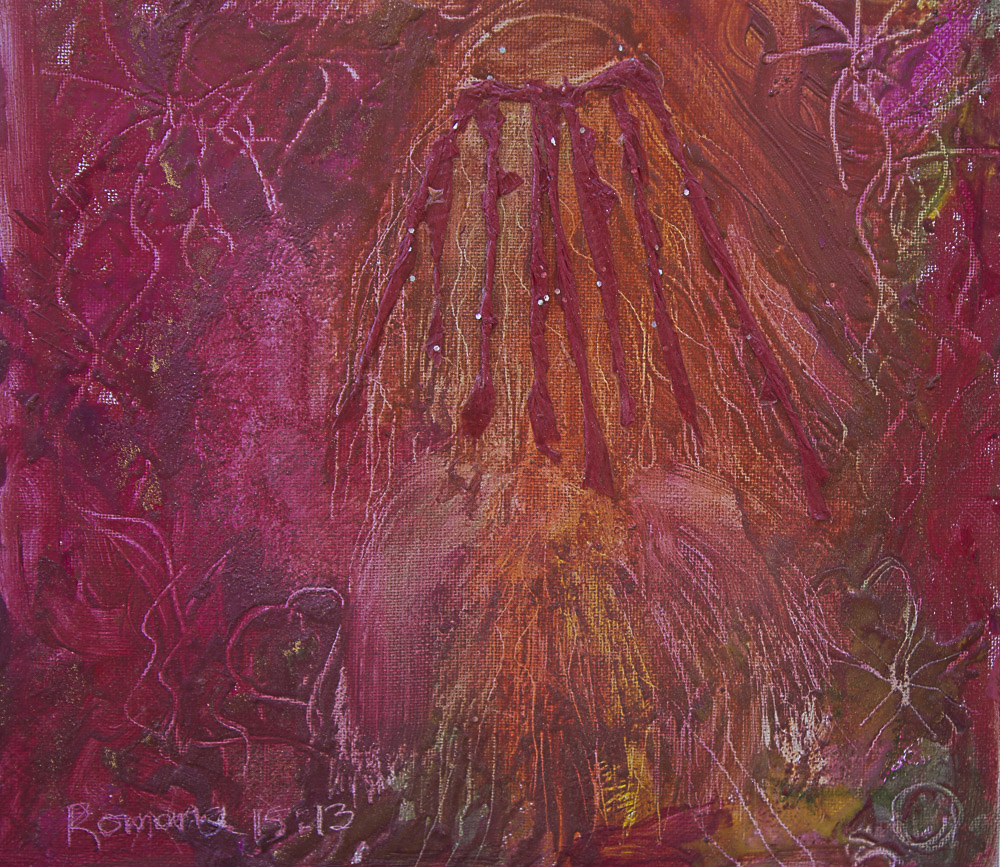 Believe
12x12 Canvas Panel, Mixedmedia Encaustic
"Now may the God of hope fill you with all joy and peace as you believe in Him, so that you may overflow with hope by the power of the Holy Spirit." Romans 15:13.
I have been told people see hands brought up in the form of prayer. I think I see that now. Perhaps I will leave it that way. Abstracts are so neat like that.
Materials include crayon wax and tissue wrap. Etchings made with an exacto knife.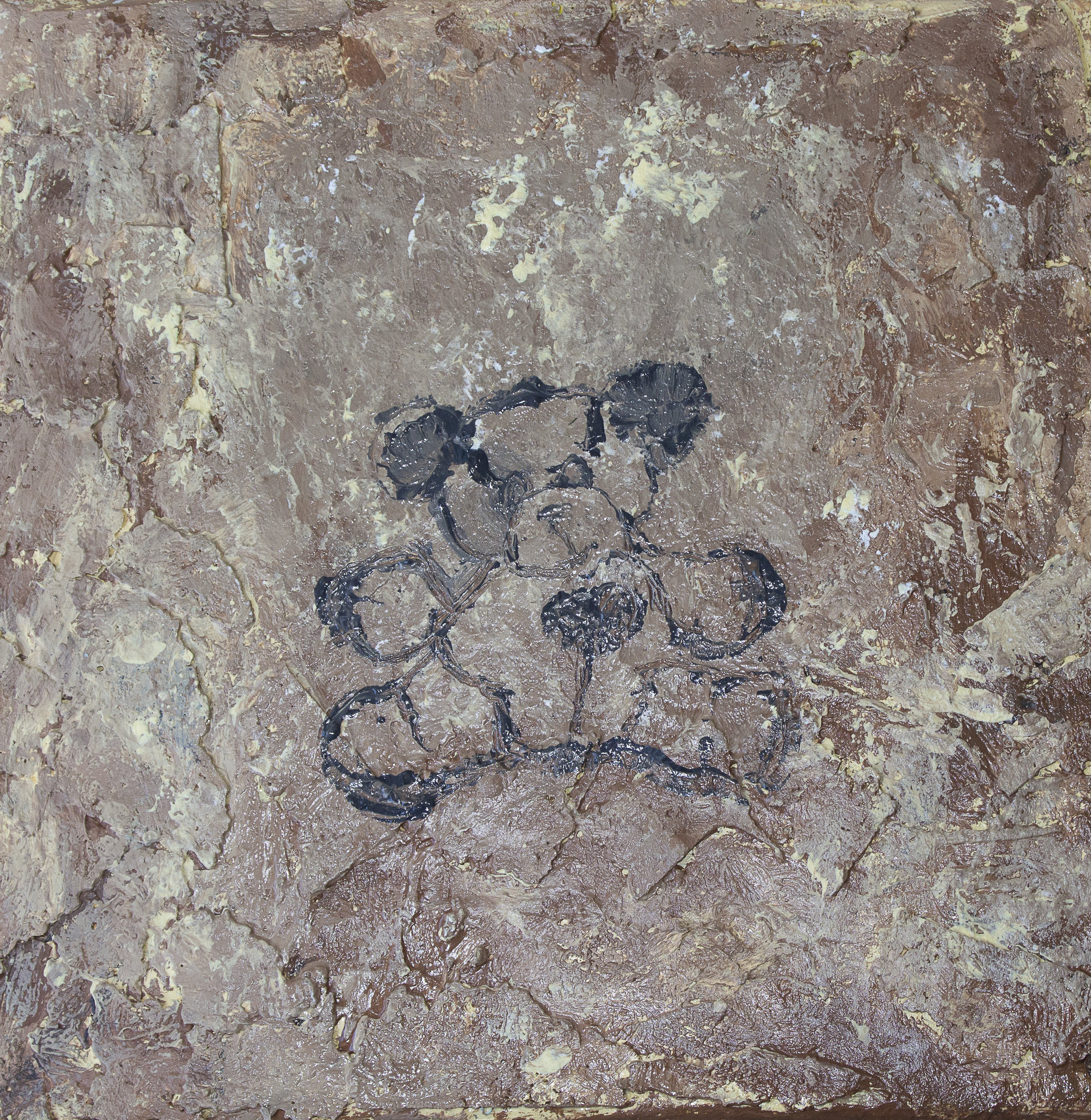 Ben
Ben (Benevolence) 10x10. Mixedmedia collage.
"Rejoice with those who do rejoice, and weep with those who weep." Romans 12:15 (NKJV). In a world where everyone seems to be under attack and we are busy defending ourselves, this verse calls on us to be sensitive to what is happening with those around us. If something good has happened to someone else, let us be happy with them. If someone is hurting, weep with them. Don't argue about whether or not they were right or wrong. In the context of Romans chapter 12, we are not to do or be as the world. We are to consider others better than ourselves. When all the world would do is tear down, we need to build up.
Materials: Background a faux leather look made from paper bag material where you use a glue and water base and apply pieces of paper bag material overlapping and dry with a heat gun. I also added acrylic paints in browns and soft yellow. Texture with cork board scrap paper pieces under the paint. Teddy bear made with a stamp and black paint. Protected with a sealer.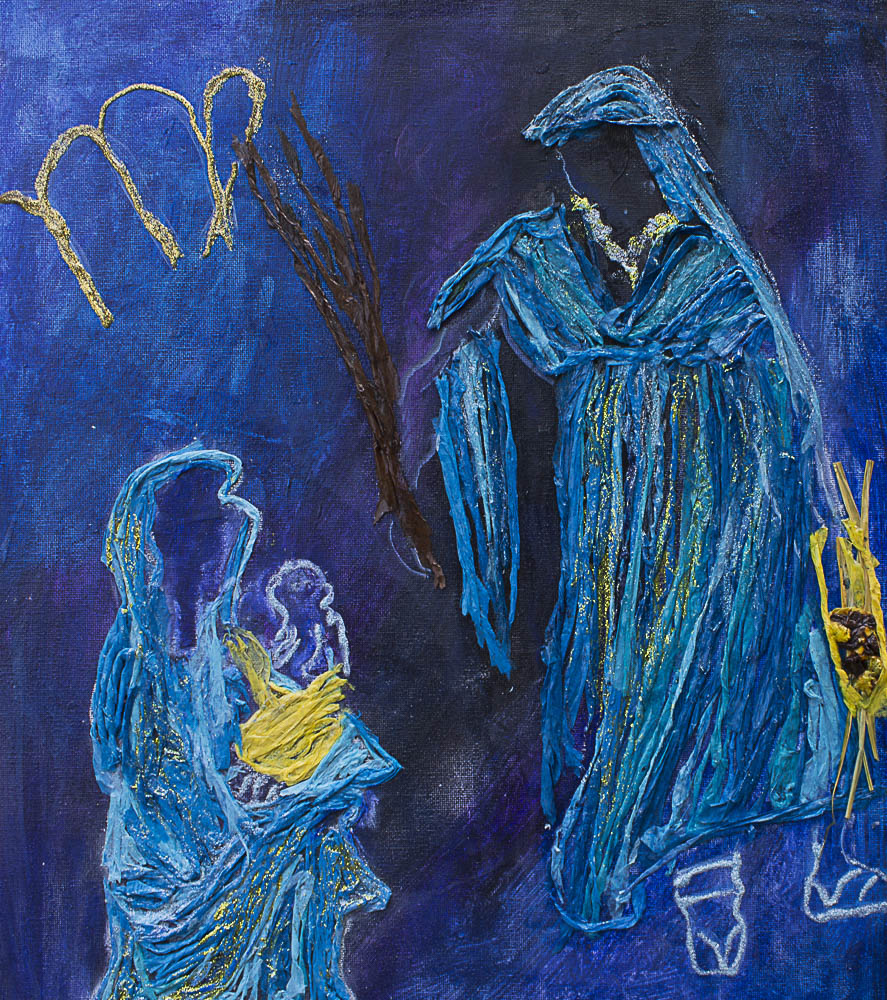 Bethullah
Bethullah, aka, Virgo (16x20) Mixed Media Collage
Story: Mazzaroth aka The Zodiac has a spiritual message to it that speaks of the gospel of Christ. I learned about this reading E.W. Bullinger's book, The Witness of the Stars. Today the common understanding behind the Zodiac leads to astrology as apposed to astronomy. As I work on depicting each constellation and what the true meaning was, I hope to retell the true story and meanings behind the symbols which ultimately point to Jesus Christ.
I start with Virgo, aka Bethullah, the constellation which depicts the first coming of the Messiah and the Virgin Birth. The sign Virgo is for the Promised Seed of the woman. This is the beginning of the first book, The Redeemer (his first coming) "The Sufferings of Christ." The first book is occupied with the person of the Coming One. It covers the whole ground, and includes the conflict and the victory of the Promised Seed, but with special emphasis on His Coming. The book opens with the promise of His coming, and it closes with the Dragon cast down from heaven.
In the symbolism of this constellation you have words which mean woman, branch, and ear of corn. Also, I include Coma, which is the Mother and Child in the lower left hand corner.
In Genesis 3:15 she is presented only as a woman, but in later prophesies her nationality is defined as the stock of Israel, the seed of Abraham, the line of David; and further, she is to be a virgin.
Isaiah 7:14 "Behold a virgin shall conceive and bare a son, and shall call his name Immanuel." This is also quoted in Matthew 1:23. The other is connected with his second coming….
"For unto us a child is born, unto us a son is given; and the government shall be upon his shoulder; And his name shall be called Wonderful, Counselor, The Mighty God, The Everlasting Father, The Prince of Peace. Of the increase of His government there shall be no end." (Isaiah 9:6-7) also quoted in Luke 2:11 and 1:22-23).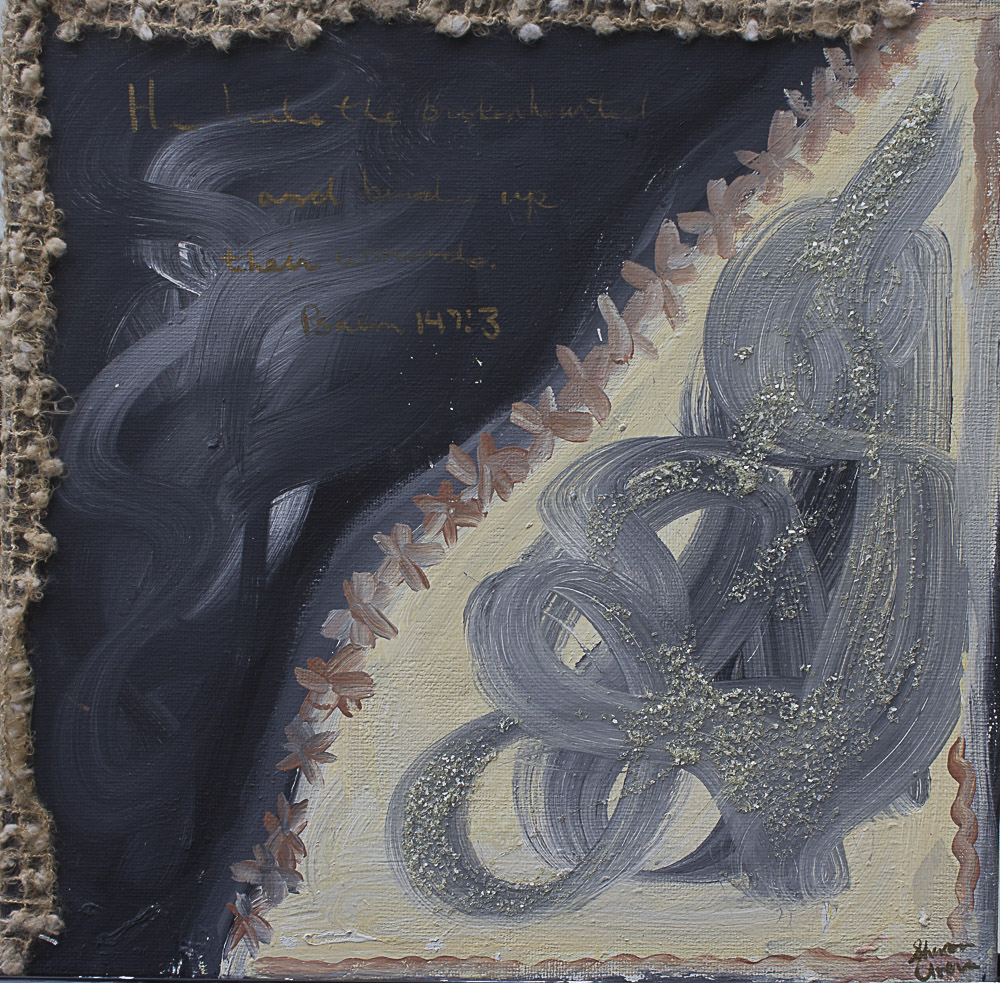 The Healer
"He heals the brokenhearted, he binds up their wounds." Psalm 147:3.
Materials: Acrylic paints in charcoal black, soft yellow, and burnt sienna. Glass glitter and tea dyed ribbon fibers. Journaled verse in gold marker.
Story: This was made during a time I sought answers during a difficult time in my life. Sometimes life experiences are negative ones but the Lord is always aware of our pain and He is the healer. His ways are mysterious in how He can take the darker threads of our lives and weave them to our good. Praise God!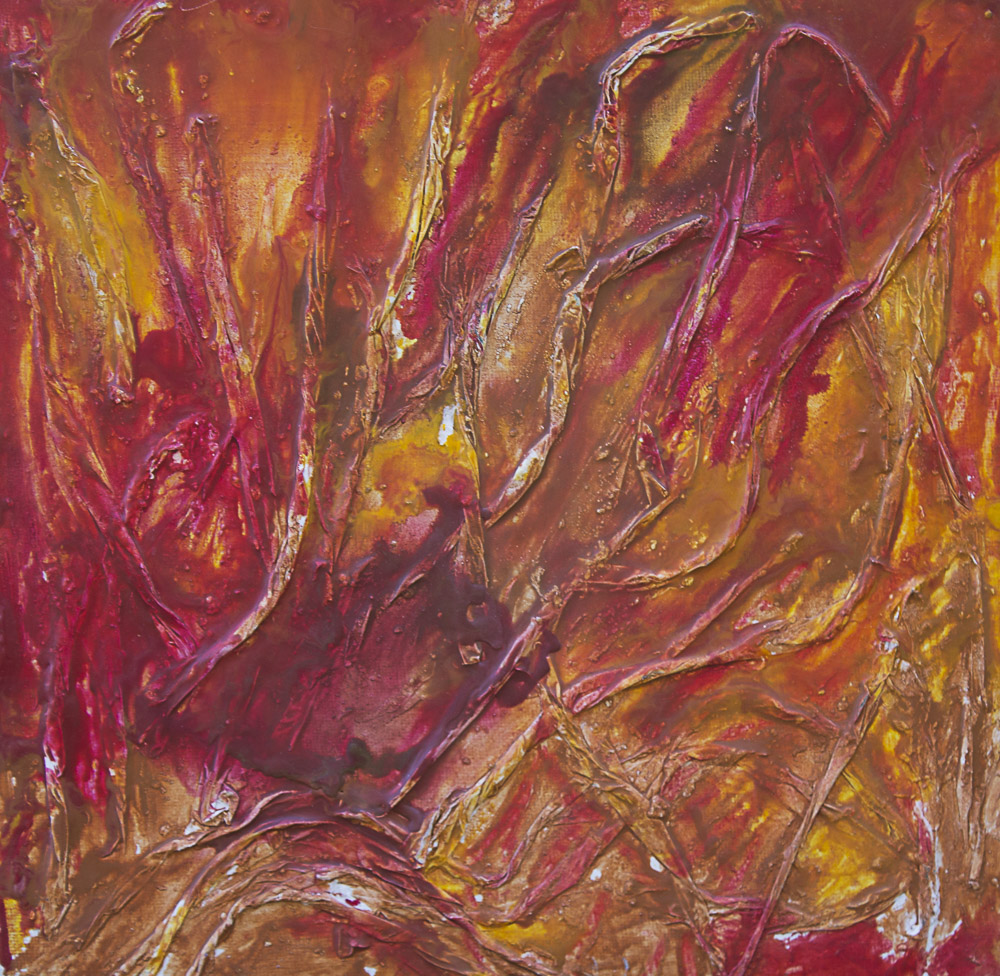 Burning Bush
12x12 Canvas Panel. Mixed Media Encaustic
Exodus 3:2 "There the angel of the Lord appeared to him flames of fire from within a bush. Moses saw that though the bush was on fire, it did not burn up."
Materials: Tissue wrap, Crayola crayon wax, and a heat embossing gun.
Thought: Ever had an amazing encounter with God that particularly stands out? I did. It wasn't a burning bush, but once I did hear the Lord speak to me, clear as crystal. No doubt this was a miracle in the story in itself, but I also see something else. "Moses saw that though the bush was on fire, it did not burn up." Why? Because God happened to be there in its midst. Our own lives can feel like they are on fire, but we don't burn up because the Lord is there with us.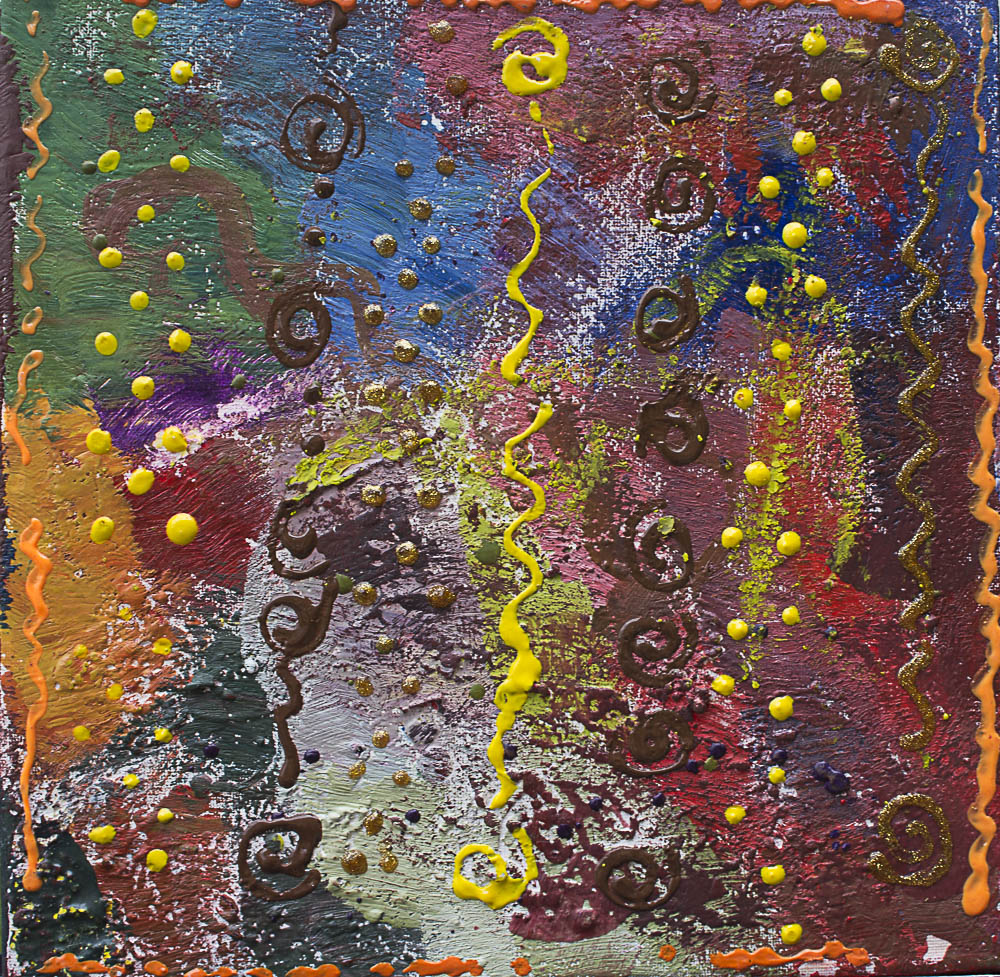 Calliope
12x12 Canvas, Mixed media encaustic
Story: Calliope is defined as that which holds to music and poetry. Harmony in music and eloquence in words. My first job consisted of working in an amusement park. This piece reminds me a little bit of the main attraction in the park which was the Carousel.
"I will incline my ear to a proverb; I will solve my riddle to the music of the lyre." (Psalm 49:4). / "Praise the Lord! Praise God in his sanctuary; praise him in his mighty heavens! Praise him for his mighty deeds; praise him according to his excellent greatness! Praise him with trumpet sound; praise him with lute and harp! Praise him with tambourine and dance; praise him with strings and pipe! Praise him with sounding cymbals; praise him with loud clashing cymbals! Let everything that has breath praise the Lord!" (Psalm 150:1-6)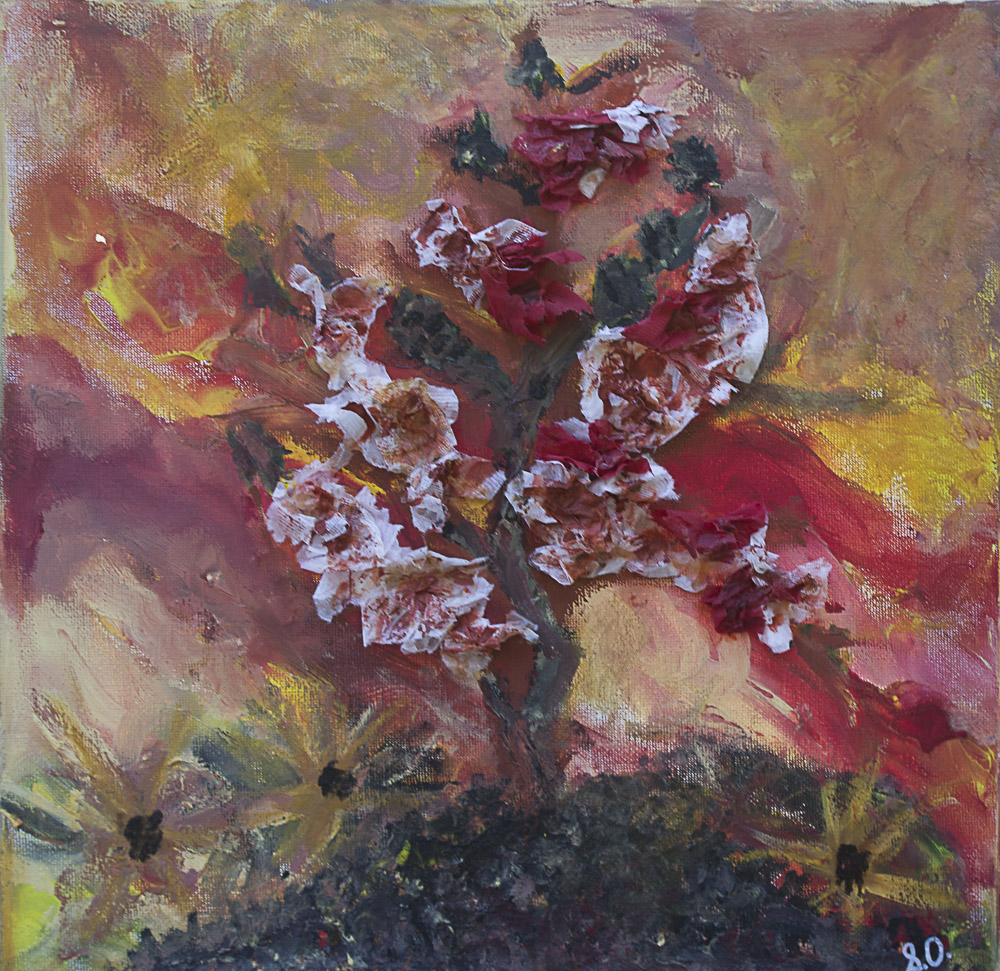 Chastisement of Our Peace
12x12 Canvas; Mixed media acrylic
"But he was wounded for our transgressions; he was bruised for our iniquities: the chastisement of our peace was upon him, and with his stripes we are healed." Isaiah 53:5
Materials: Acrylic and Gouache paints, napkin papers in red and white.
Story: This is my artistic version of the legendary dogwood tree. While the stories behind it are legend, I find it a significantly appropriate symbol of Jesus' sacrifice on our behalf.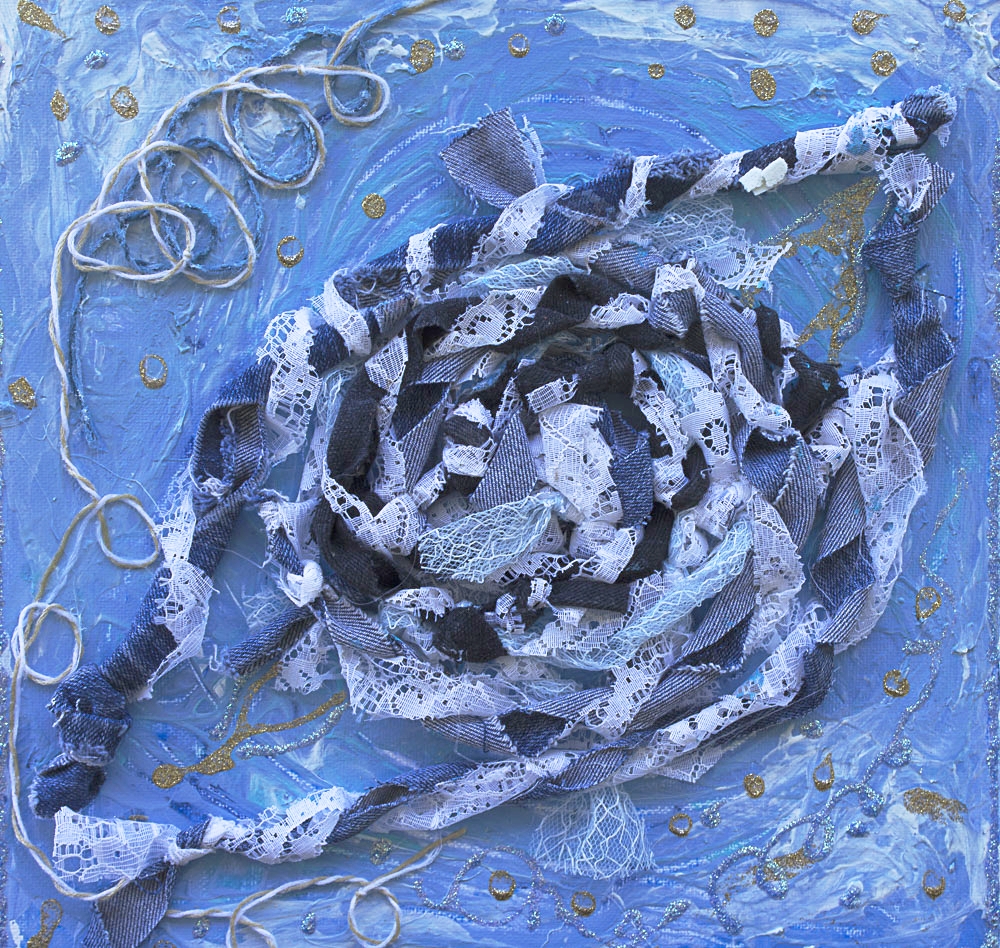 Clear Sight
12x12 Canvas Panel, Mixedmedia acrylic collage
"Then Jesus laid his hands on his eyes again; and he opened his eyes; his sight was restored and he saw everything clearly." Mark 8:25.
Materials: Fabric pieces, embroidery floss, acrylic and fabric paints, stickles.
Thoughts: Some days are just not clear to me. I have mud in my eyes and a pain in my head. It's nice to know that God can help us through those times. He still gives sight to our blindness.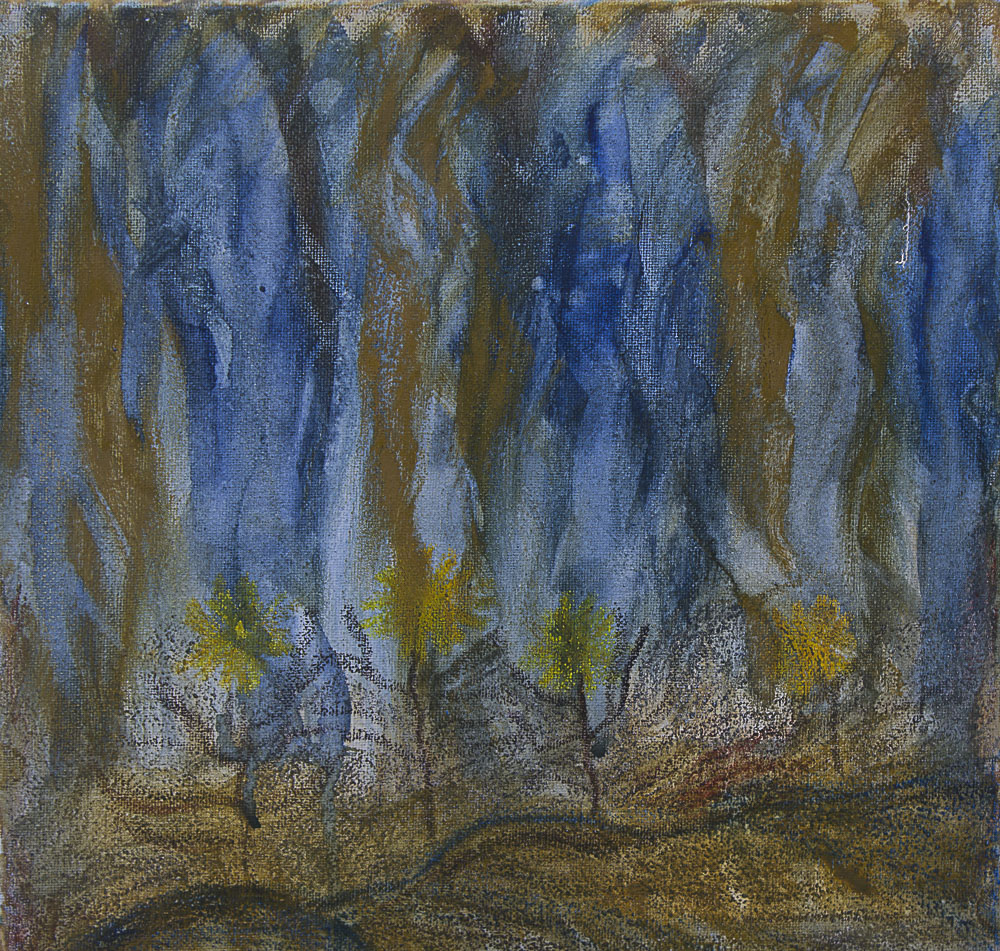 Consider the Wildflowers
12x12 Canvas, Mixed media of oil, watercolor and pastel chalks.
Matthew 6:28-34
Story: Sometimes I just can't seem to quiet the ideas running through my head. I have started writing those down. Other times I might worry about finances or problems on the job. I am still learning how to trust God with my life. But if I were to recall how the Lord feels about wildflowers, even in times that I don't get it, He is caring for every one of my needs. Consider how we think we must do this or that to please the Lord when He has taken care of what is required? We do, but not to get, for He has already granted to us eternal life, for the asking. What we do is instead, for loves' sake. For He first loved us even more than the well dressed flowers.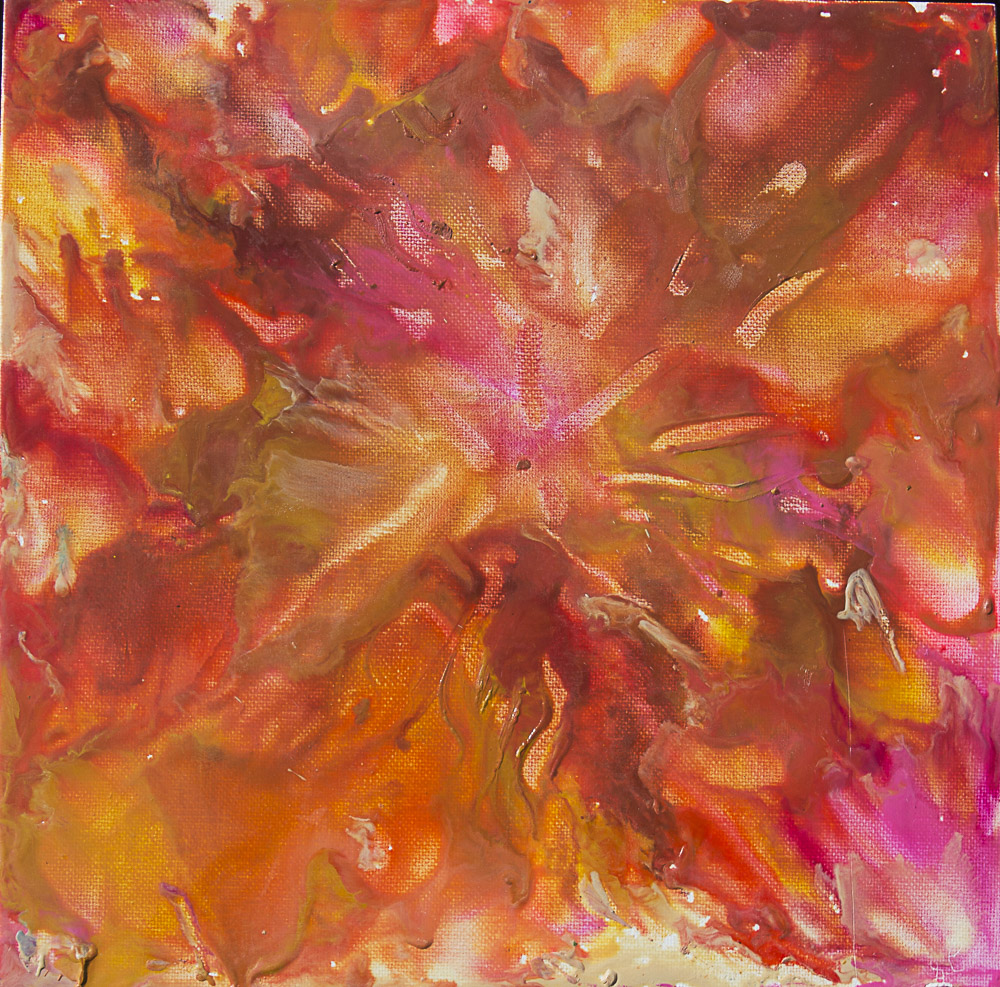 Consuming Fire
12x12 Canvas Panel, Encaustic
"For our God is a consuming fire." Hebrews 12:29
Materials: Completely made with melted Crayola Crayons.
Thought: What does it mean to be holy? God is holy and his holiness cannot accept the sight of sin. We are to worship God with reverence and awe. But thank God indeed for His son Jesus Christ, who paid the penalty demanded by a Holy God in order to save humanity. That was the purpose of going to the cross. To save us. To save me. And I am indebted for always. God is love. God is holy. His love and holiness in Jesus who willingly became the bridge between man and God; a holy sacrifice. Our own righteousness is as dirty rags. It is through Christ that we can be in the presence of the Lord God.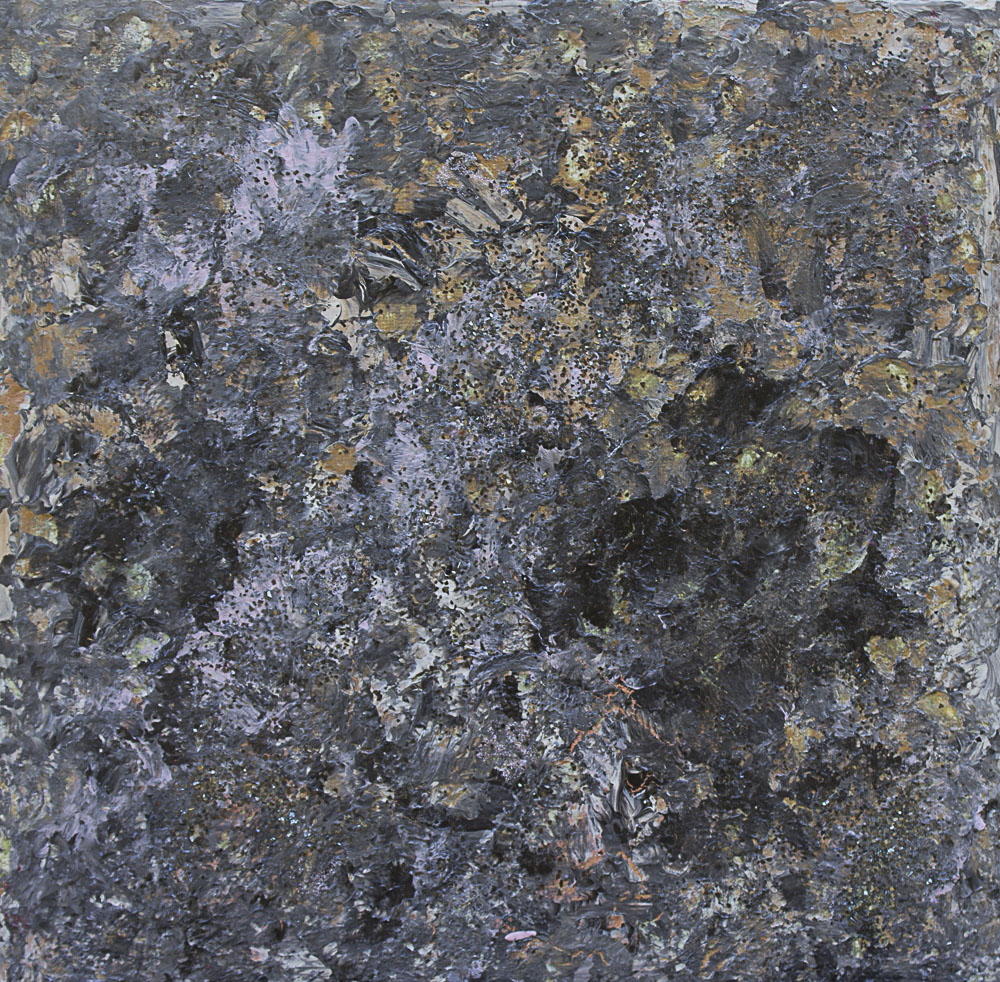 Cornerstone
"12x12 Canvas Panel, Mixed media acrylic
"What supports its foundations and who has laid its cornerstone?" Job 38:1-7, emphasis on v. 6.
A cornerstone will sometimes be referred to as a "foundation stone", and is symbolic of Christ, whom the Apostle Paul referred to as the "head of the corner" and is the Chief Cornerstone of the Church." Romans 2:20.
Jesus said "I am the way, the truth, and the life. No man comes to the Father except through me" (John 14:6).
There are those who would minimize Jesus importance, thus not recognizing His son ship and/or equality with the Father. He is the quintessential part of all of this; the Cornerstone. You can't usually get into a house without going through the door and He is that door to God's house.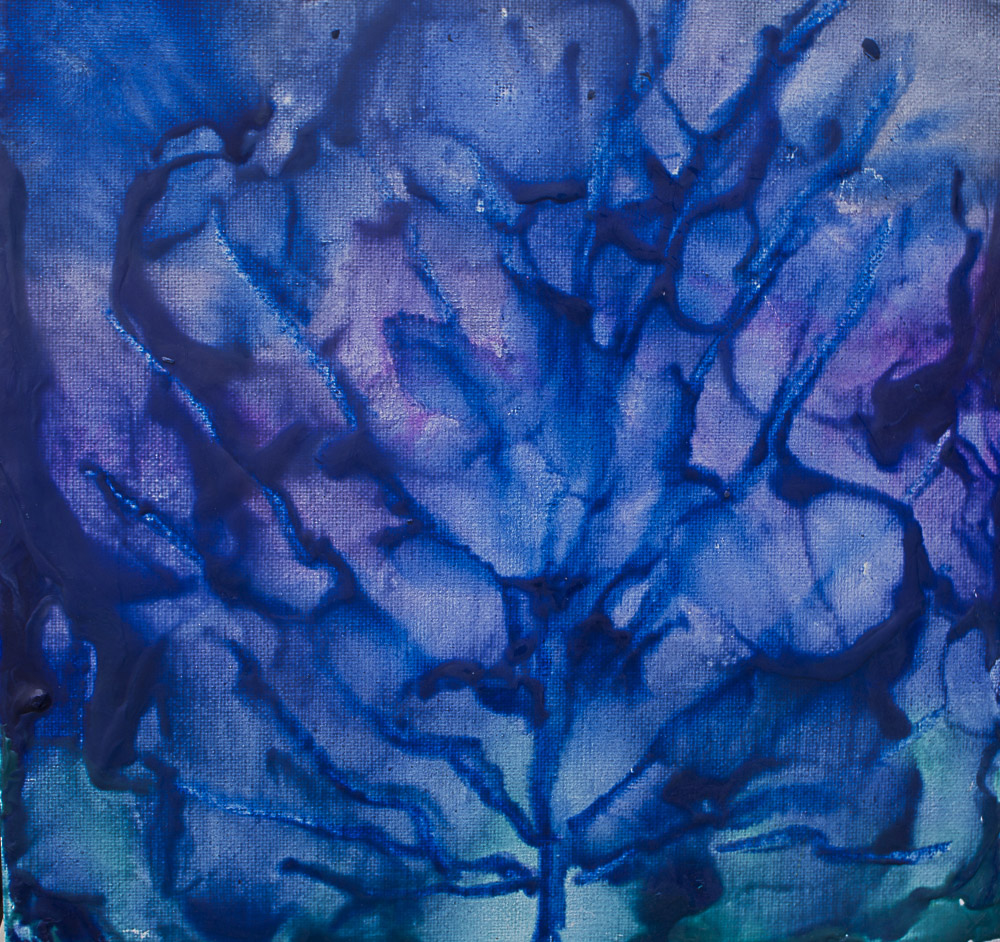 Covering
12x12 Canvas Panel, Encaustic
"Trust in the Lord with all your heart and lean not on your own understanding. In all your ways acknowledge Him, and he will direct your paths." Proverbs 3:5-6.
"For now we see in a mirror dimly, then face to face. Now I know in part; then I shall know fully, even as I have been fully known." 1 Corinthians 13:12.
"For my thoughts are not your thoughts, neither are your ways my ways, says the Lord. "For as the heavens are higher than the earth, so are my ways higher than your ways and my thoughts than your thoughts." Isaiah 55:8-9. God sees the whole picture.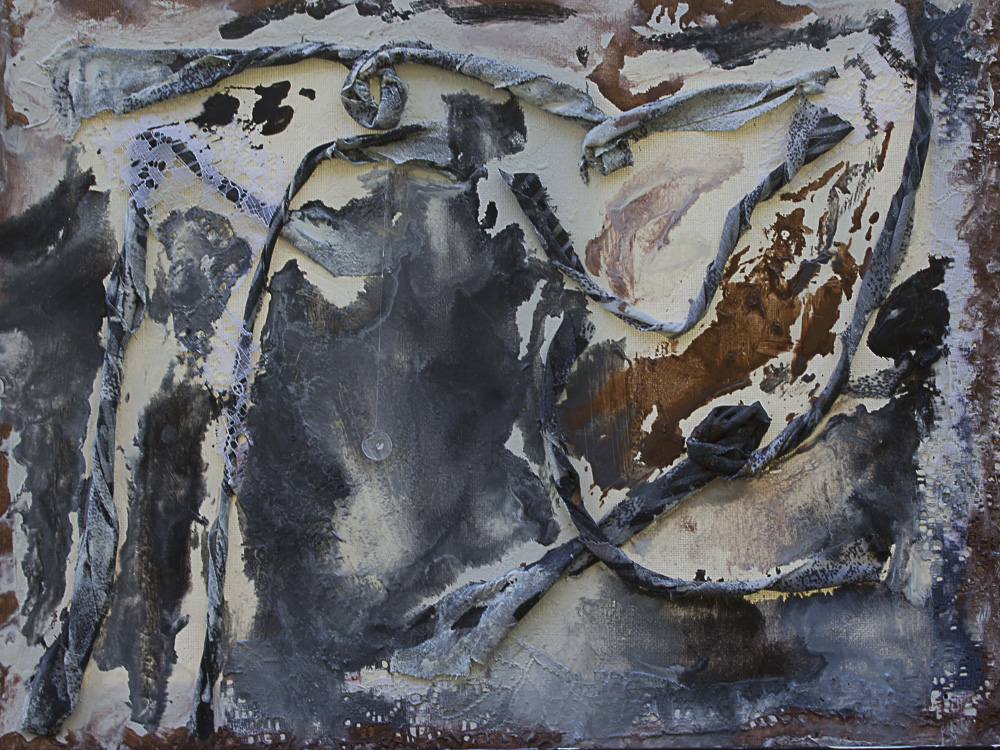 The Darkest Valley
8.5 x 11 Canvas, Mixed media encaustic
"Even though I walk through the darkest valley, I will fear no evil, for you are with me; your rod and your staff, they comfort me." Psalm 23:4.
I think sometime after making my decision to follow Christ public, I went through a time of testing. Jesus went through a time of testing in the wilderness. Perhaps this was one of His valleys while on earth. And He is our Shepherd.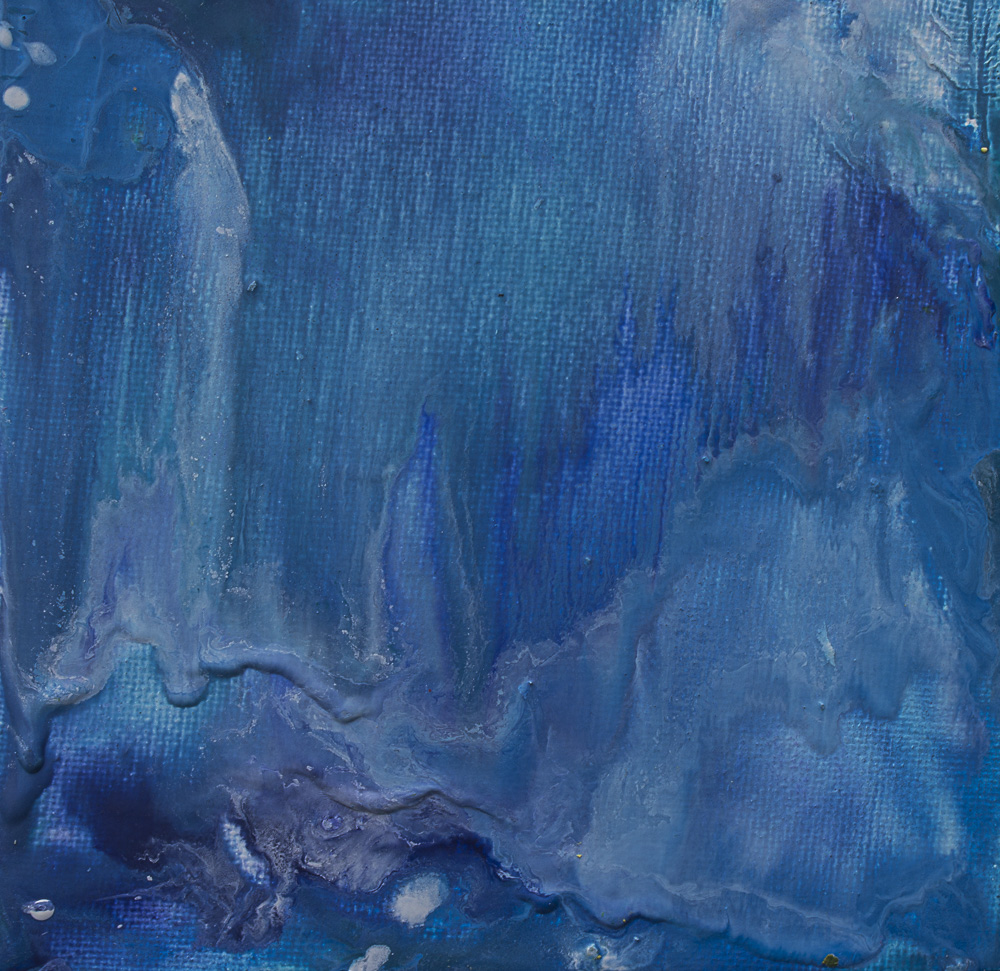 Deep Waters
6x6 Canvas Panel, Encaustic
"Deep calls to deep at the sound of Your waterfalls; All Your breakers and Your waves have rolled over me." (Psalms 42:7)
"The kingdom of God does not come with observation; nor will they say, 'See here!' or 'See there!"' For indeed, the kingdom of God is within you" (Luke 17:2—21).
I love the sound of a waterfall or simply rain pouring down. In times when I was having a particularly difficult day, I found that standing under the shower head with the water just pouring over me was like it was washing away pain. And I have felt the need or desire to go deeper in my faith and be more purposeful in my walk with the Lord. The Spirit of Christ is in me. At times feeling driven to prayer over others. I do think that as our relationship deepens with God, it should likewise deepen toward others.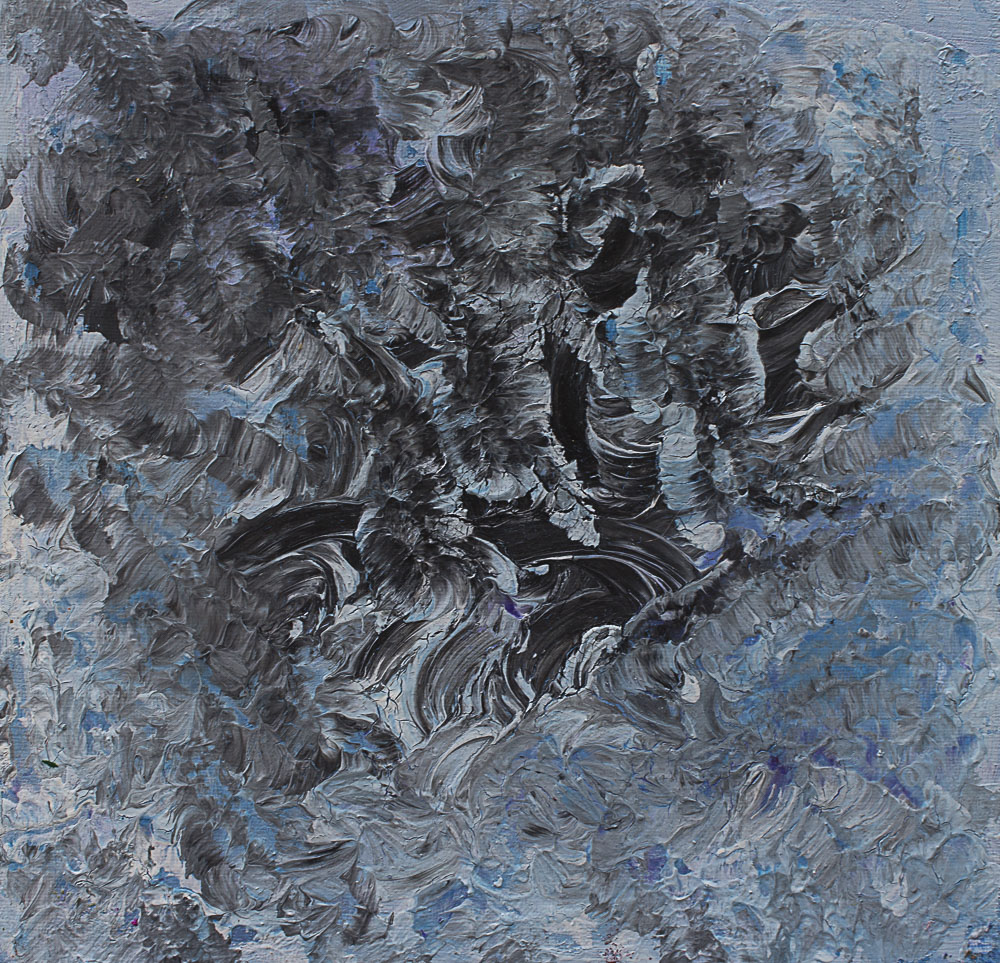 Deliverance
12x12 Canvas Panel, Mixed Media Acrylic
"And you will know the truth, and the truth will set you free." John 8:32
"You are my hiding place; you will protect me from trouble and surround me with songs of deliverance." Psalm 32:7
Many years ago now I attended a women's service at an Salvation Army Church. I remember it because it was at a time I was searching for God's direction in my life. Toward the end of the service, a call was made for prayer for either salvation or deliverance. After getting up the courage, I went up and asked for prayer….for deliverance. I had a lot of frustration in my life. Afterwards, I recall, a woman caught up with me and told me God loved me and I needed to find a quiet place where I could hear what He had to tell me. Truly He is my hiding place and my deliverer.
Earthen Winter
12x12 Canvas, Mixed media collage
"He gives snow like wool; He scatters frost like ashes." Psalm 147:16
I think the inspiration for this piece in part came from watching a science experiment where someone was creating a kind of element garden. It was fascinating. I forget what all the components were. But it was quite colorful and strange. When I was done with my own artistic rendition of this, it struck me as a winter scene.
Materials: Napkin paper, tissue wrap in blues and whites.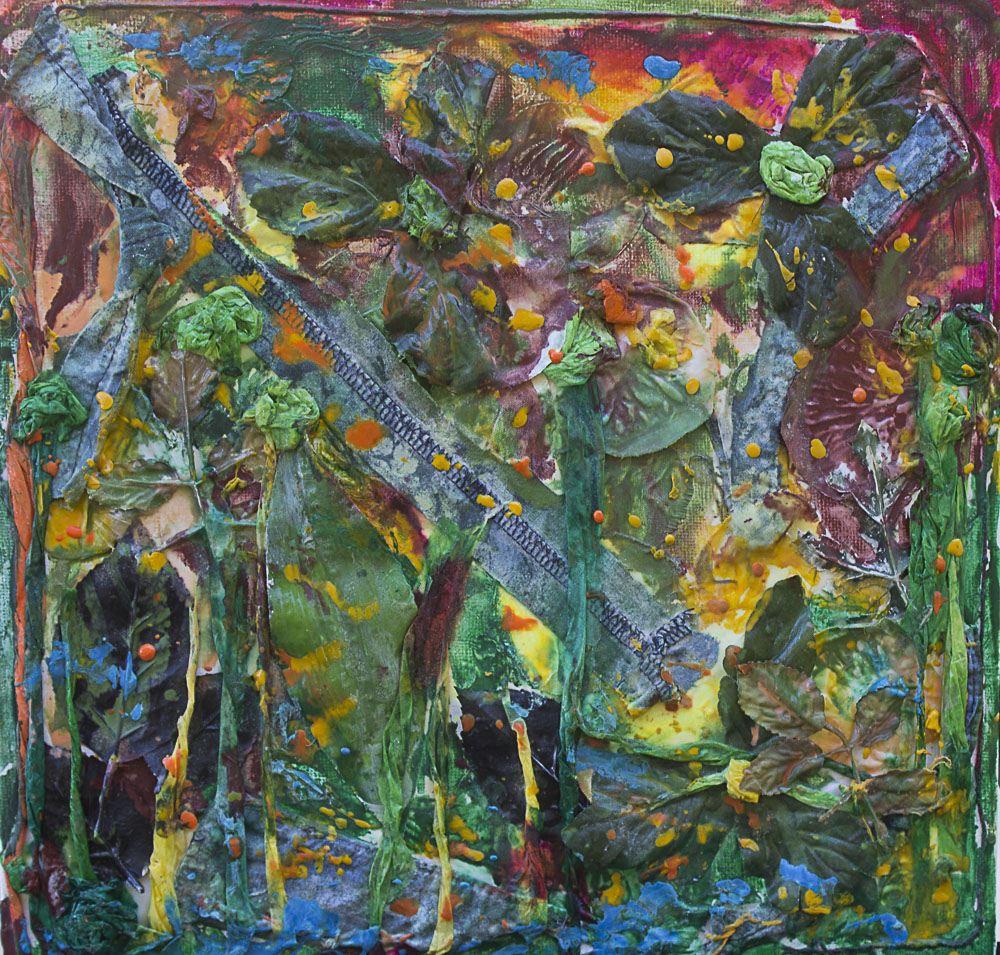 Eden
12x12 Canvas Panel, Mixed media encaustic
"Out of the ground made the Lord God to grow every tree that is pleasant to the sight, and good for food; the tree of life also in the midst of the garden, and the tree of knowledge of good and evil." (Genesis 2:9, KJV).
Materials: White canvas panel, 12x12, various floral leaves and petals, strips of cloth, sewn embroidery floss, acrylic paint and crayon wax.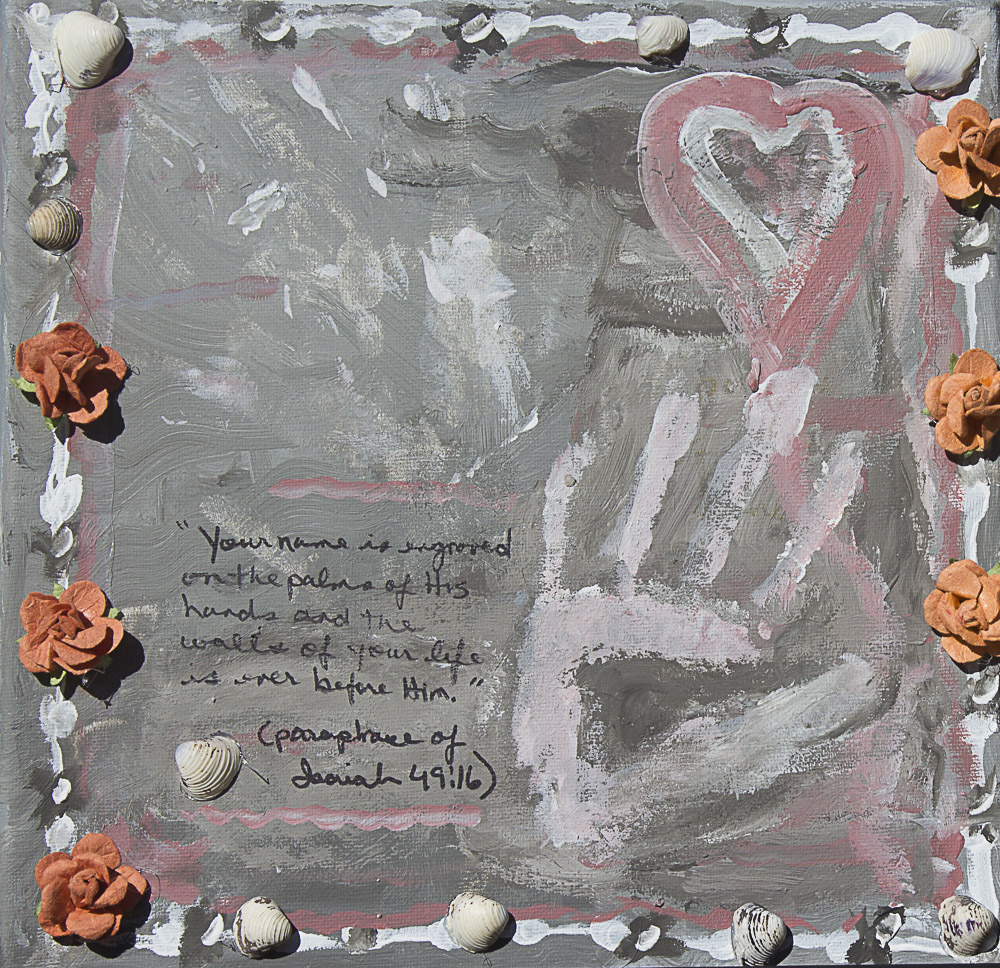 Engraved
12x12 Canvas, Mixed media acrylic (SOLD)
"Your name is engraved on the palms of His hands and the walls of your life." (Paraphrase of Jeremiah 49:16).
Materials: Acrylic paints in greys, white and pinks. Shell and silk flowers around the border.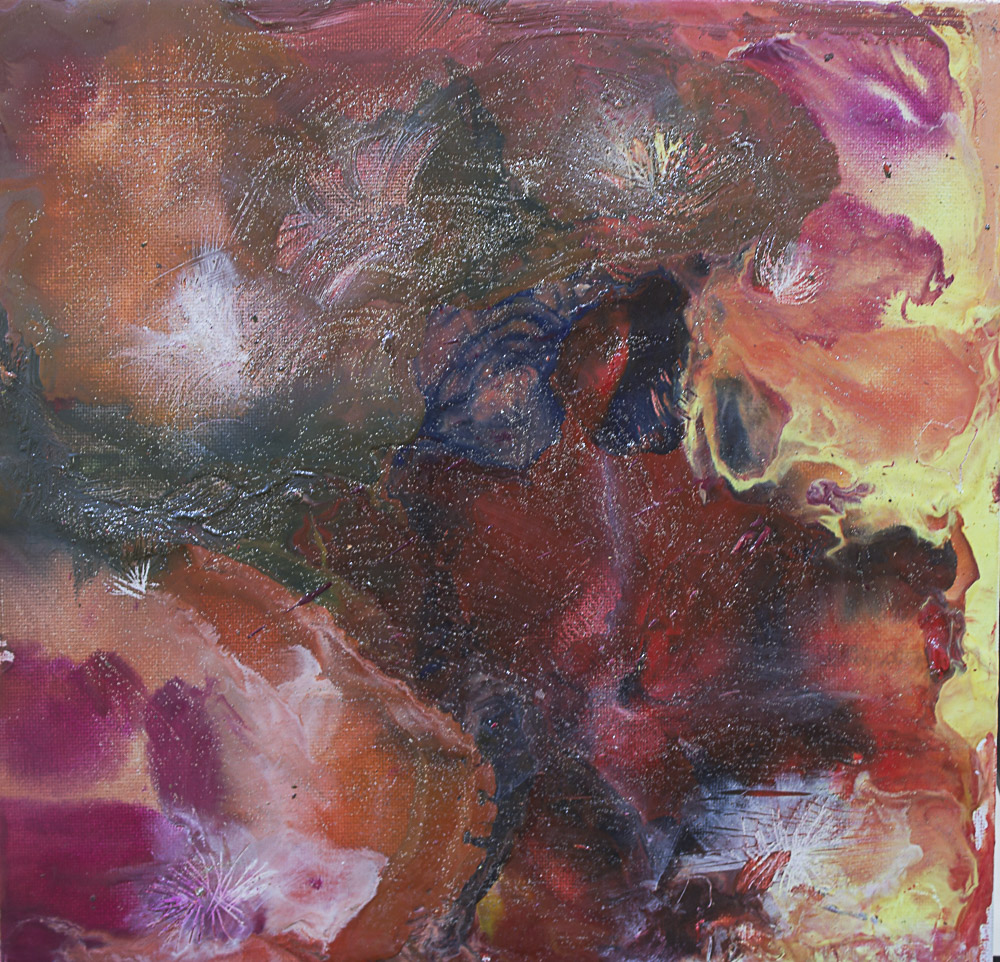 Everlasting
12x12 Canvas Panel, Encaustic
"Before the mountains were born or you brought forth the whole world, from everlasting to everlasting you are God." Psalm 90:2
Materials: Canvas panel, melted crayon wax, silver glitter glue, white paint pen by Recollections.
Could be a nebulae or galaxy, yes? That's what came to mind for me. I have seen some beautiful photos of the real thing out there. God is an awesome designer!!
First Fruits
12x12 Traditional Canvas, (SOLD)
"All the best of the fresh oil and all the best of the fresh wine and of the grain, the first fruits of those which they give to the Lord, I will give them to you." Numbers 18:12
The verse here is part of instructions to the Levites. These ones took care of Priesthood duties. What was given to God by the people would be used to help support the Levites. A similar verse encourages the Christian to give first to their home church (God's storehouse), which in turn those funds are used to help those in the church. God giving back what is given to him. At least that is how I see it. It is interesting too, that ancient tithing practices had to do with the produce of people's land, i.e., food.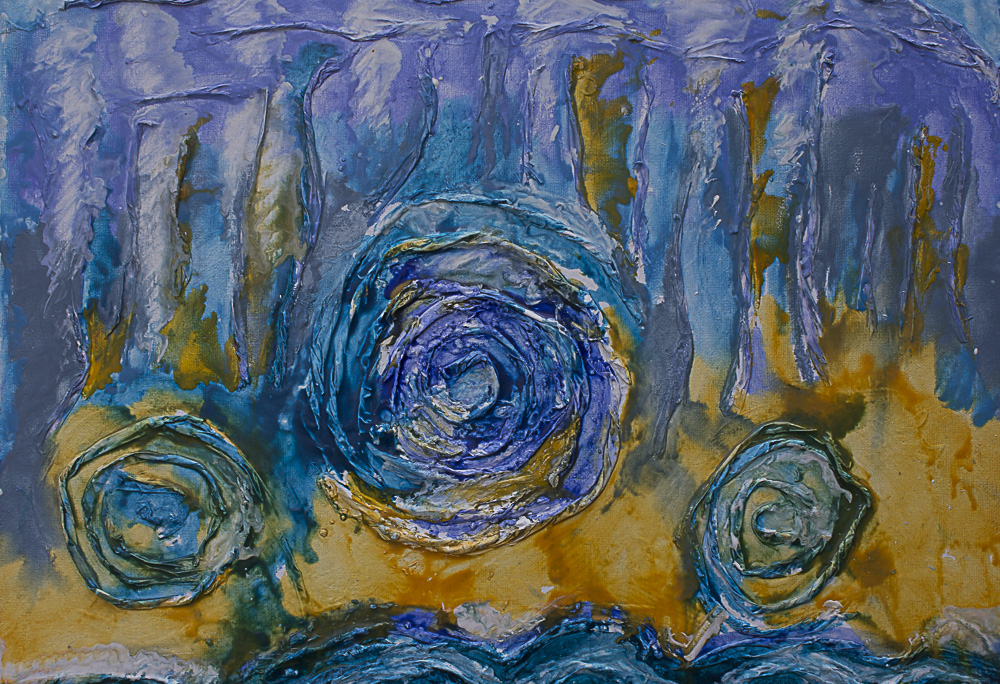 Fullness of Time
16x20 Traditional Canvas, Mixed media Encaustic
"As a plan for the fullness of time, to unite all things in him, all things in heaven and things on earth." Ephesians 1:10
In the New Living Translation it reads: "And this is the plan: At the right time he will bring everything together under the authority of Christ — everything in heaven and on earth."
God has a plan in the fullness of time….His time. Ever asked what God's plan for your life is? KInda like asking a guidance counselor what you should be doing? I believe that in God everything will work out.
The continuous circle patterns in this piece is symbolic of time.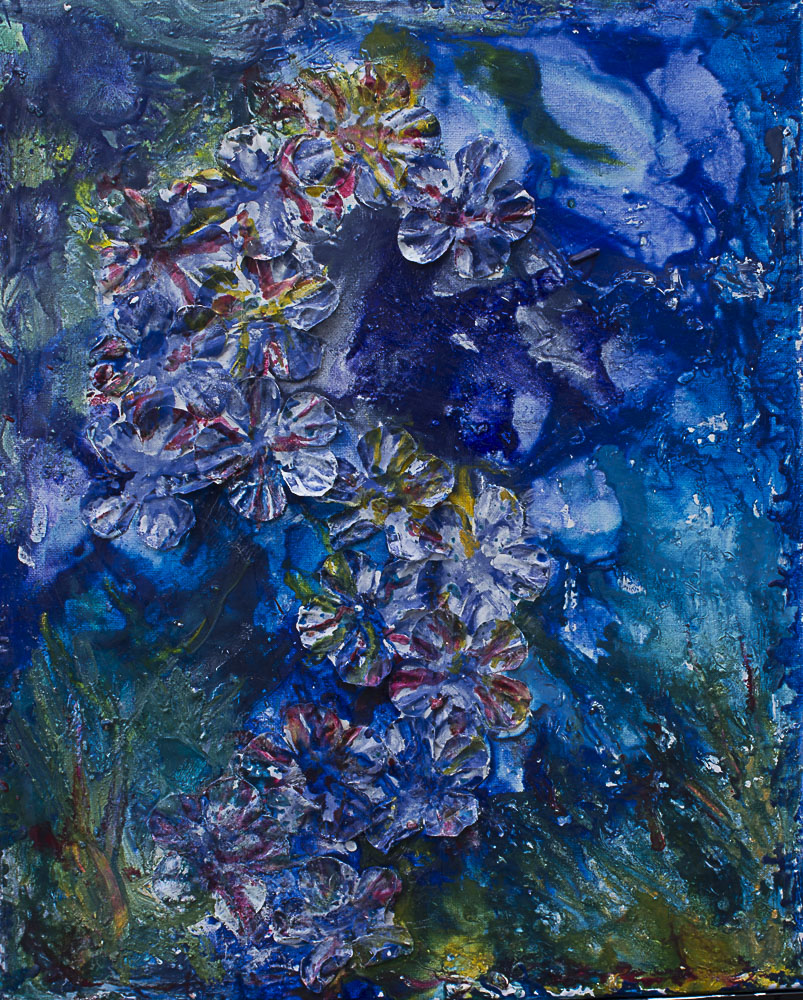 Garden Whispers
16x20 Canvas, Mixed media Encaustic (SOLD)
"Then the man and his wife heard the sound of the Lord God as he was walking in the garden in the cool of the day, and they hid from the Lord God among the trees of the Garden. (Genesis 3:8).
I can only imagine what the moment was like after Adam and Eve chose to disobey God's command. You might think automatically that God would be angry. But He was grieved. We know that He knew they would do this, though. And He had a plan. It was a plan that would not allow them to stay in the garden. Kept from the tree of life so that they would not live forever in the sin in which they had fallen.
Materials: Encaustic gesso, crayon wax, cloth hawaian style flowers and varnish gloss.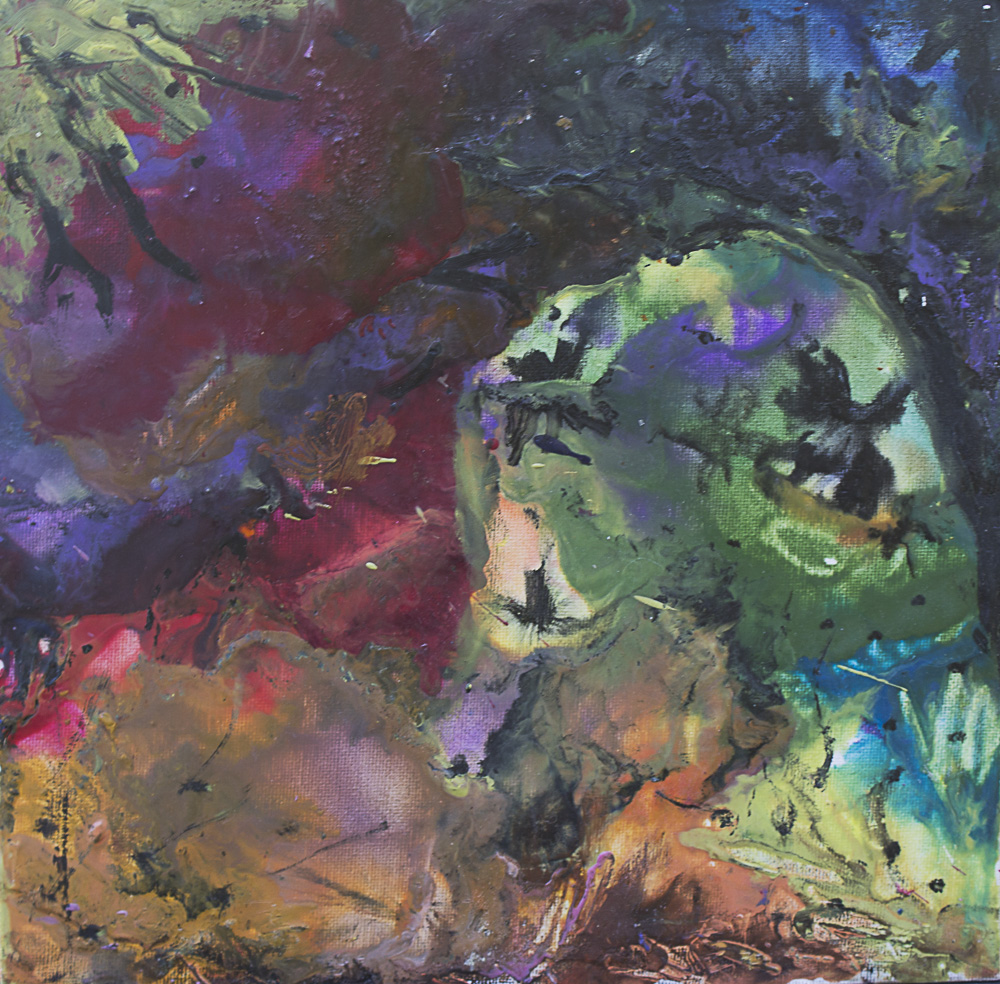 In the Heavenly Places
12x12 Canvas Panel, Mixed media Encaustic
"For our struggle is not against flesh and blood, but against the powers of this dark world and against the spiritual forces of evil in the heavenly places." Ephesians 6:12
There is a spiritual battle around us that is very real. Its not always about what you can see in front of you.
Materials: Oil paint and Crayon wax.
Grace
12x12 Canvas, Mixed media acrylic and ink.
Grace is unmerited favor. "Gracious words are a honeycomb, sweet to the soul and healing to the bones." Proverbs 16:24.
"…encoucourage one another and build each other up." 1 Thessalonians 5:11
Materials: Honeycomb stencil by TCW used with Whipped Spackle by Faber-Castell. Spray paints by Tulip, liquid acrylic paint, and Alcohol Inks by Adirondack. Gold glitter glue by Studio.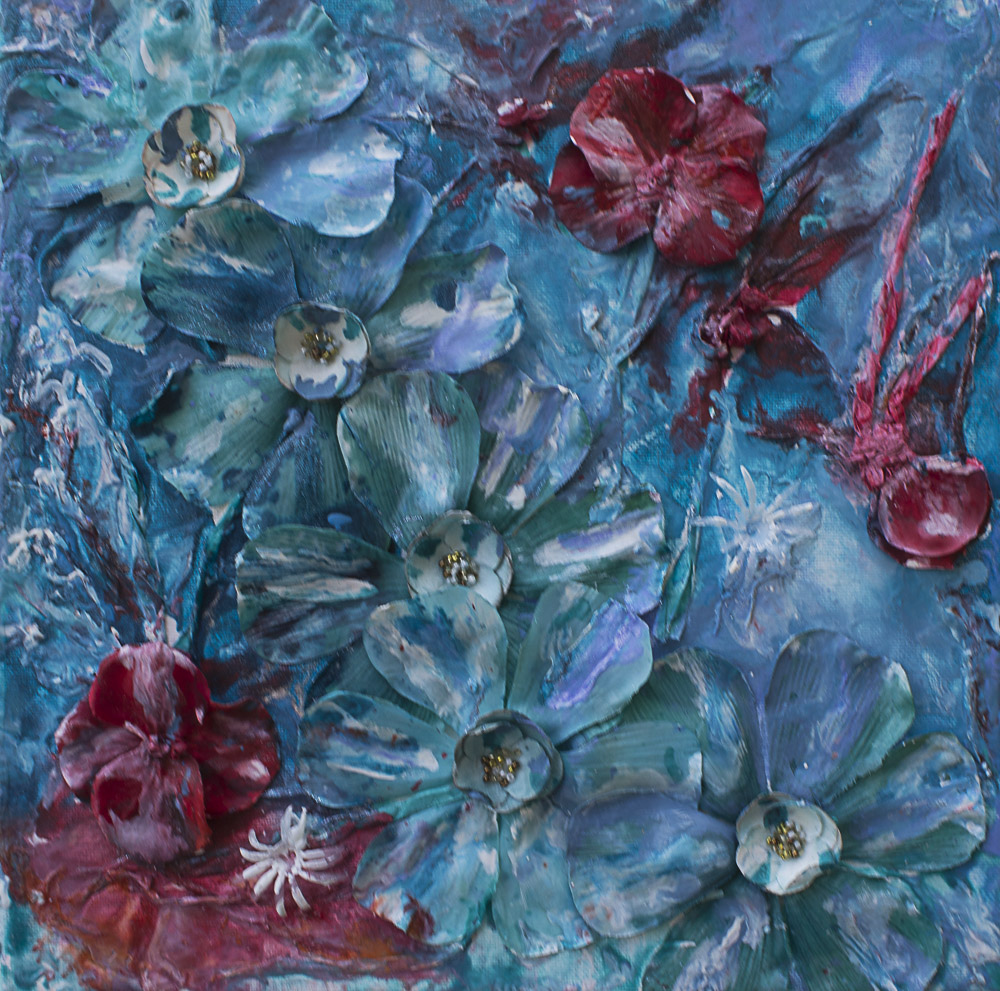 Harmony
12x12 Canvas, Mixed media encaustic
"If it is possible, as far as it depends on you, live at peace with everyone." Romans 12:18
Romans 12:16-21 (Summary)
Live in harmony with each other
Do not be proud nor conceited.
Be willing to associate with those in low position.
Be at peace with everyone as far as it depends on you.
No revenge….leave room for God's wrath, for vengeance belongs to God.
If your enemy is hungry, feed him. If he is thirsty, give him something to drink.
Do not be overcome by evil, but overcome evil with good.
Hadda 'at (the knowledge)
"But as for you, Daniel, conceal these words and seal up the book until the end of time; many will go back and forth, and knowledge will increase." Daniel 12:4 (NASB).
Paul told Timothy that in the last days many would be 'ever-learning, and never able to come to the knowledge of the truth." (2 Timothy 3:7).
It has been said that in the end days that knowledge will increase exponentially. At the same time the knowledge of God may be decreasing. It certainly seems that way today.
Materials/Tools: Adirondack Alcohol Inks, Fabre-Castel Gelato Sticks, home made texture paste (1/2 cup baking soda [or you can use talc powder], 1 tbsp glue, 1 to 2 tbsp white acrylic paint), Americana Stencil - Short Circuit.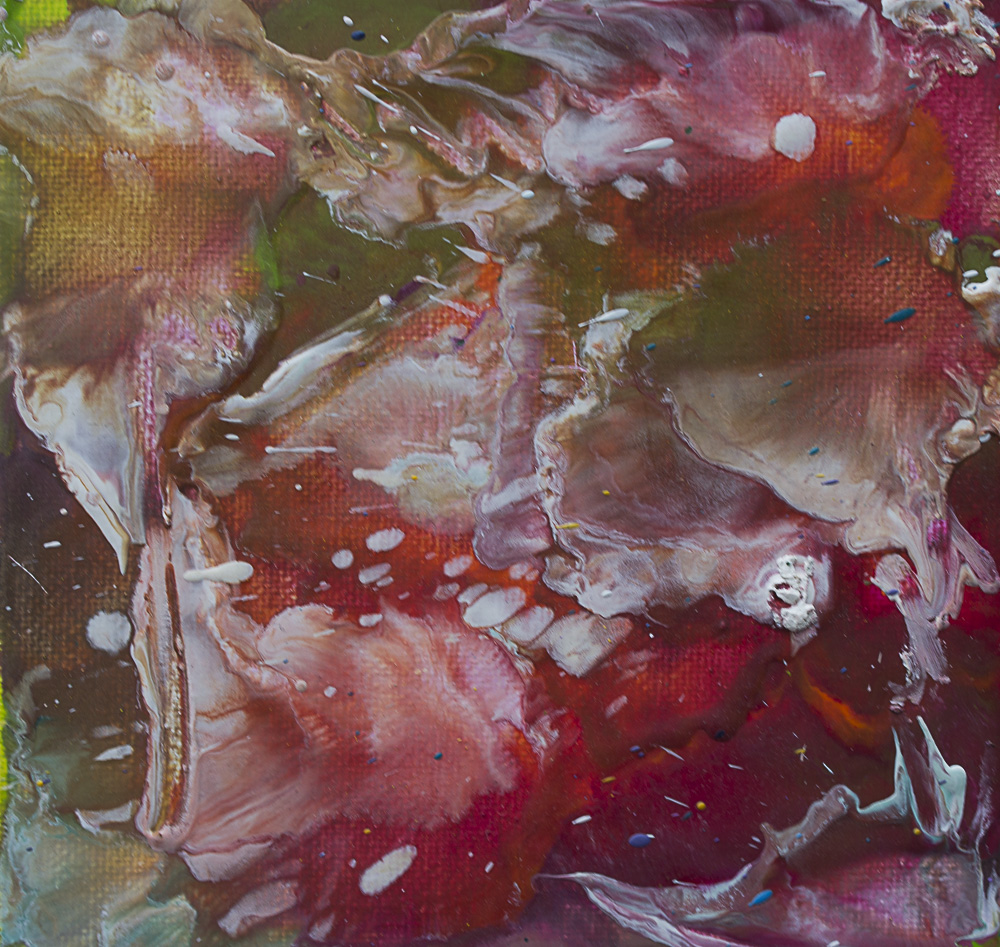 Heart of the Temple
6x6 Canvas Panel, Encaustic (Sold)
"Do you not know that your bodies are temples of the Holy Spirit, who is in you; whom you have received from God? You are not your own; you were bought with a price. Therefore, honor God with your bodies." 1 Corinthians 6:19-20).
Materials: Crayon wax
I imagine the pumping of the heart, the heart of the temple which is our body.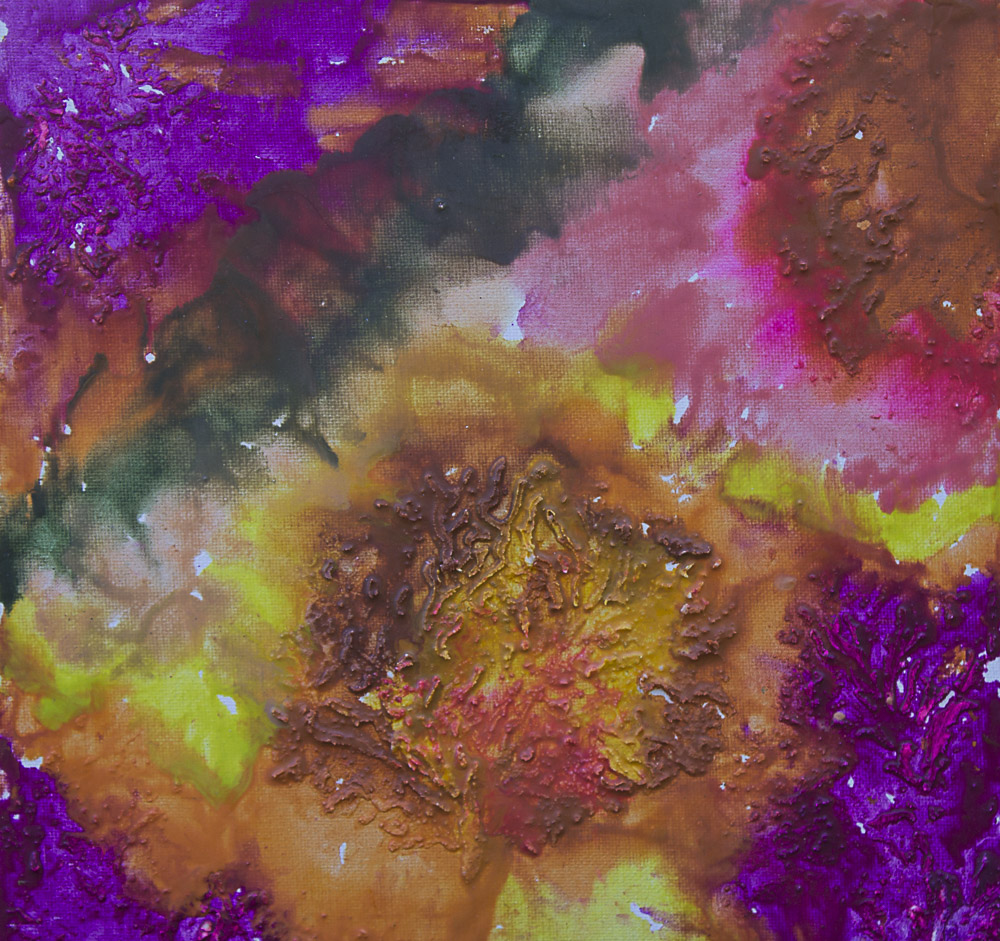 Heaven's Expanse
12x12 Canvas Panel, Encaustic
"Those who have insight will shine brightly like the brightness of the expanse of heaven, and those who lead the many to righteousness, like the stars forever and ever." (Daniel 12:3).
God only knows the count of all the stars of the Universe and the expanse of the heavens.
Materials: Crayonwax, stencil pattern with texture paste and clear bead gel.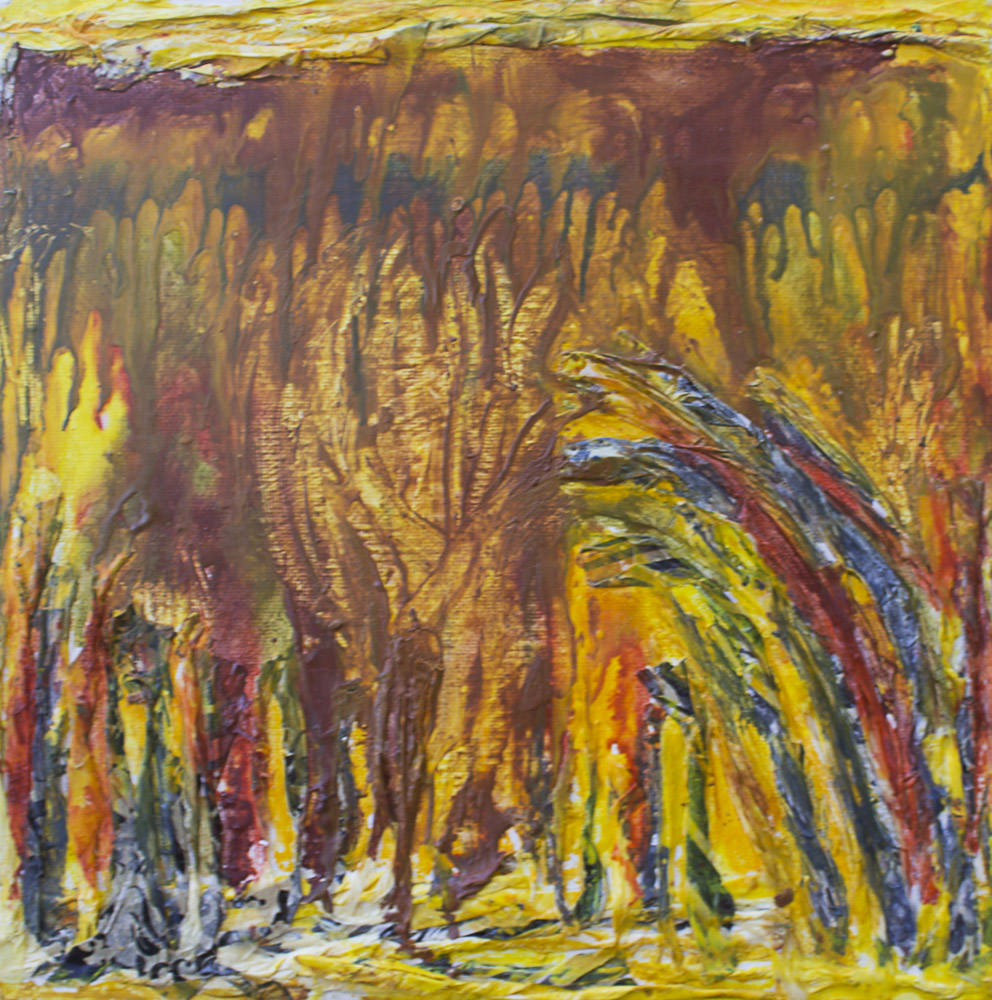 Hidden Among the Reeds
12x12 Canvas Panel, Mixedmedia Encaustic (Exodus 2:1-6)
"But when she could hide him no longer, she got a papyrus basket and coated it with tar and pitch. Then she placed the child in it and put it among the reeds along the bank of the Nile." (Exodus 2:3).
Did you know that the name Moses means "drawn from the water"? It's the name given him by the Egyptian woman who pulled him from that floating basket. Sometimes I think that there is always something unique about those who are called to become leaders in God's kingdom.
Materials: Tissue gift wrap paper, crayon wax.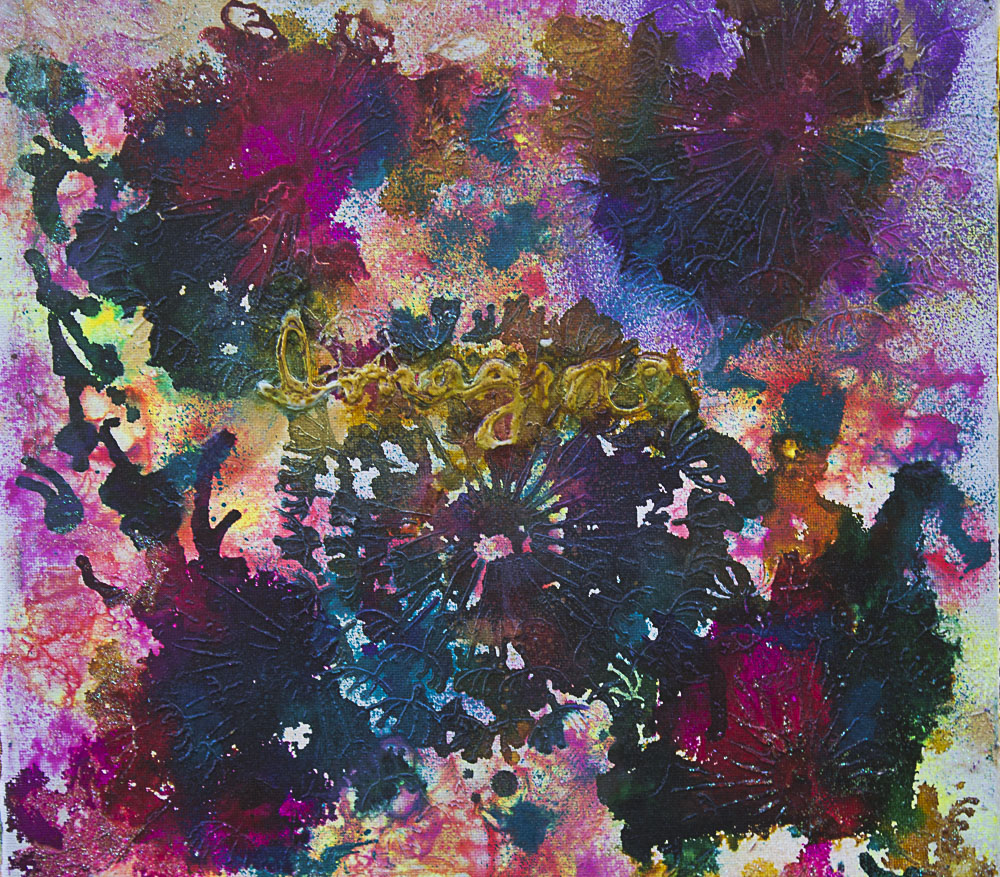 Imagine
12x12 Traditional Canvas, Mixedmedia Art
"Your eyes have seen my unformed substance and in Your book were written the days that were ordained for me, when as yet, there was not one of them." Psalm 139:16.
I know this passage is often quoted in regard to physical birth, but on another level, it can be a reminder that the gifts in our lives and the things we might do, the Lord knew all about us before we came to be. He sees our capabilities before we do.
Materials: Acrylic paints, Adirondack inks, texture paste stenciled.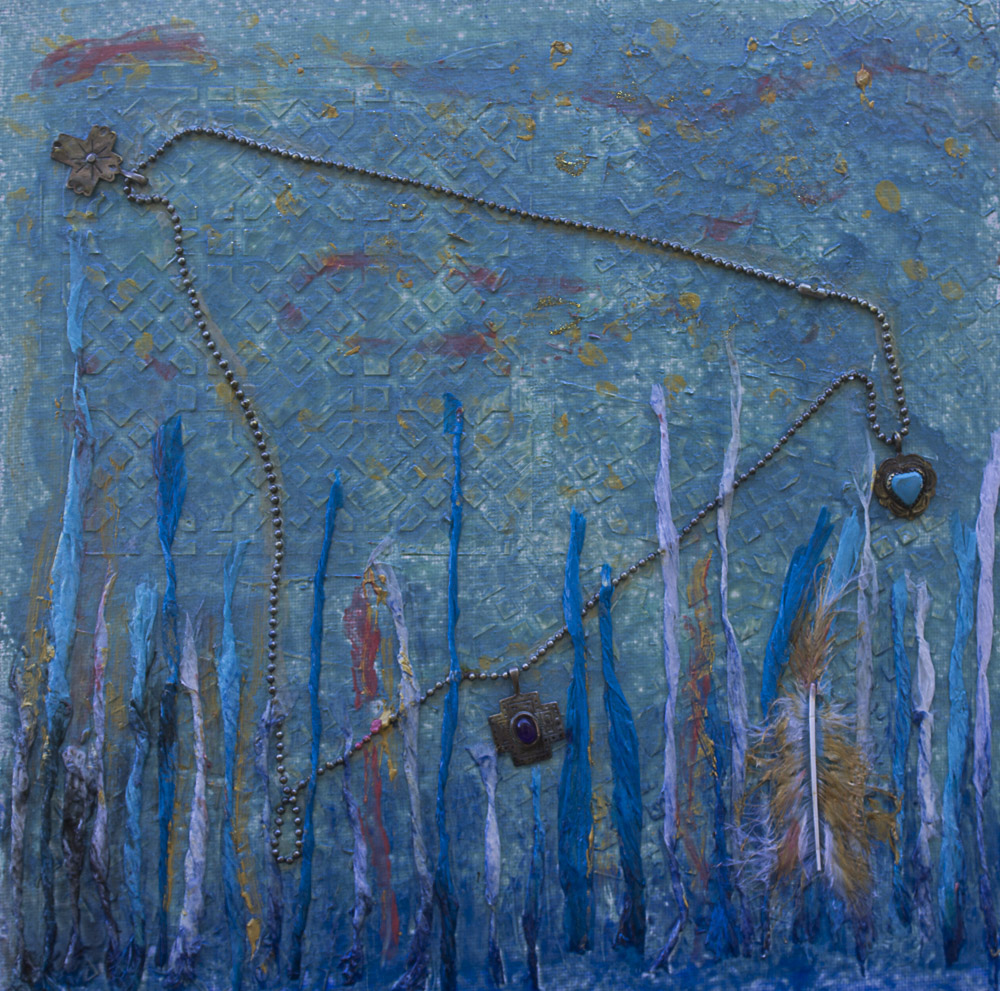 Intercession
12x12 Canvas Panel, Mixed Media Pebeo
"Likewise the Spirit helps us in our weakness. For we do not know what to pray for as we ought, but the Spirit himself intercedes for us with groanings too deep for words. And he who searches hearts knows what is in the mind of the Spirit, because the Spirit intercedes for the saints according to the will of God." Romans 8:26-28.
Materials: Pebeo paints, Vitrail and Moon Fantasy; Tissue papers, A feather, Chain with crosses and heart, lattice diamond stencil for background.
Synonyms for intercession is mediation, intermediation, arbitration, conciliation, negotiation. Prayers of intercession would be the action of saying a prayer on behalf of another person.
Invocation
12x12 Traditional Canvas, Mixedmedia Acrylic
"Blessed be God who has heard my prayer, and not turned away His mercy from me." Psalm 66:20.
Invocation: the act or process of petitioning for help or support; a prayer of entreaty (as at the beginning of a service or worship).
Sometimes prayer is thought of as the last thing we can do. We so often depend on our own power to do anything. But prayer is the best thing we can do. And God is listening. Especially in times where I have struggled with issues in my life and He still hears me. Truly, blessed by God who has heard my prayer and not turned His mercy from me.
Materials: Acrylic paints, tissue papers, silk leaves, bling
Jubilee
12x24 Canvas, Mixedmedia Collage
"Consecrate the fiftieth year and proclaim liberty throughout the land to all its inhabitants. It shall be a jubilee for you; each of you is to return to your family property and to your own clan." Leviticus 15:10. This scripture is on the Liberty Bell.
Materials: ribbons, threads, lace, acrylic paint, gesso, feathers, pennies, half a styrofoam cup and aluminum.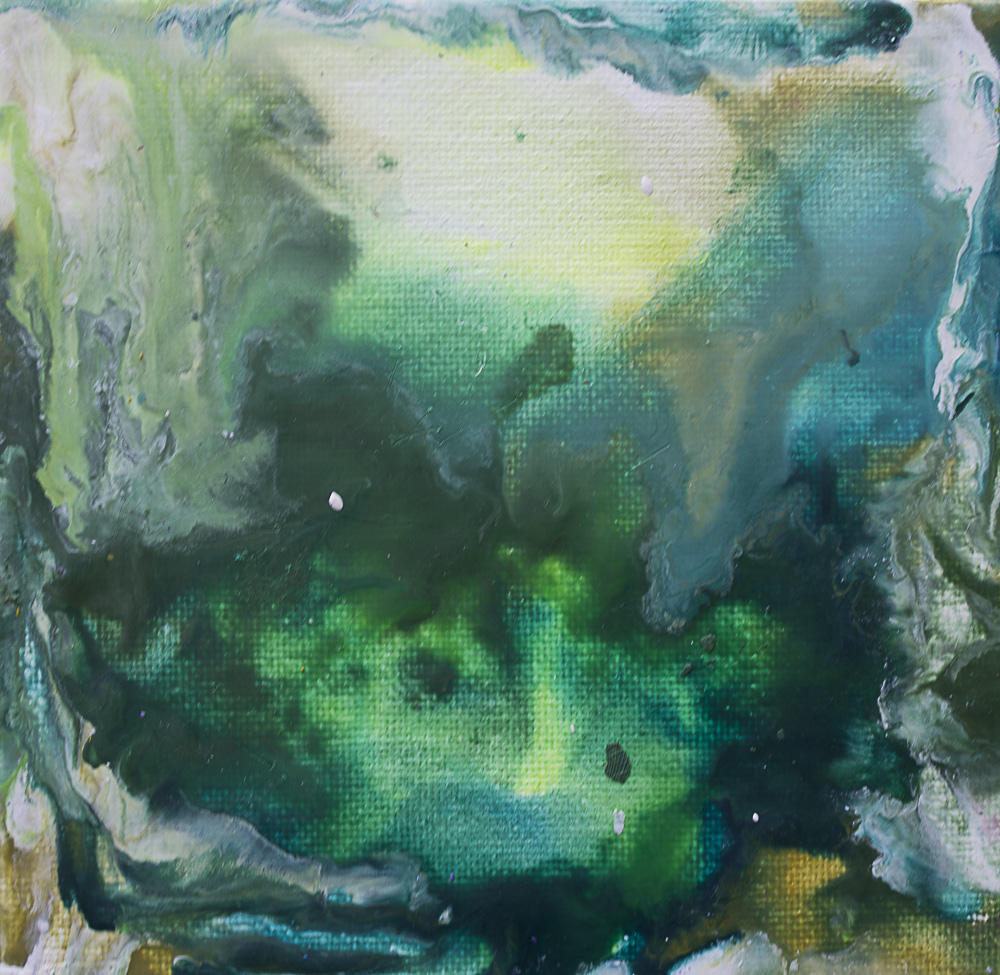 Leviathan
6x6 Canvas Panel, Encaustic
"In that day, the Lord will punish with his sword — his fierce, great and powerful sword — Leviathan, the gliding serpent; he will slay the monster of the sea." Isaiah 27:1
Leviathan, besides being a name of Satan, has also been given to all enemies of God and His people…different nations and kings, as it was common to describe enemies by the names of vicious and ominous creatures. It is in that sense allegorical. We know that Satan is referred to as a serpent since the time of the Garden of Eden. So to me, ultimately, leviathan is a term describing Satan, enemy of God and man.
Little Ones
12x12 Canvas, Mixed Media Collage
"See that you do not despise one of these little ones. For I tel you that their angels in heaven always see the face of my Father in heaven." Matthew 18:10
This verse is actually part of the parable of the Wandering Sheep. New believers are often considered spiritual newborns, but I also consider this verse in regard to all little ones.
This piece is about children and the memories and symbolism of our childhood. It is also in memory of Zayla.
Materials: Napkin and tissue papers, ribbons, lace, bling, miniature cups and saucers, buttons, caps, and angel drops.
Living Water
12x12 Canvas, Mixedmedia Acrylic
"But whoever drinks of the water that I will give him shall never thirst; but the water that I shall give him will become in him a well of water springing up to eternal life." (John 4:14)
Water is considered a symbol of the Holy Spirit. The day I asked the Lord Jesus to become my Savior and come into my life, something changed. I imagine it is like the verse of John 4:14. It is one of life and power.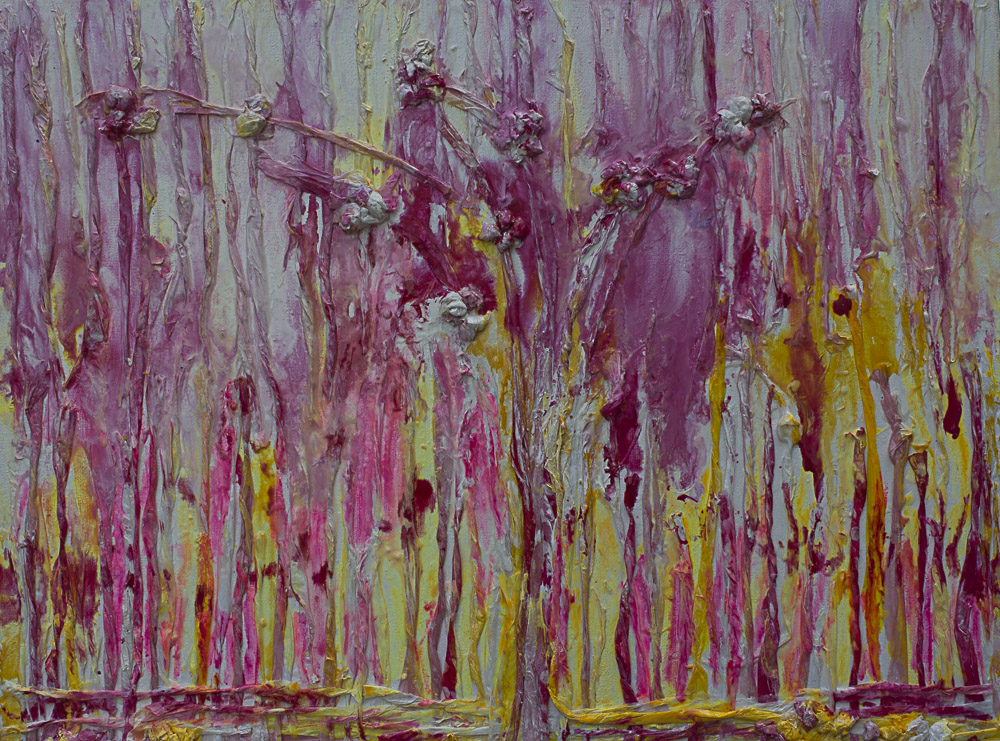 Love Came Down
16x20 Canvas, Encaustic
"Every good and perfect gift is from above, coming down from the Father of the heavenly lights, who does not change like shifting shadows." James 1:17
I like to think that all things that have happened in my life God has meant only for my good. Gifts come in many different shapes and sizes. While being thankful for the good things in our lives and the people, it helps to remember ultimately that God is in charge and so whatever we are going through, He has our back. In Him we have our purpose. And unlike "shifting shadows" God does not change, does not shift like the shadows.
Shifting (adjective): "shifting objects, lights, or shadows frequently change their shape or appearance. shifting patterns of light. Able to be changed and lasting only a short time: variable, brief.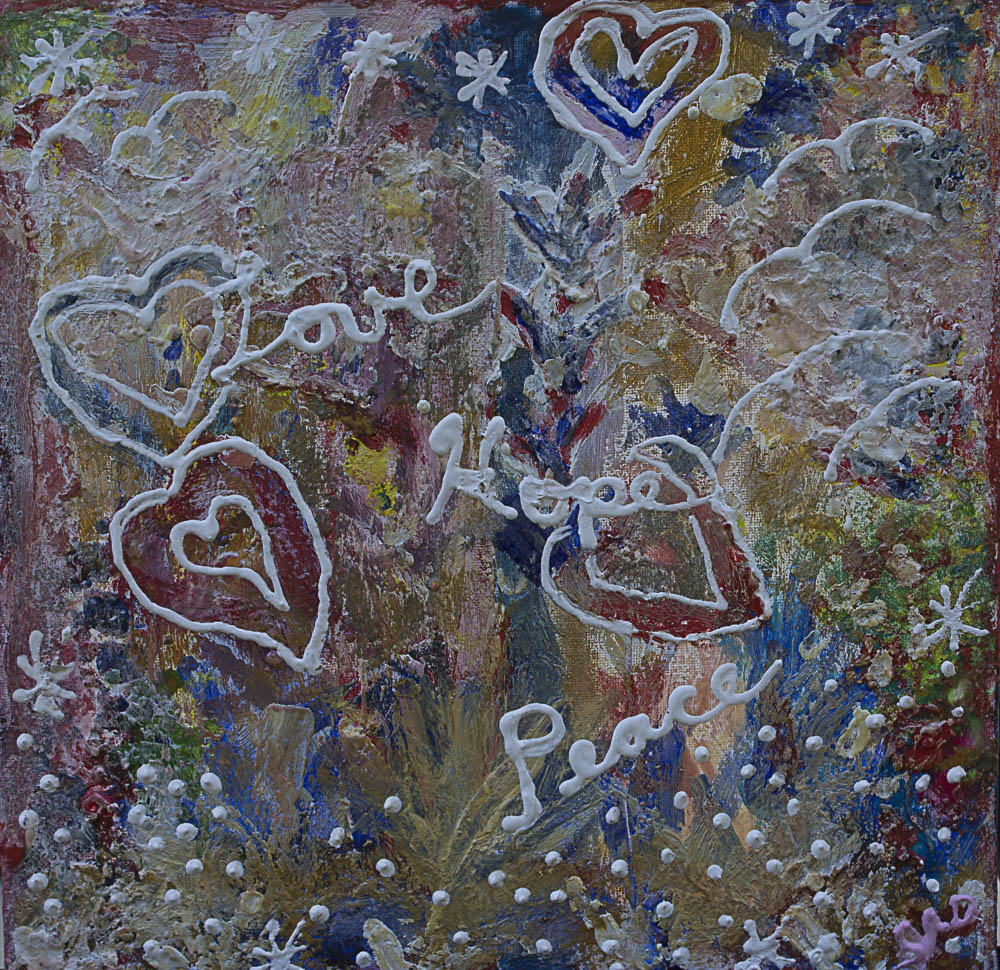 Love Hope Peace
12x12 Traditional Canvas, Mixedmedia Encaustic
"When the Lord takes pleasure in anyone's way, he causes their enemies to make peace with them." Proverbs 16:7
What this verse does not say is that we won't have enemies. We will definitely have enemies and the world as a rule is against the follower of Christ. But, as we choose to follow God's ways in our life, God himself will work it out between us and those who despise us.
I know of some who have gone out of their way to try and hurt me because of my faith, and some were closer than my neighbors. The world can be scary, but it is possible in Christ to have love, hope, and peace in a world upside down.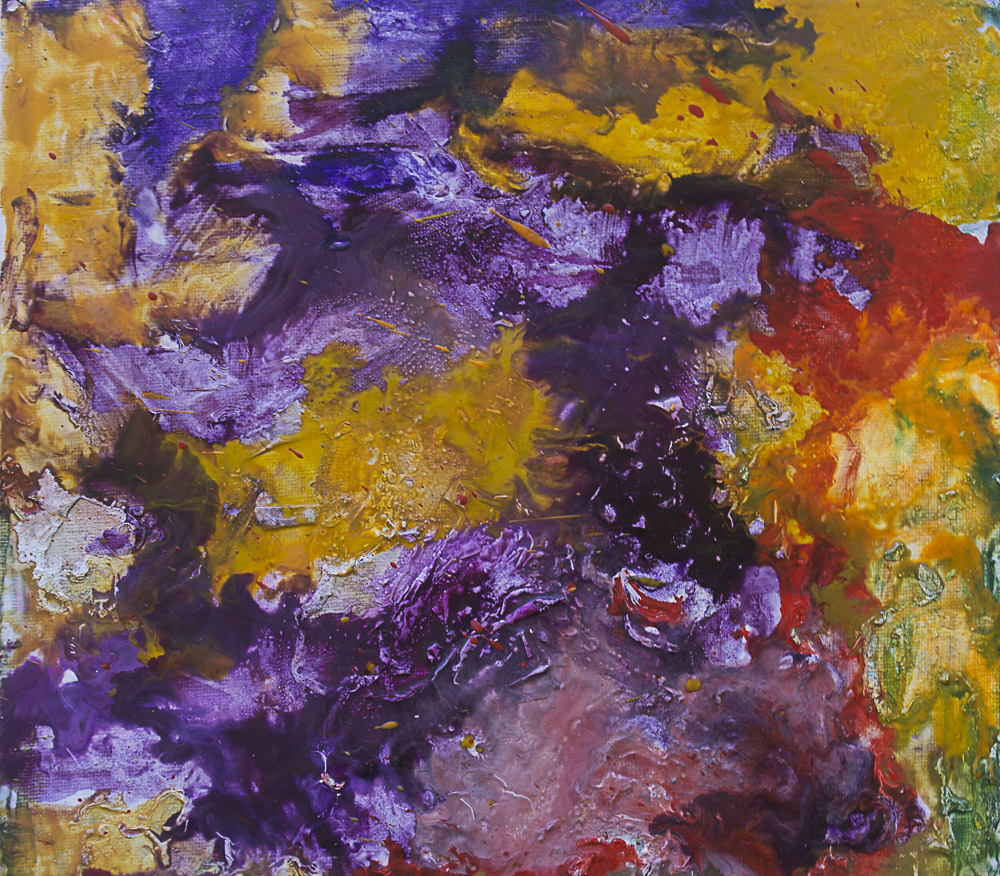 Majesty
12x12 Canvas Panel, Encaustic Abstract
"Bless the Lord, O my soul. O Lord my God, thou art very great; thou art clothed with honor and majesty." Psalm 104:1
Sovereign power, authority or dignity; used in addressing or referring to reigning sovereigns and their consorts.
Of all the kings in the earth, God is most sovereign and holy. In Ezekiel 36:23, we read "I will vindicate the holiness of My great name which has been profaned among the nations, which you have profaned in their midst. Then the nations will know that I am the Lord," declares the Lord God, "when I prove Myself holy among you in their sight."
It is in understanding God's holiness, His majesty, that one may start to understand how great a gift of salvation has been given to save man, God's crowning glory of all creation.
Milk and Honey
16x20 Canvas, Mixed Media Encaustic
"and I have come down to deliver them out of the hand of the Egyptians and to bring them up out of the land to a good and broad land, a land flowing with milk and honey, …" Exodus 3:8
The Hebrews had to leave a land that had been good to them, but turned on them (as was God's plan in order to bring them to another land of God's choosing). And they had to face up to those there in the new land to take it over as well as their own fears. I found myself working for an employer that once treated me well but then turned against me, and God used the situation to bring me out of there. I am in another place for now. God put me there to grow and be fruitful and experience some needed opportunities in my life. No, the place is not perfect, but neither am I and the growing part is usually in the difficulties.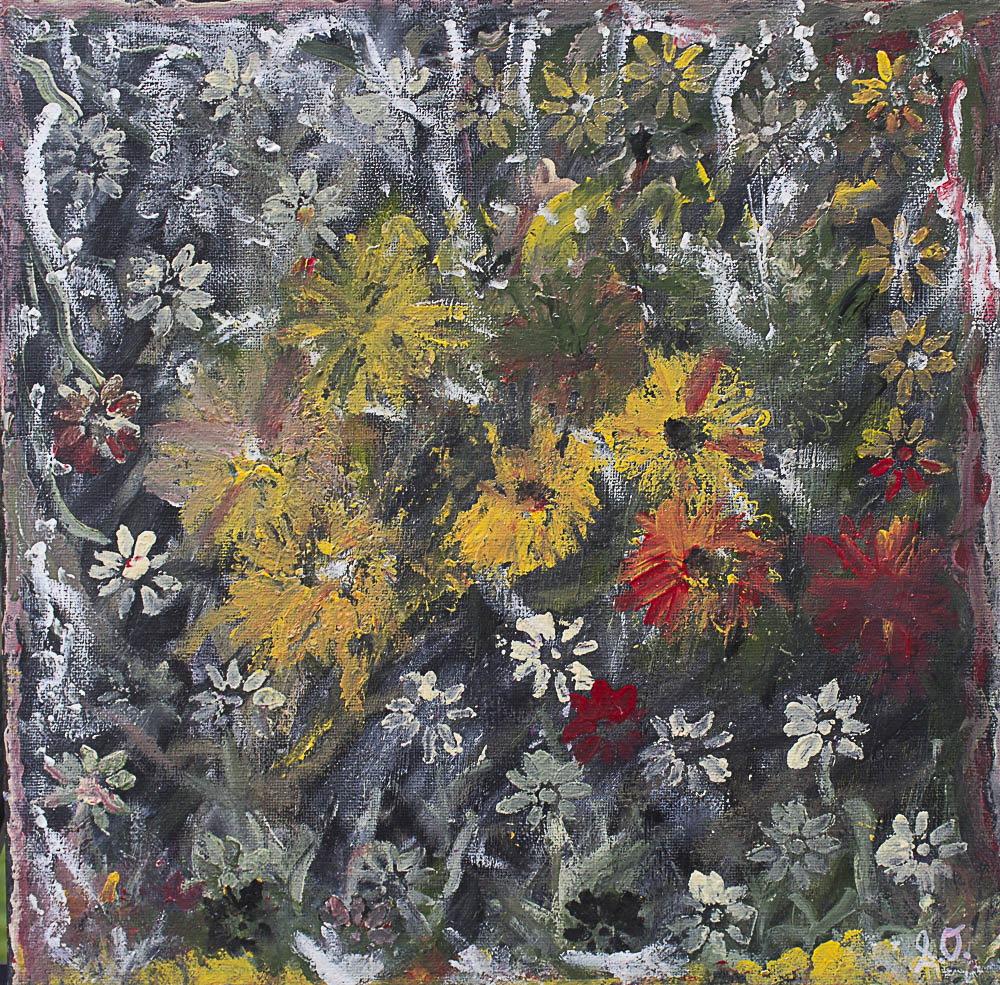 Multiply
12x12 Traditional Canvas, Acrylic
"So neither the one who plants nor the one who waters is anything, but only God, who makes things grow." 1 Corinthians 3:7
I have learned it is only God which makes things happen. It is the Creator who brings life regardless who it was that planted or watered or otherwise took care of something or someone. It is the Holy Spirit which brings a person to salvation. It is not the messenger. It is God who multiplied the numbers of the early church stated in the book of Acts. It is a good thing to be a part of God's plans. But it is God who is to be glorified in the good of His plan of salvation to humankind.
Mustard Seed
16x20 Canvas, Mixedmedia Encaustic (Gifted)
"..if you have faith as small as a mustard seed, you can say to this mountain, 'Move from here to there, and it will move. Nothing will be impossible for you." Matthew 17:20
Growing from small beginnings is the theme of this parable found in the gospels. The mustard seed represents the Kingdom of God. Starting from small beginnings, but one day, growing and becoming like a tree, so that even the birds of the air come and lodge in its branches. (Matt 13). In chapter 17, Jesus heals a possessed boy. The disciples in private ask why they could not cast out the demon. He tells them it is because they had so little faith.
I have always thought of faith as believing in what you do not see; the mustard seed as symbolic of faith that grows and does not quit.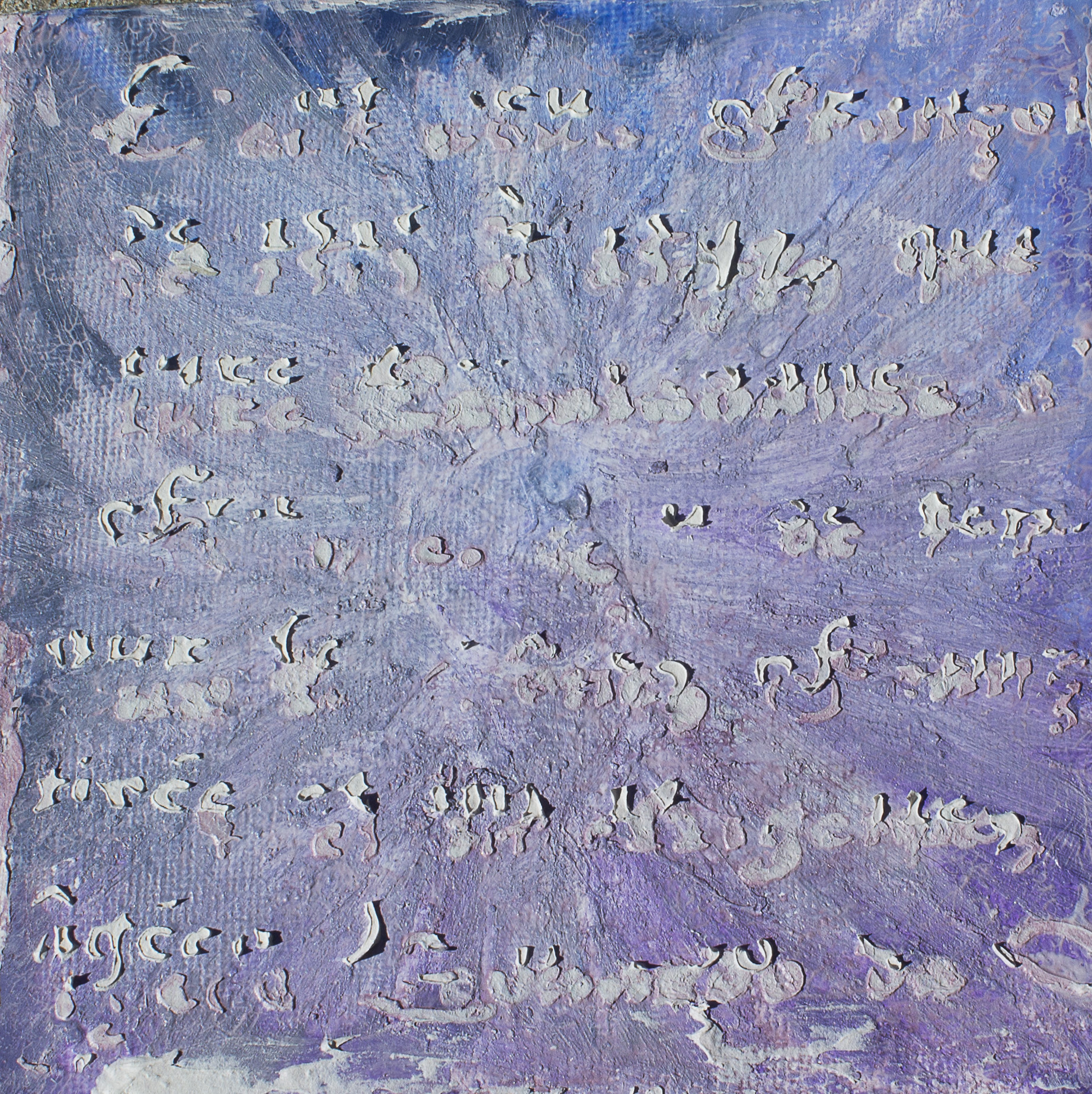 My Words
6x6 Canvas Panel, Mixedmedia Acrylic
"Heaven and earth will pass away, but My words by no means will pass away." Matthew 24:25.
We live in a time where everyone is trying desperately to save the earth. For sure, we should be better caretakers than we have been. But in the end we are trying too hard to hang onto the perishing while ignoring the eternal. The One who made it all will one day restore it for its original intent. For now, He starts with us, what He considers the pinnacle of His creation…..people. That's why Jesus came to die on a cross, to pay for our sins that we would be restored to the relationship with God taken from us through the actions of our first parents.
Materials: Acrylic paint and texture paste.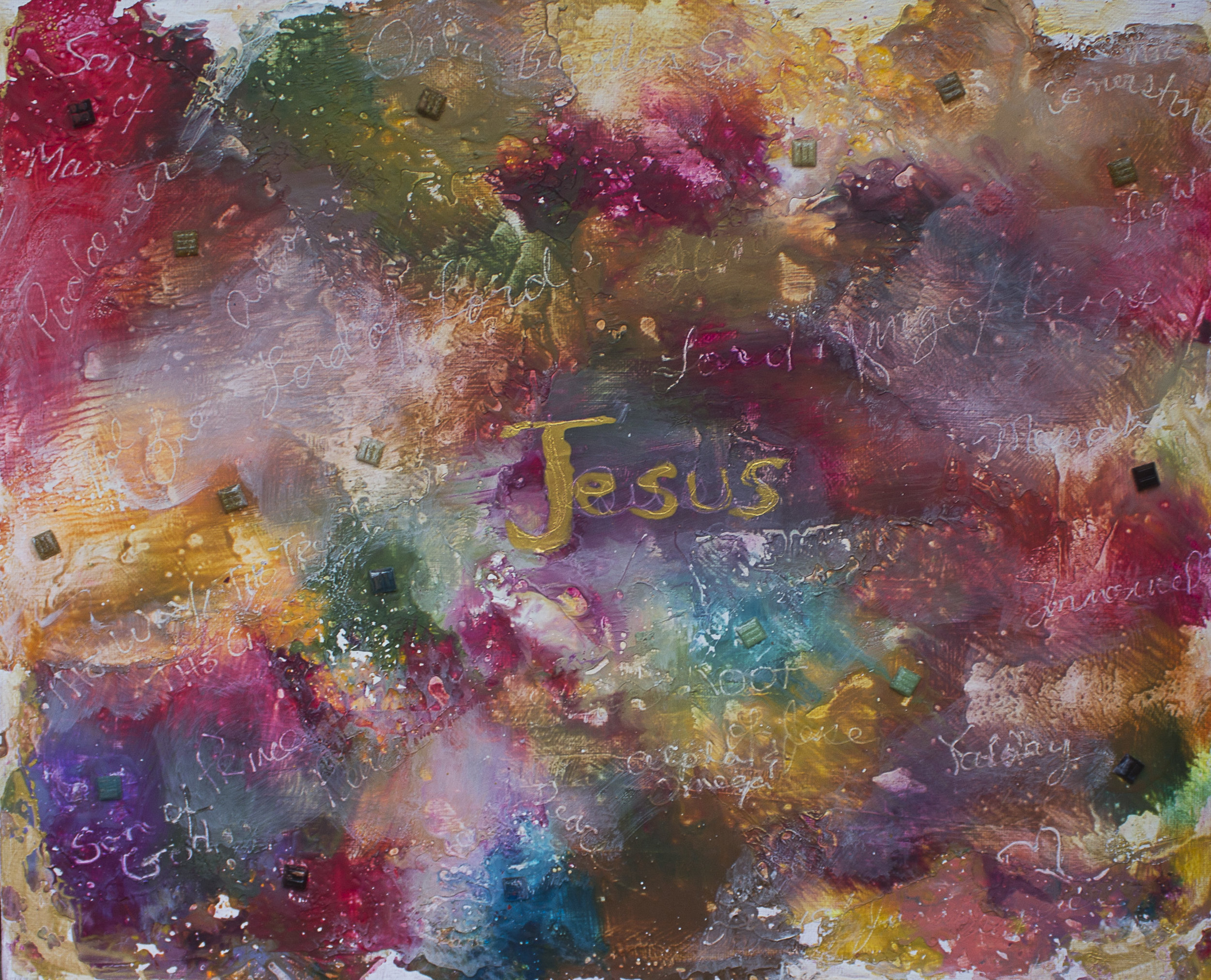 Names of Jesus
"And there is salvation in no one else, for there is no other name under heaven given among men by which we must be saved." Acts 4:12.
Glory of the Lord (Isaiah 40: 12); I Am (John 8:58); Alpha and Omega (Rev 22:13); Lamb of God (John 1:29); Root of David (Rev 22:16); Root of Jesse (Romans 15:12); Good Shepherd ( John 10:11); The Word (John 1:14); Branch (Isaiah 4:2); Morning Star (Rev 22:16); Messiah (Daniel 9:25); Son of God (Luke 1:35)
This is but a small list. There are more.
I believe the name Jesus of itself means salvation.
Materials: Melted crayon wax, etchings, Liquitex Inks.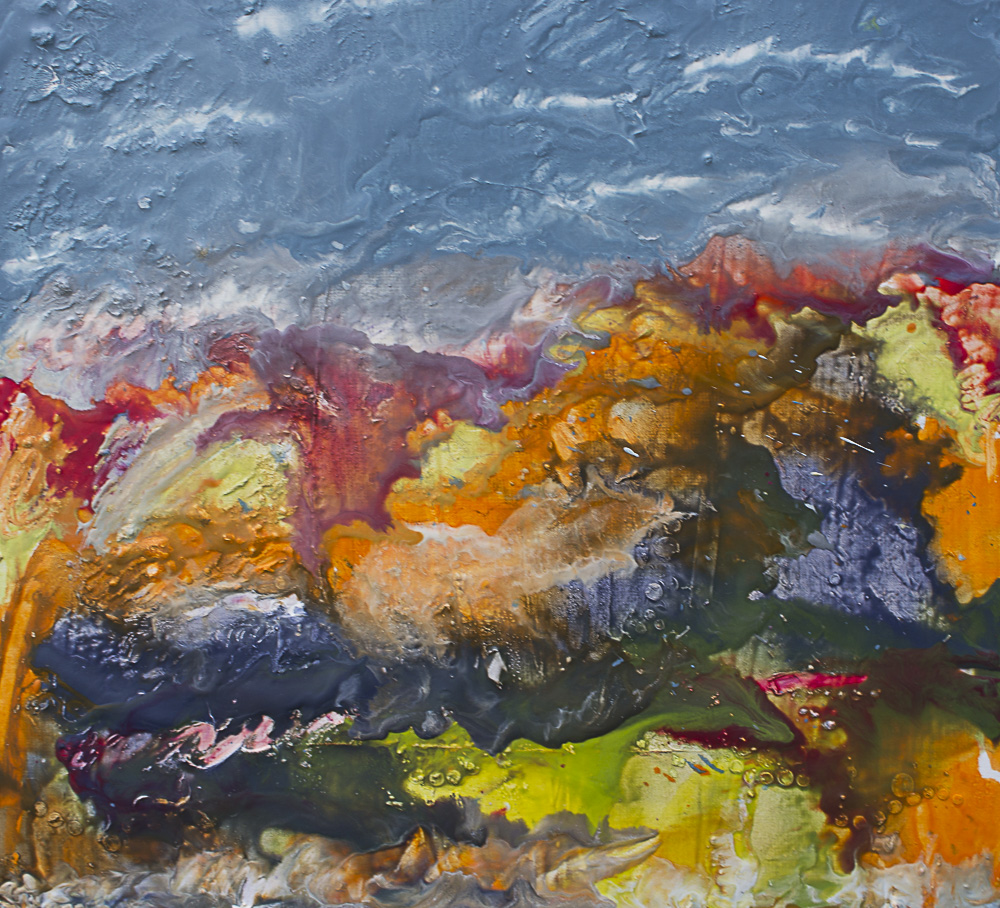 New Wine
12x12 Canvas Panel, Encaustic
Malachi 3:10 "Bring the full tithe into the storehouse, that there may be food in my house. And thereby put me to the test, says the Lord of Hosts, if I will not open the windows of heaven for you and pour down for you a blessing until there is no more need."
No Division
12x12 traditional canvas
"Making no division between them and us, but making clean their hearts by faith." Acts 15:9
Materials: Black canvas, white encaustic gesso with black acrylic gesso for background. Melted crayon in pinks and reds; ephemera of rings and bits of mosaic porcelain.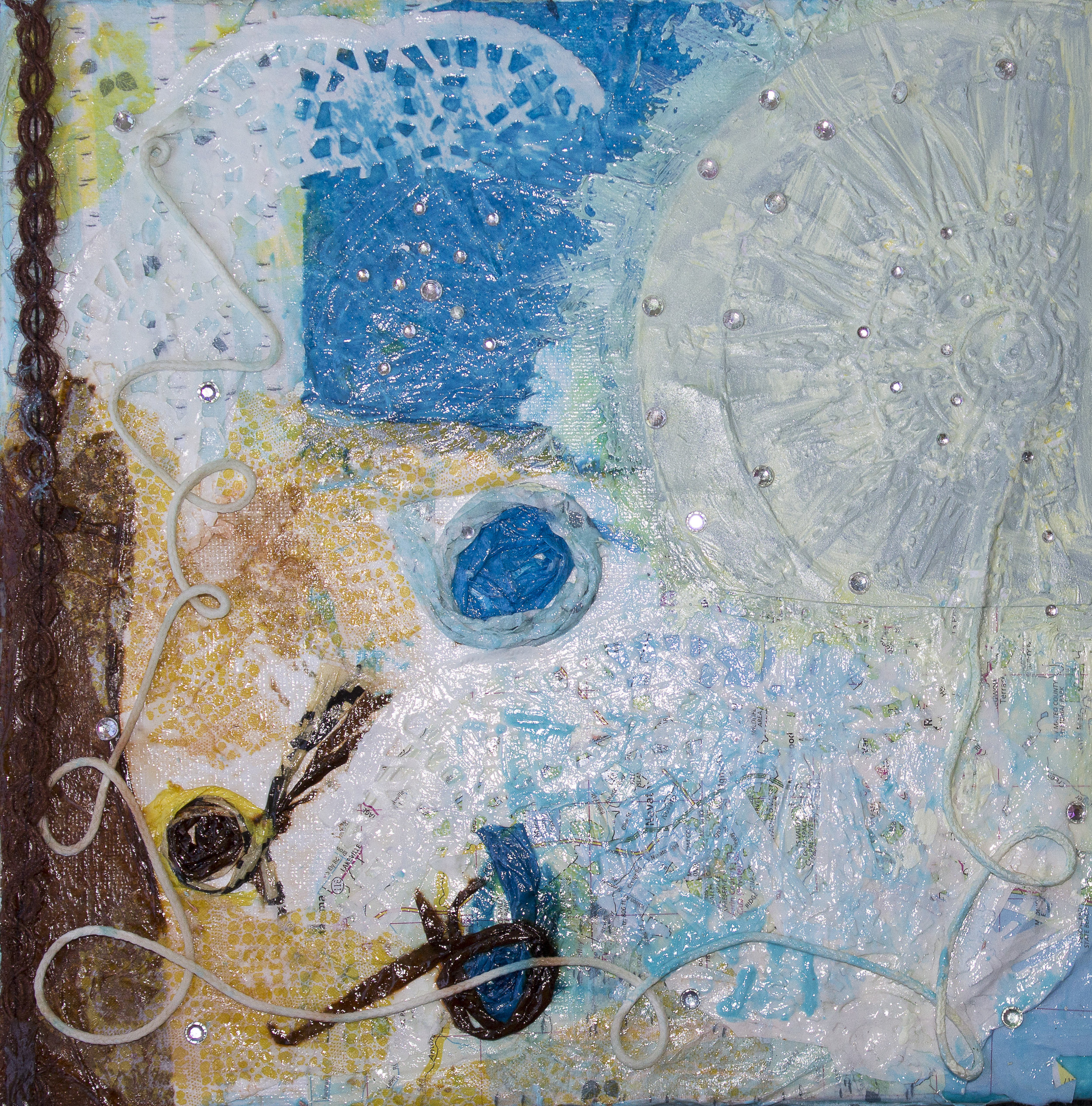 North Until Forever
10x10 Mixedmedia Collage
"Trust in the Lord with all your heart, and do not lean on your own understanding. In all your ways acknowledge Him and He will make straight your paths." Proverbs 3:5-6
Materials/Tools: Compass Embossing folder; brayer; brushes; tissue papers; scrapbook papers; threads; mod-podge and paint.
Oil of Gladness
6x6 Canvas Panel
"and provide for those who grieve in Zion - to bestow on them a crown of beauty instead of ashes, the oil of of joy instead of mourning, and a garment of praise instead of a spirit of despair. They will be called oaks of righteousness, a planting of the Lord for the display of his splendor." Isaiah 61:3 (NIV).
There was a song by Crystal Lewis I liked to listen to called Beauty for Ashes. "He gives beauty for ashes, strength for fear, gladness for mourning, peace for despair."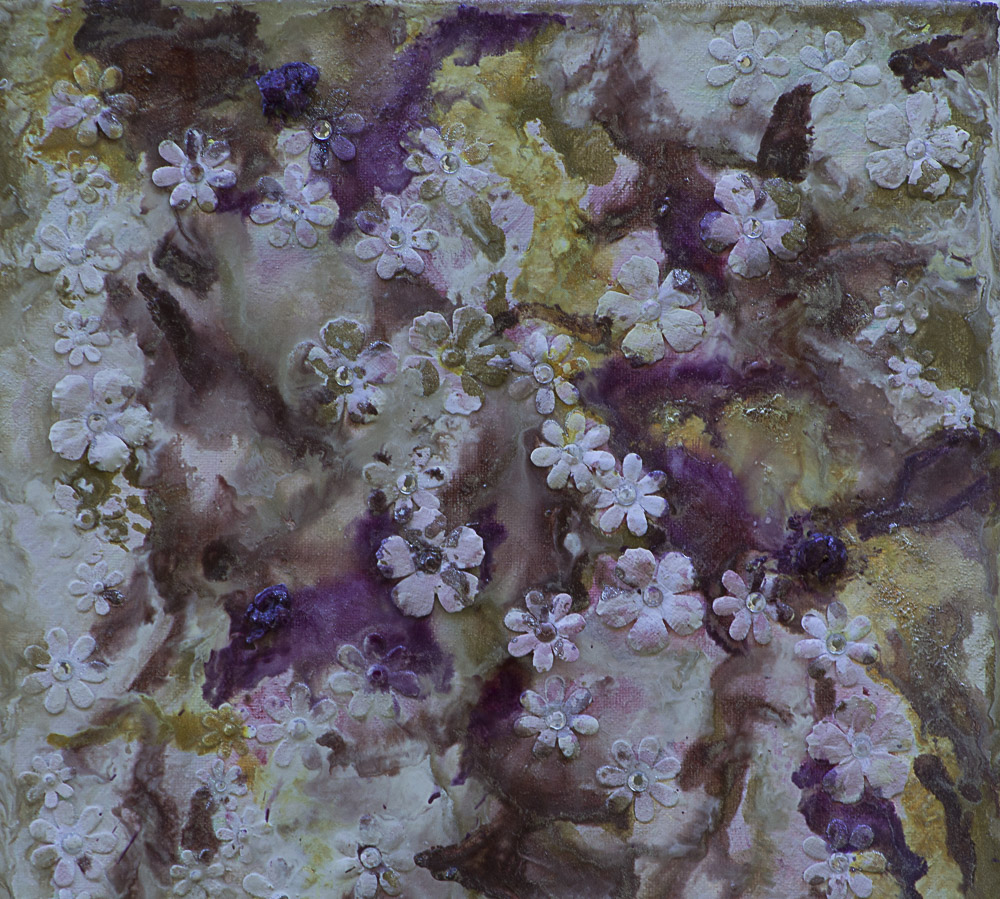 Parable of the Fig Tree
"Now learn this lesson from the fig tree. As soon as it's twigs get tender and its leaves come out, you know that it (he) is near, right at the door." Matthew 24:32-33. (12x12 Mixed Media Encaustic)
This passage is a prophesy of Israel becoming a nation as they most certainly did in 1948. One of the signs of the beginnings of the Lord's soon return. Interestingly, the fig tree is the third tree to be mentioned by name in the Bible; the first being the Tree of life and the second the Tree of the knowledge of good and evil. Adam and Eve used the leaves of the fig tree to sew garments for themselves after the Fall, when they realized they were naked. (Genesis 3:7).
This is an abstract version of the fig tree, likened to what a blooming fig tree might look like.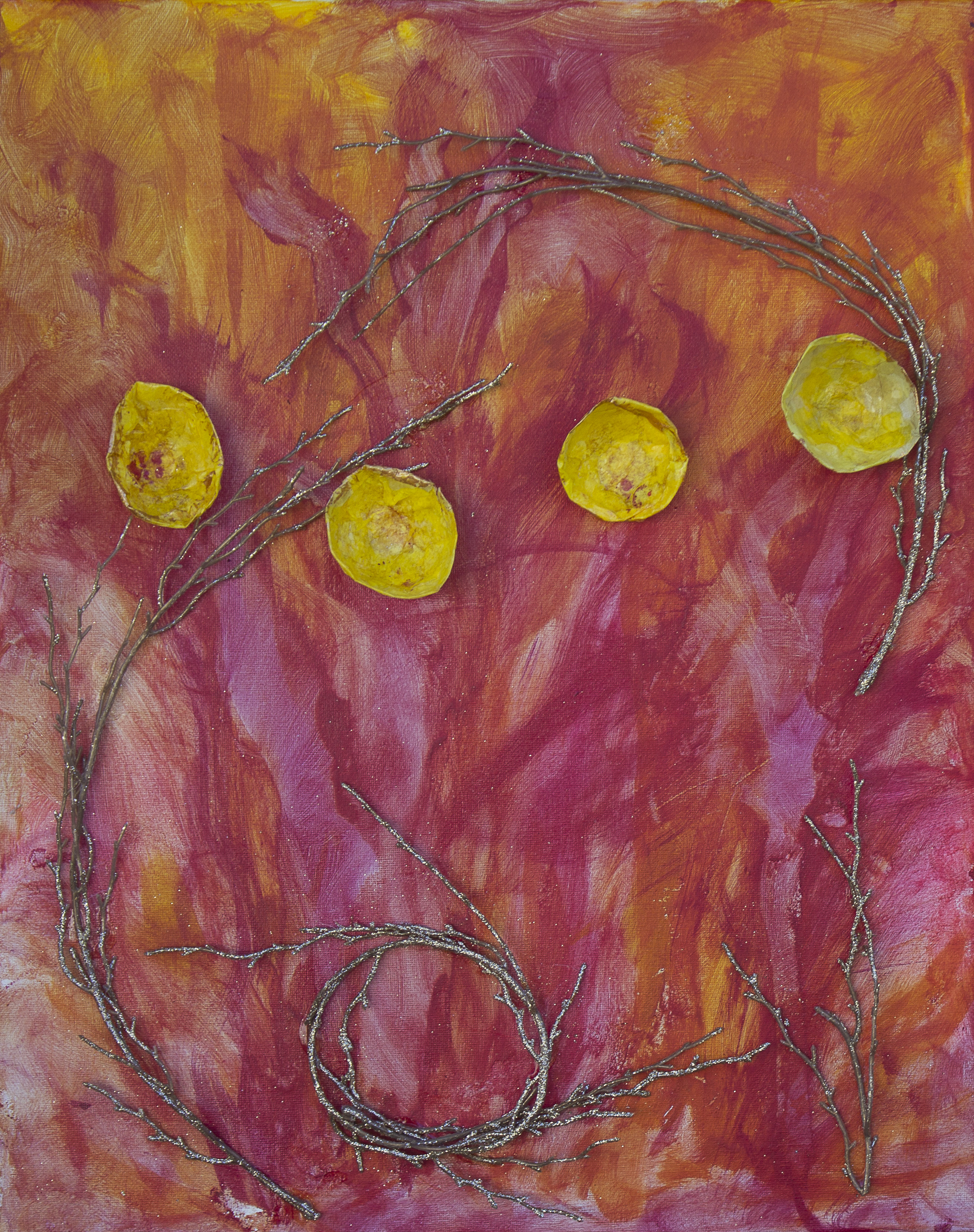 Precious
16x20 traditional canvas/ abstract-symbolism/mixedmedia art
Psalm 116:15 "Precious in the sight of the Lord is the death of His saints." Psalm 72:14 "He shall redeem their soul from deceit and violence; and precious shall their blood be in His sight."
An acknowledgment of the persecution and martyrdom of Christians today as well in the past and in the future.
At one glance blooming flowers in a field; look closer and see the makings of the crown of thorns and the golden bowls, offering up of prayers for the saints."
Materials: India alcohol inks, gold tissue bowls (made from a balloon technique), and a gold floral wreath.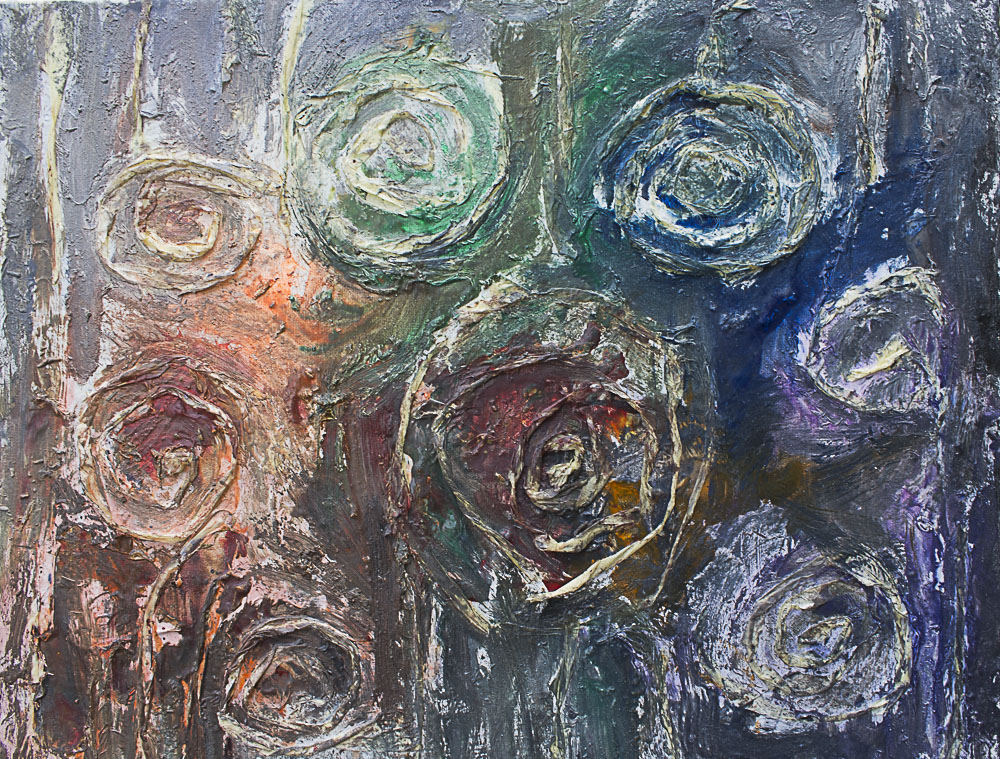 Rainbow Covenant
16x20 traditional canvas, mixedmedia encaustic
"I set my rainbow in the cloud, and it shall be for the sign of the covenant between Me and the earth. It shall be, when I bring a cloud over the earth, that the rainbow shall be seen in the cloud; and I will remember My covenant which is between Me and you and every living creature of all flesh; the waters shall never again become a flood to destroy all flesh." Genesis 9:13-15.
I used to walk along the ground and where the dirt was after a rain, would actually see a rainbow there as well as in the sky above.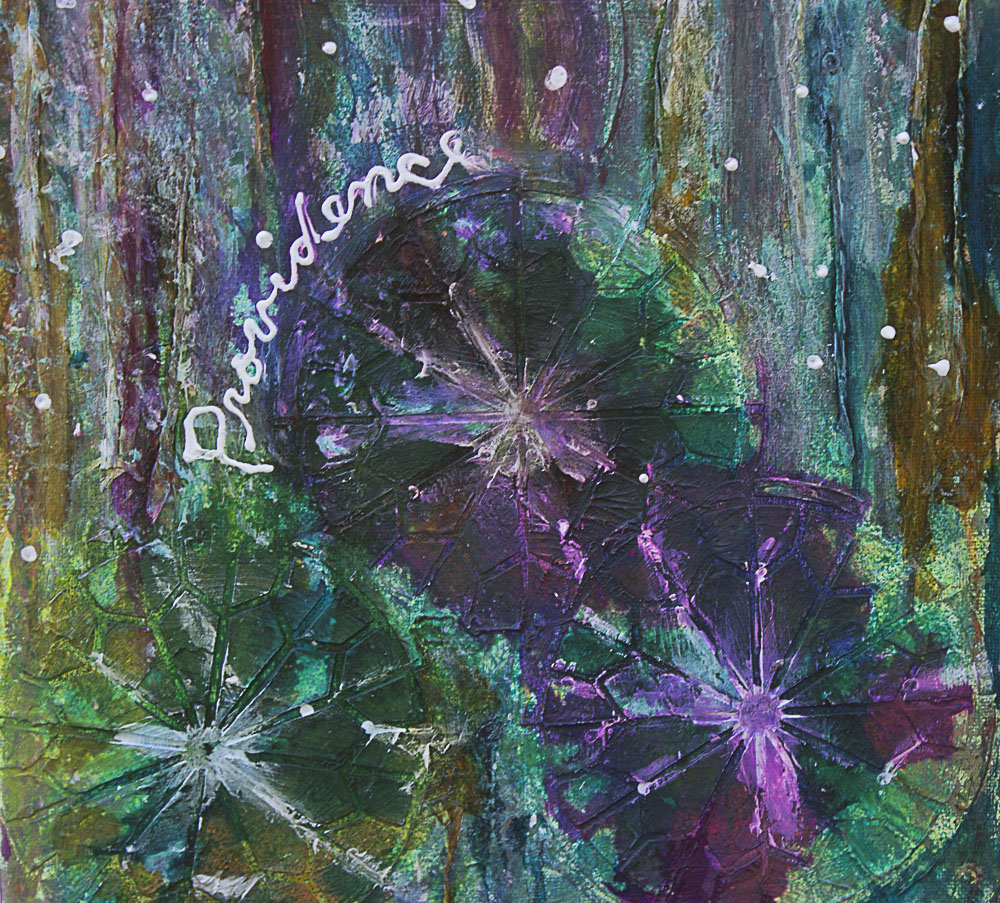 Providence
12x12 traditional canvas, mixedmedia ink/acrylic
"For this reason I say to you, do not be worried about your life, as to what you will eat or what you will drink; nor for your body, as to what you will put on. Is not life more than food, and the body more than clothing?" Matthew 6:25
Materials: gesso base, metallic and neon fabric spray paints; alcohol inks by Adirondack in metallic teal, berry, and cyan. Wheel stencil with texture paste.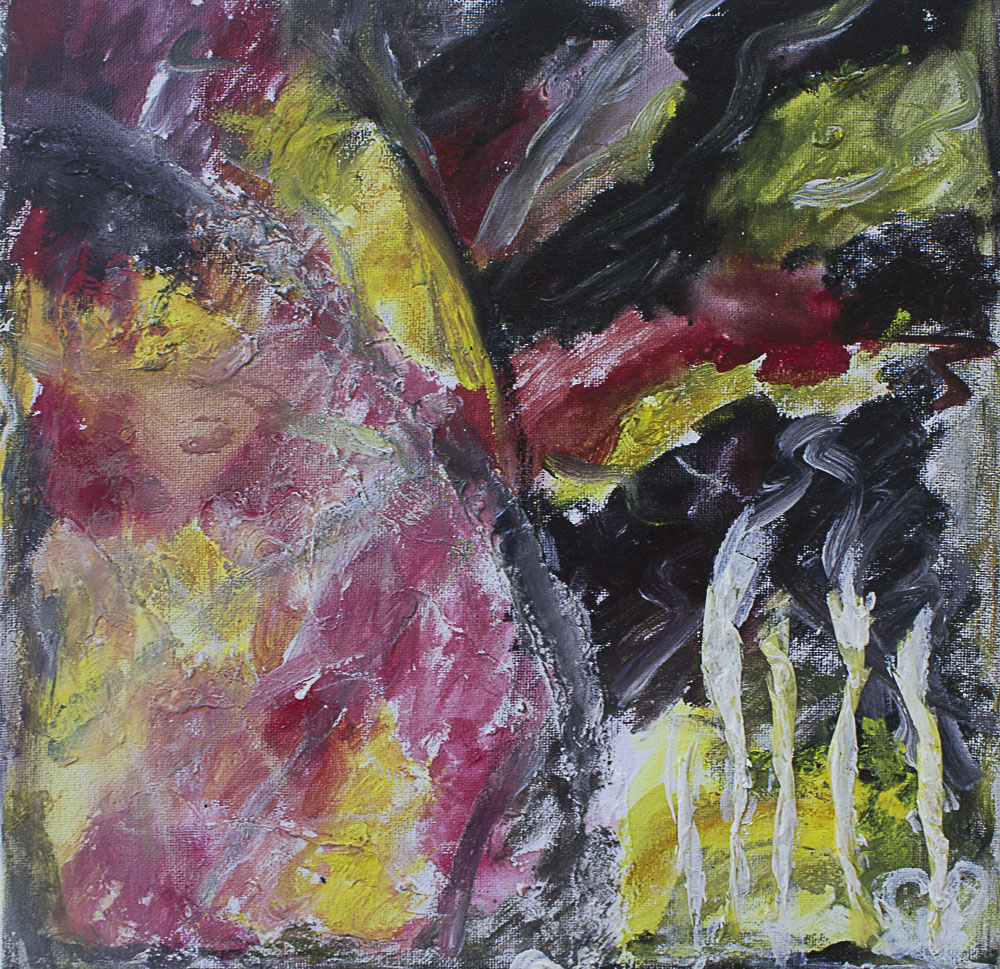 All the Children
12x12 Canvas traditional/watercolor and acrylic mixedmedia
"But Jesus said, 'Let the little children come to Me, and do not forbid them; for of such is the Kingdom of heaven."
Songwriter of Jesus Loves the Little Children was C. Herbert Woolston (1856 to 1927).
Materials: Paints in watercolor and acrylic; soft yellow and white tissue papers.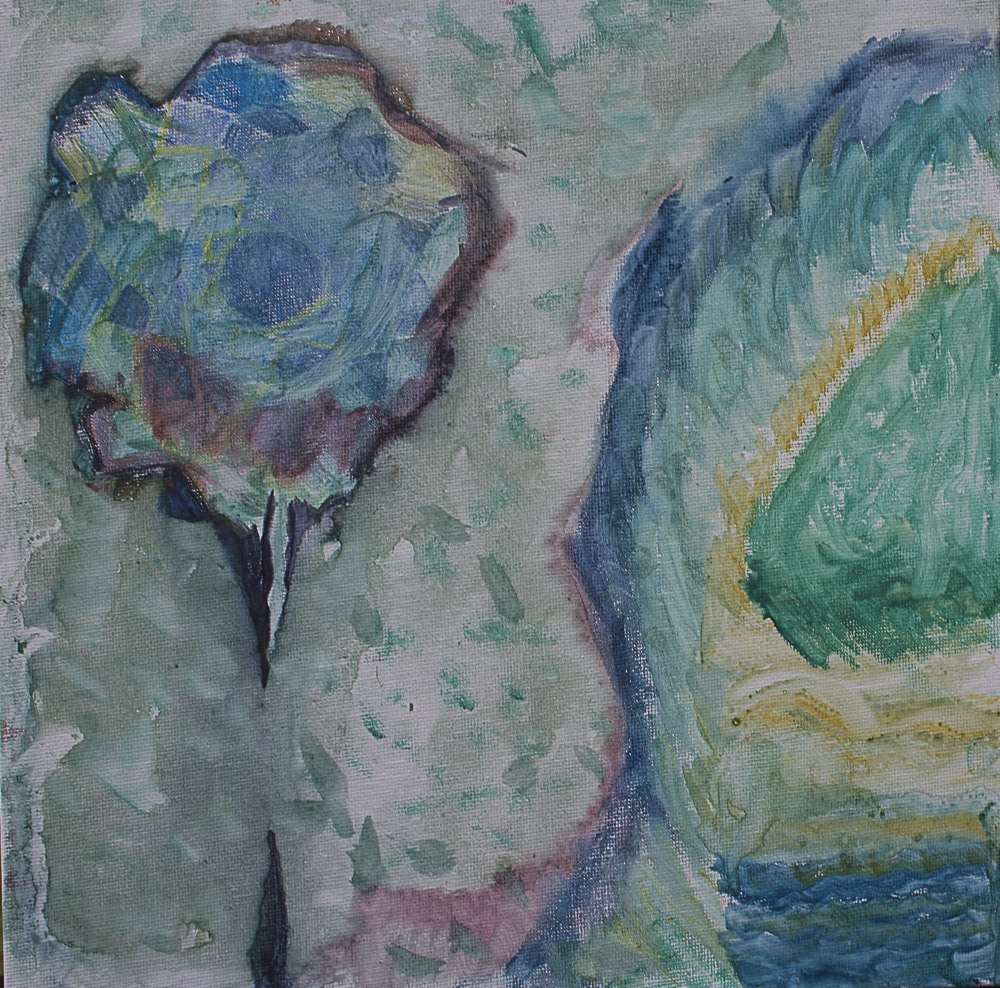 Redeemed Heritage
12x12 Canvas Panel Watercolor
"Fear not, for I have redeemed you, I have called you by name, you are mine." Isaiah 43:1
Materials: All in watercolors. I feel like this is something that could go into a child's room. Our children are our heritage. Many prayers go up for the children in our lives.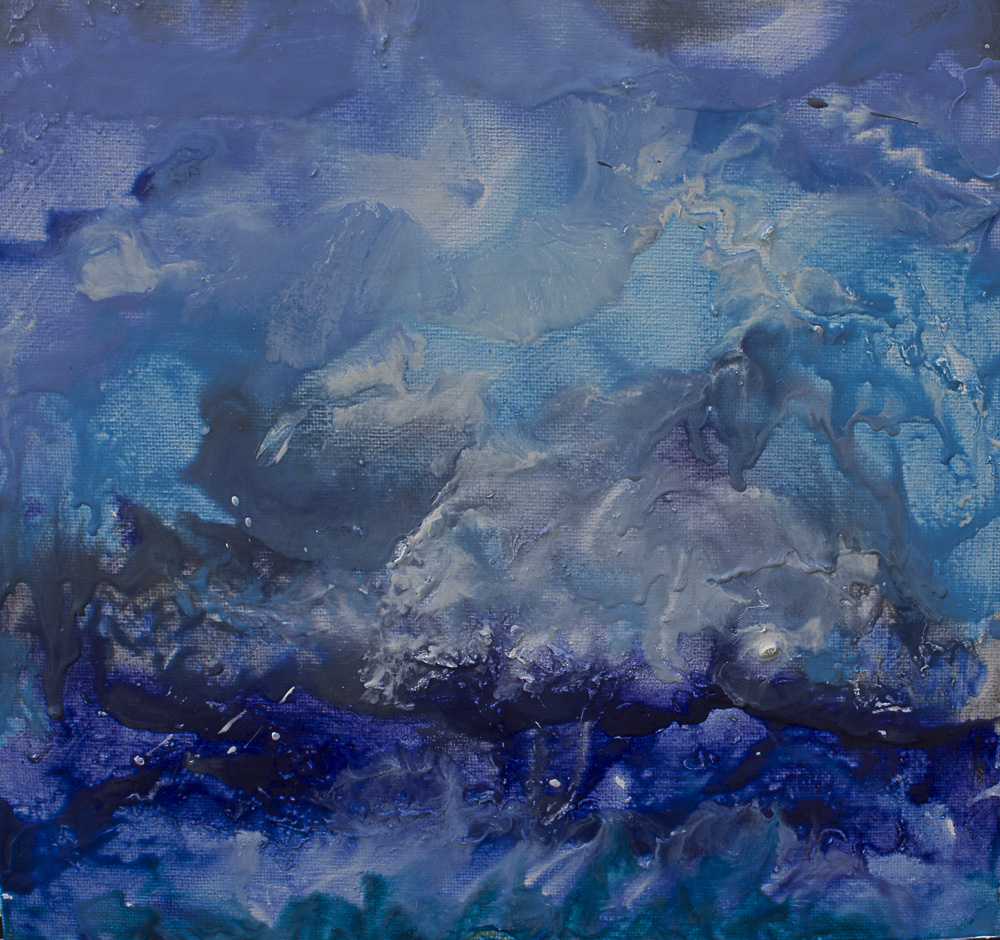 Rejoice and Shout!
12x12 Canvas Panel (Mixedmedia encaustic) (Sold)
"Let the sky rejoice and the earth be happy! Let the sea and everything in it shout!" Psalm 96:11.
Materials: Crayon wax by Crayola.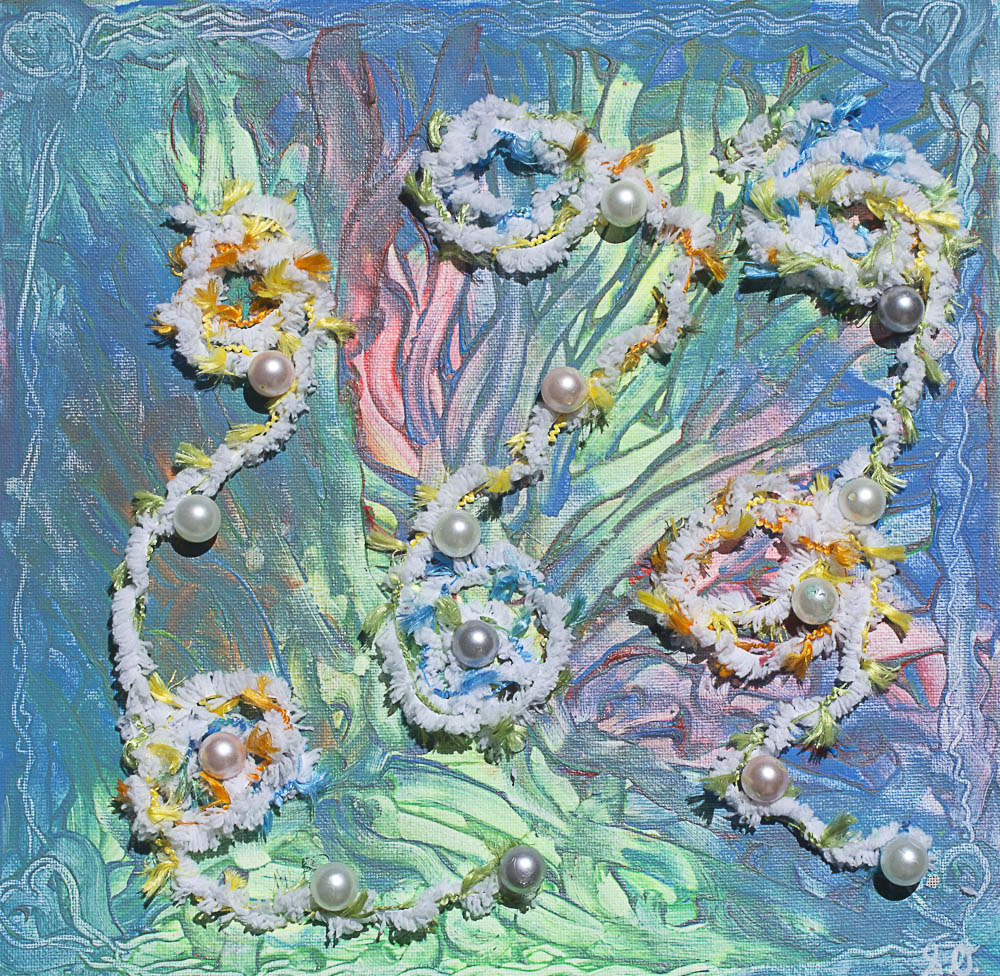 Resplendence
12x12 traditional canvas (Sold)
"For the earth will be filled with the knowledge of the glory of the Lord as the waters cover the sea." Habakkuk 2:14.
Materials: Acrylic paints fingerpainted onto the background. Yarn (Kidding Around by Loops and Threads); Pearls (fillers)by Ashley.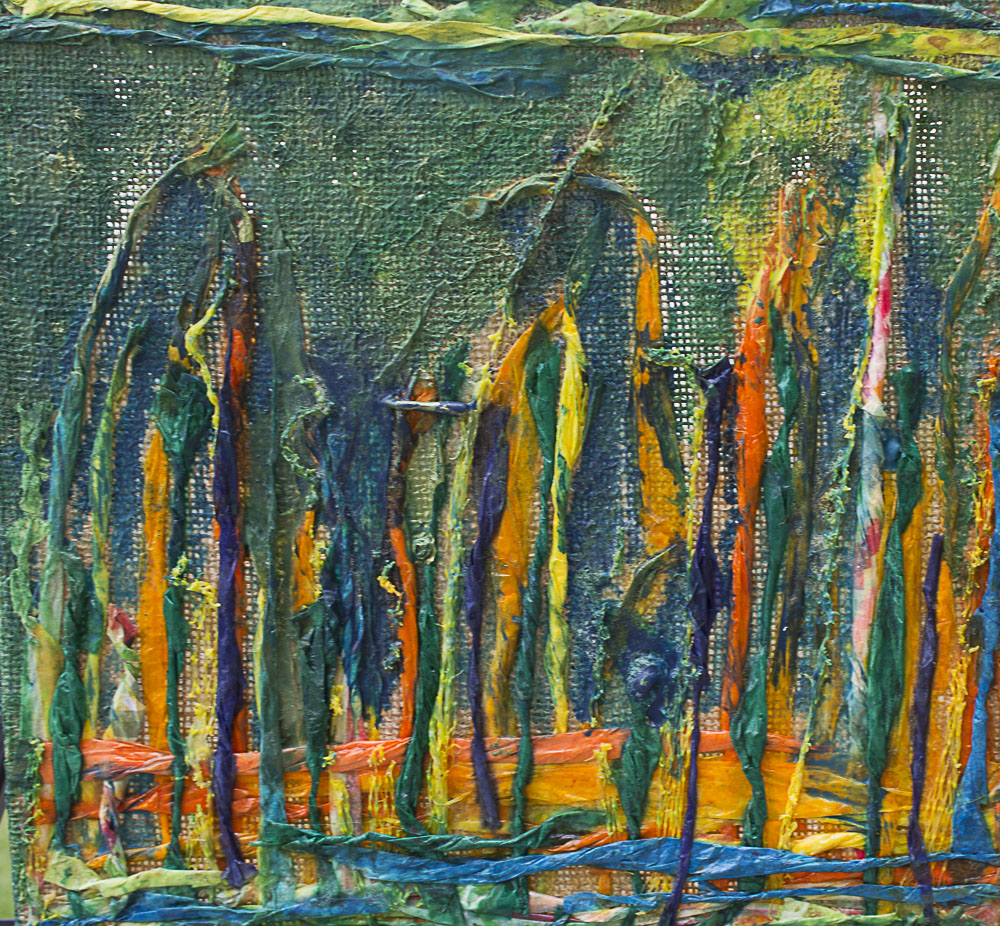 Set Ashore
12x12 traditional burlap canvas
"Immediately He called them, and they left their father, Zebedee in the boat with the hired servants, and went away to follow Him." Mark 1:20.
Materials:
Burlap canvas; tissue papers applied with mod podge, crayon wax melted, acrylic paints in blues and greens, Clear Wax by ArtMinds.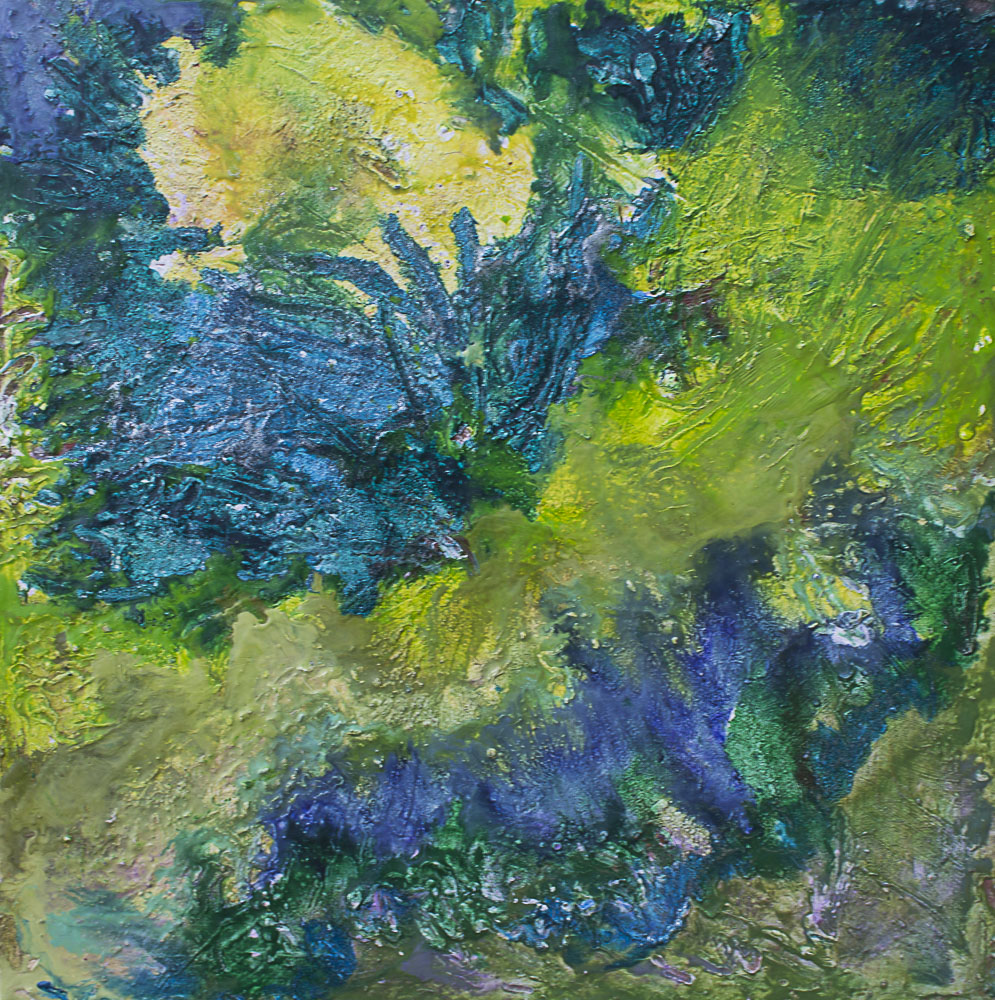 Set Free
12x12 Canvas Panel, Encaustic
"In my anguish I cried out to the Lord and He answered me by setting my free." Psalm 118:5.
I am thankful for all the times the Lord has set me free from my personal prisons and situations in my life.
Made using heated crayon wax. Encaustic gesso base.
Shalom
12x12 Canvas, Encaustic (Gifted)
"And the peace of God which transcends all understanding, will guard your hearts and and your minds in Christ Jesus." Philippians 4:7
Mothers Day Gift…she loves real gardenias!
Materials: Heated wax from Crayola crayons, oil pastels, silk gardenias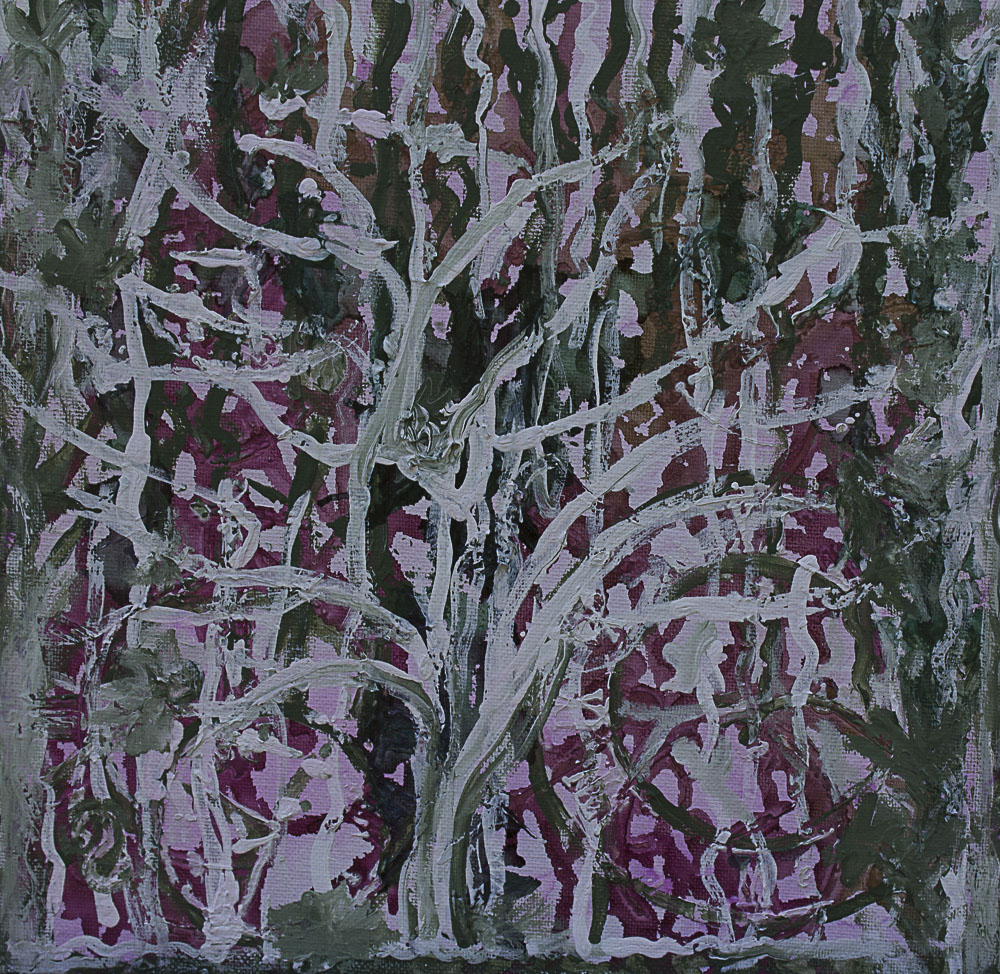 Sheva
12x12 canvas panel, mixedmedia acrylic/alcohol ink
"For I know the plans I have for you, says the Lord, plans for good and not for disaster; to give you a hope and a future." Jeremiah 29:11.
The name Sheva is Hebrew for "promise" or "oath."
Materials: Acrylics, alcohol inks, stencil used with texture paste.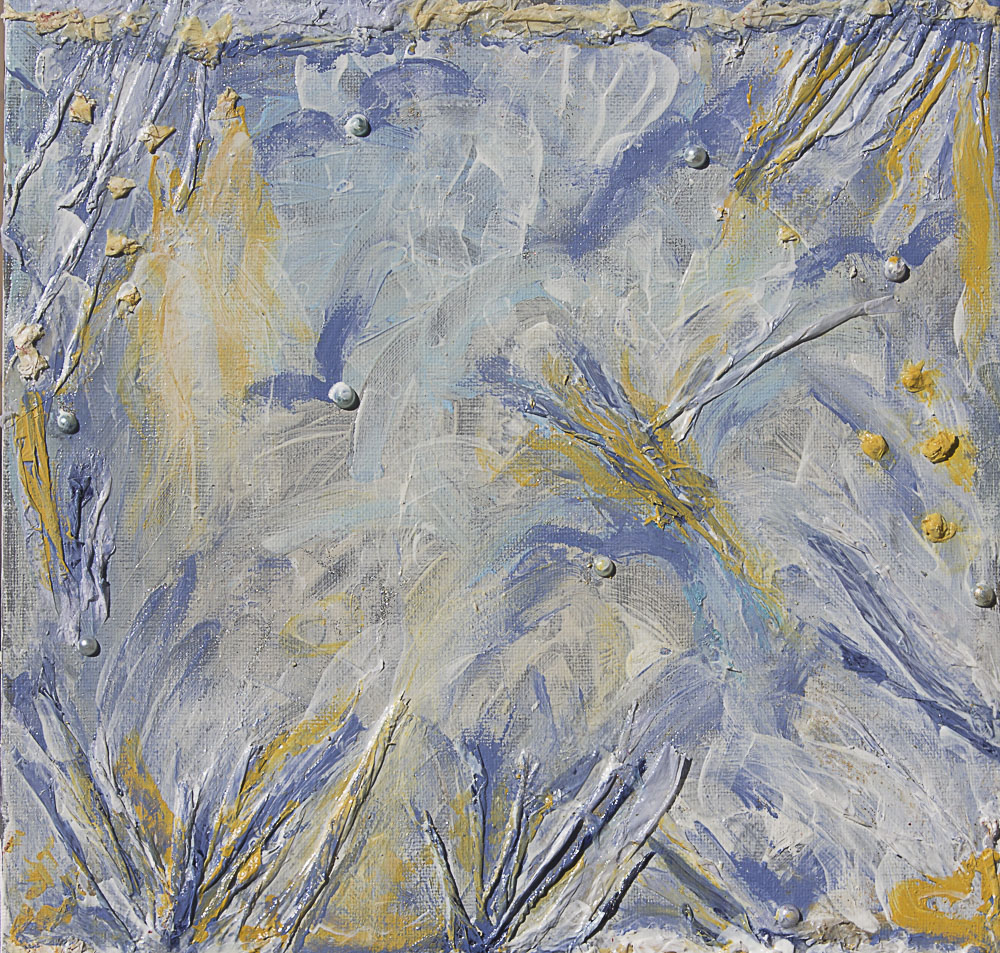 Snow Messenger
12x12 Canvas Panel (Original Sold) Mixedmedia Abstract
Proverbs 25:11-13
"Like the cold of snow in time of harvest is a faithful messenger to those who send him, for her refreshes the soul of his masters." (v.
Materials: Colors in acrylic and fabric paints; Texture with tissue papers; pearl bling; varnish added to keep clean and protect.
Son of Man
12x12 Canvas Panel, Mixedmedia Encaustic/Oil
"Now when the centurion, and they that were with him, watching Jesus, saw the earthquake, and those things that were done, they feared greatly, saying, 'Truly, this was the Son of God." (Matthew 27:54)
"Son of man" is the translation of one Hebrew and one Aramaic phrase used in the Hebrew Bible…As generally interpreted by Jews, 'son of man' denotes mankind generally in contrast to deity or godhead, with special reference to their weakness and frailty. (Son of man (Judaism) - Wikipedia.
Star of Jacob
12x12 Canvas Panel, Mixedmedia Pastels
"I see him, but not now; I behold him, but not near; a star shall come forth from Jacob; a sceptor from Israel, and shall crush through the forehead of Moab, and tear down all the sons of Sheth." Numbers 24:17.
This piece was inspired by the story of the Christmas star.
Materials: Strips of teabags colored in blue and green oil pastels. Melted oil pastels with heat embossing gun and paintbrushes. Encaustic gesso used for base.
Sun Garden
12x12 Canvas Panel, Mixedmedia Landscape Abstract Encaustic
"He thrives before the sun, and his shoots spread out over his garden." Job 8:16
Layered tissue papers, feathers, balls of yarn, fabric petals, purple weaving strips and crayon wax.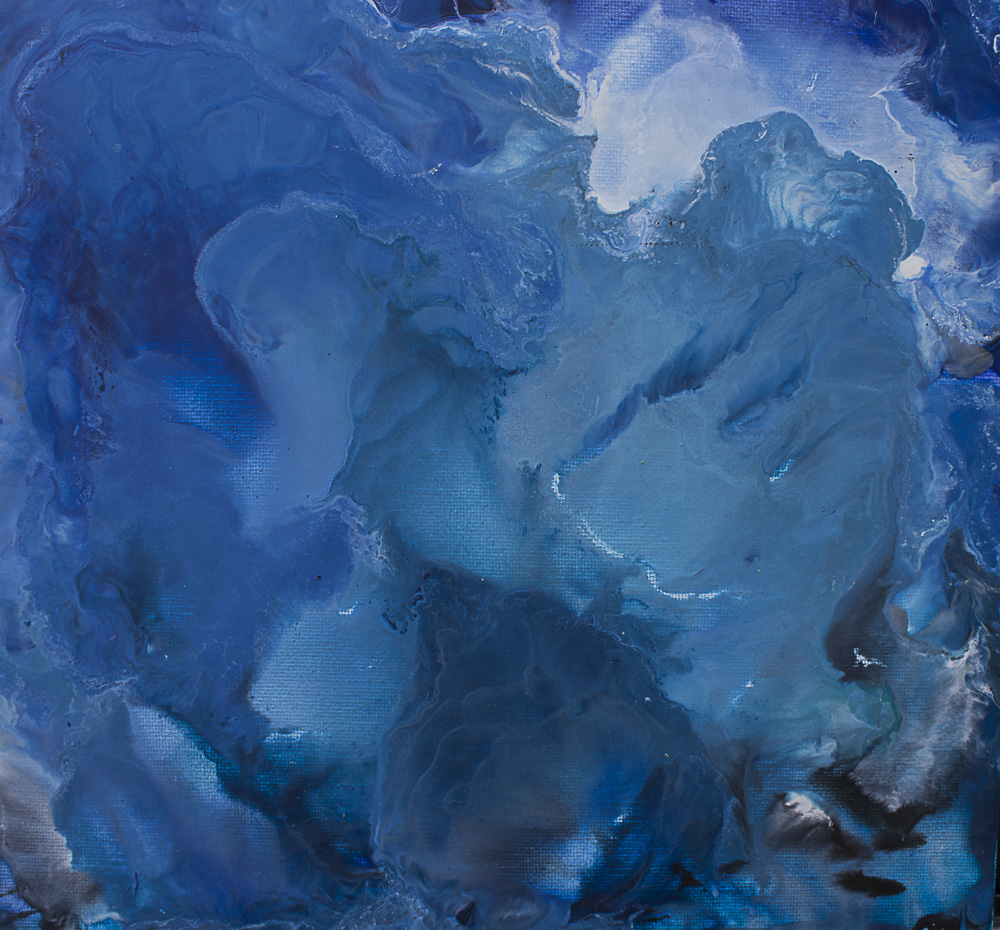 The Firmament
12x12 Canvas Panel, Encaustic (Sold)
"In the beginning God created the heavens and the earth. And the earth was formless and void, and darkness was over the surface of the deep; and the Spirit of God was moving over the surface of the waters." Genesis 1:1-2
Encaustic -Crayon by Crayola
Prints available….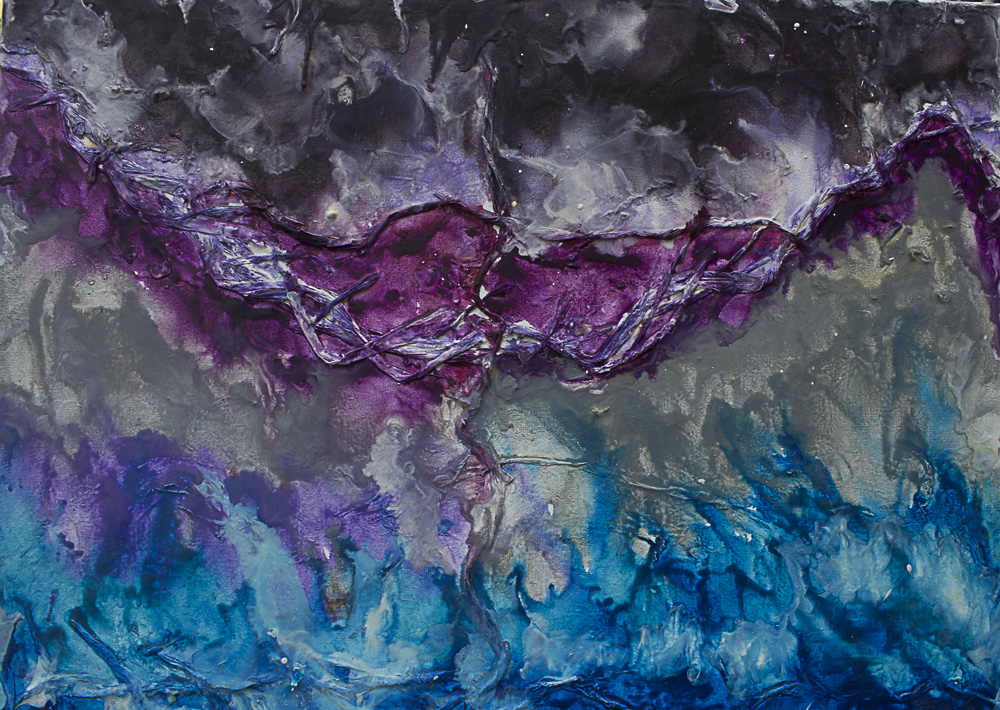 The Hunt
16x20 Traditional Canvas, Mixedmedia Encaustic
"I will bless her with abundant provisions; her poor I will satisfy with food. I will clothe her priests with salvation, and her faithful people will ever sing for joy." Psalm 132:15-16 (NIV).
Also available in print in smaller sizes….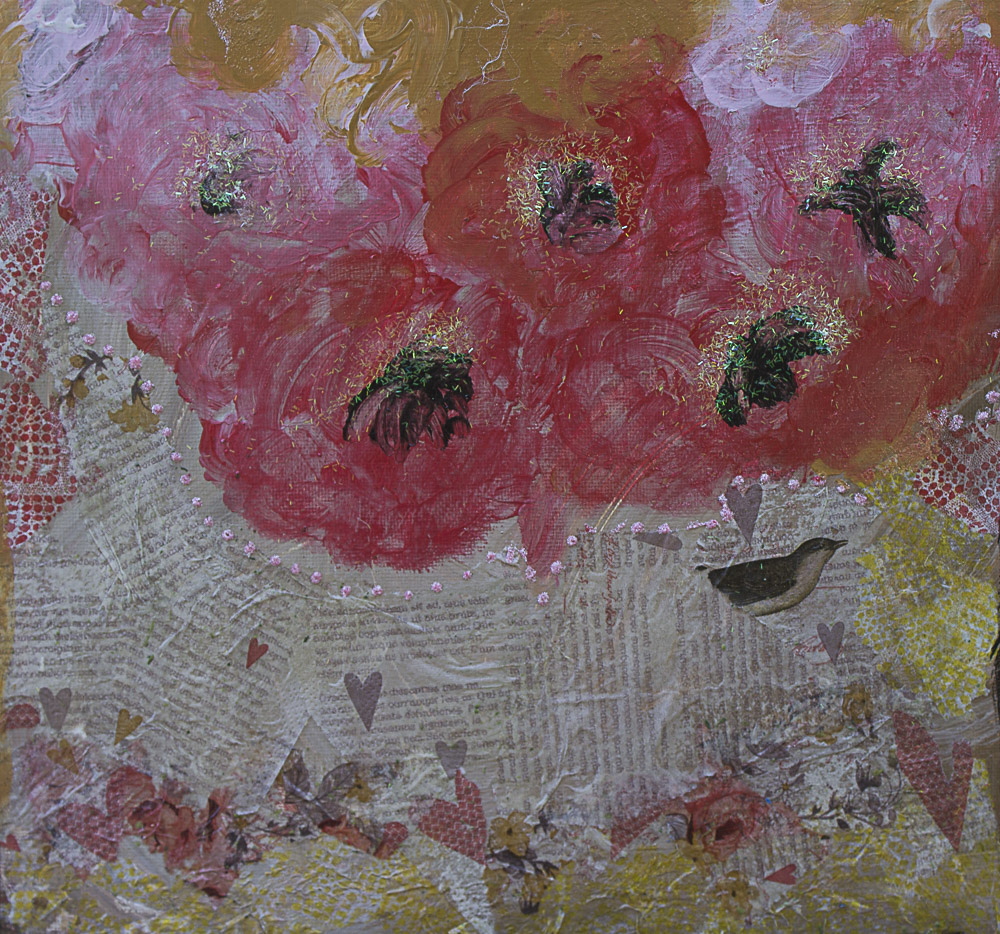 Letters
12x12 Canavas Panel, Mixedmedia Acrylic
"You show that you are a letter from Christ, the result of our ministry, written not with ink, but with the Spirit of the Living God, not on tablets of stone but on tablets of human hearts." (2 Corinthians 3:3).
A life is a letter in the public's eye, a testimony, a story to be told, to be shared, to be witnessed.
Materials: Napkin Tissue paper, acrylic paints, stickles, glitter….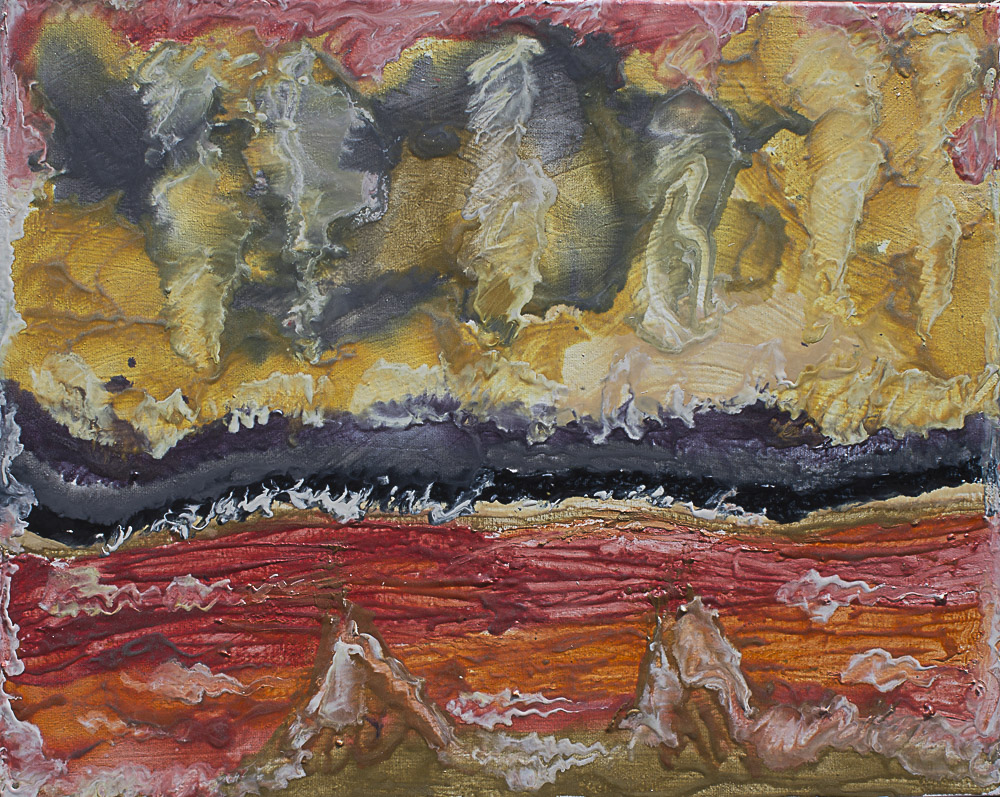 The Charge
16x20 Traditional Canvas, Mixedmedia Encaustic (Gifted)
"Plans are established by seeking advice; so if you wage war, obtain guidance." Proverbs 20:18.
Know thine adversary….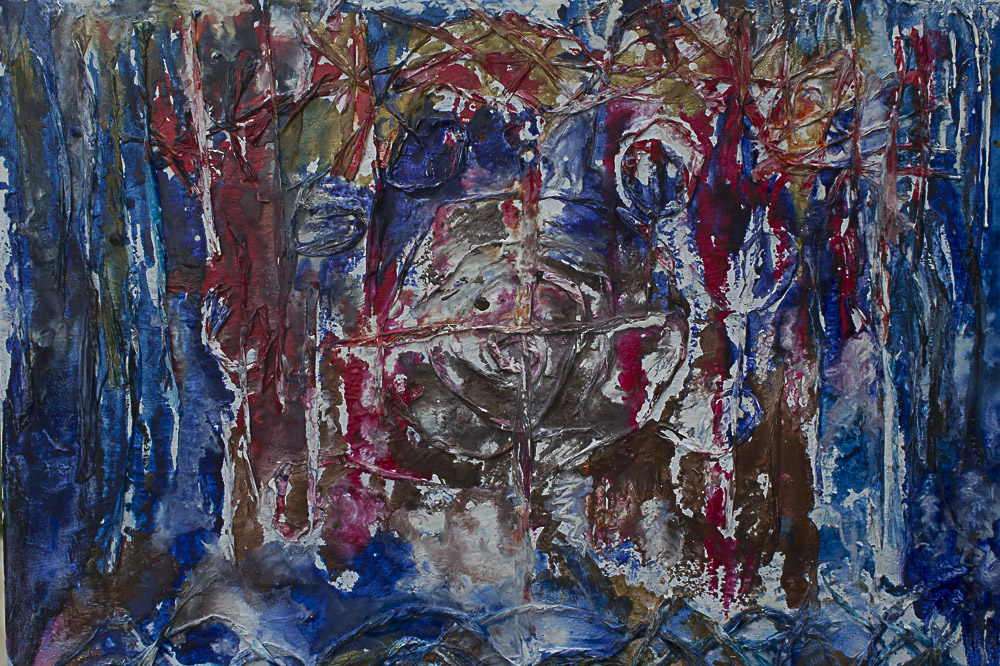 The Only Begotten
18x24 Traditional Canvas, Encaustic
"For God so loved the world that He gave His only begotten son, that whosoever believes in him shall not perish but have everlasting life." - John 3:16.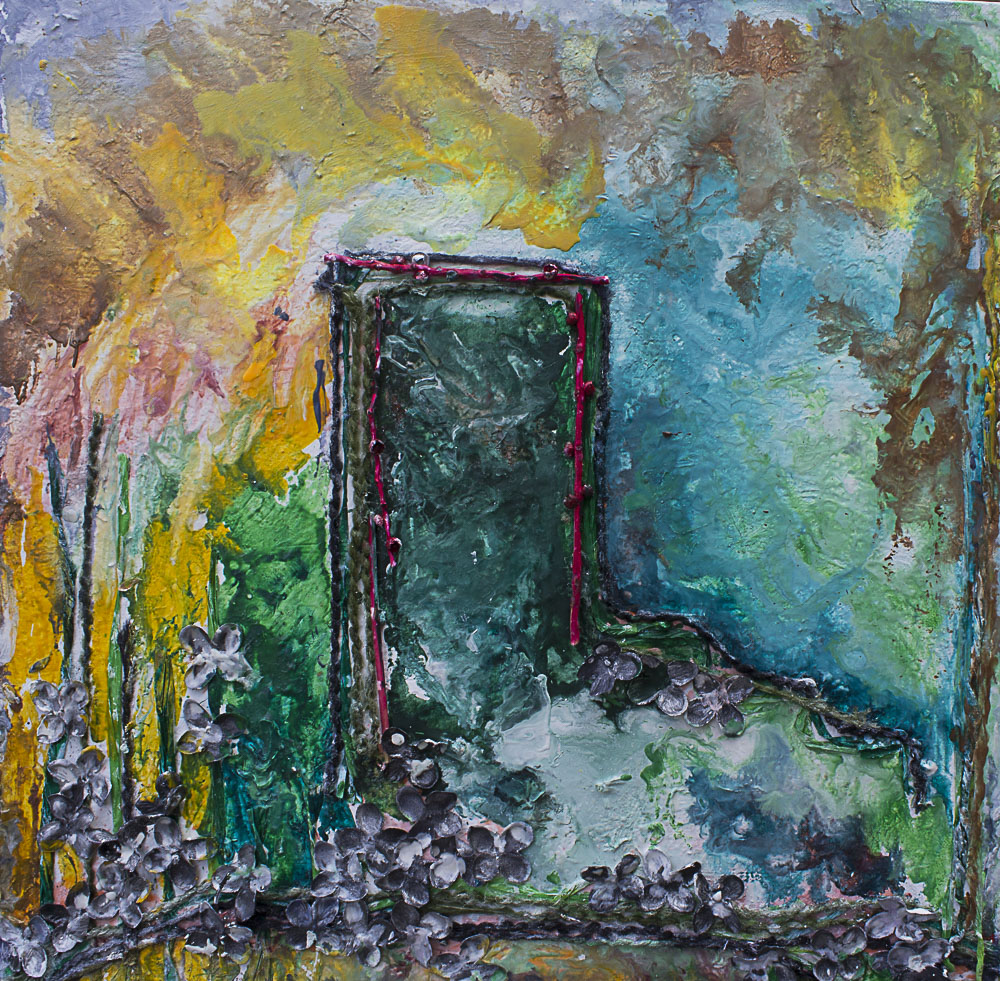 The Open Door
20x20 Traditional Canvas, Encaustic
"For everyone who asks, receives, and he who seeks finds, and to him who knocks, it will be opened." (Matthew 7:8)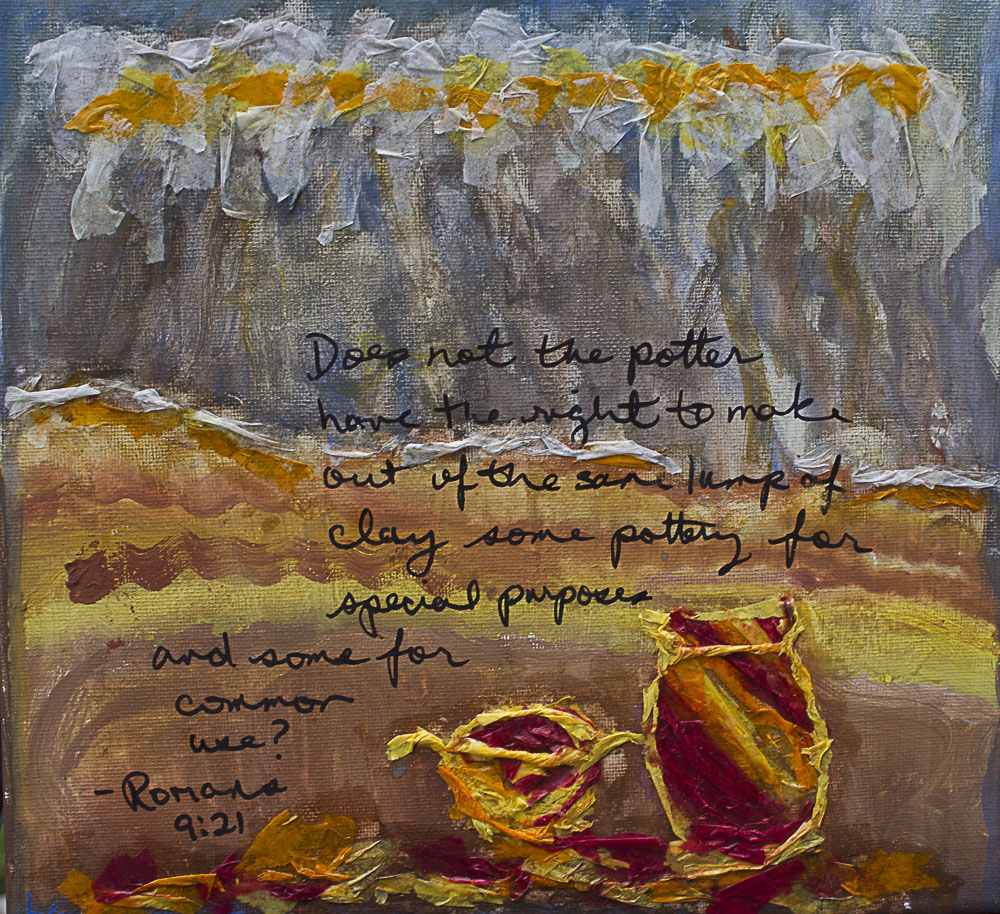 The Potter
12x12 Traditional Canvas, Mixedmedia Acrylic
"Does not the potter have the right to make out of the same lump of clay some pottery for special purposes and some for common use?" Romans 9:21.
Materials: Acrylic paints in blues, yellows, and oranges. Tissue papers used for pottery and waterfall effect. Journaling in black.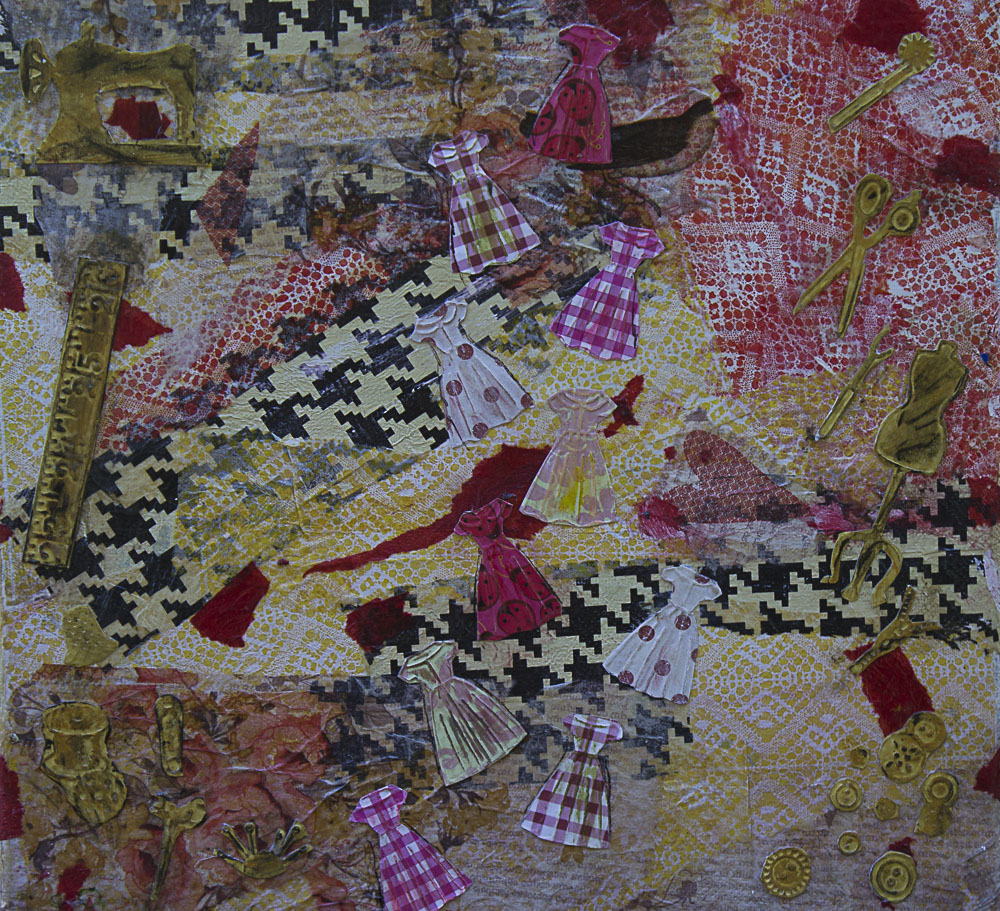 Threadline
12x12 Traditional Canvas, Mixedmedia Collage
"A time to tear apart and a time to sew together; a time to be silent and a time to speak." Ecclesiastes 3:7.
Materials:
Napkin tissues used in the background. Embossing patterns by Sizzix embossed and cut out and arranged. Touched up with Castell gelato sticks.
Sealed with Mod Podge.
Through the Wasteland
12x12 Canvas Panel, Mixed media acylic
"He found him in a desert land, and in the howling waste of a wilderness; He encircled him, He cared for him, He guarded him as the pupil of His eye." Deuteronomy 32:10.
Materials: Texture paste and stencil; alcohol inks by adhirondack, and Faber-Castell Metallic gelato sticks.
The reference to wilderness or wasteland can signify "the state of the sinner or lost person." It is God who seeks after people, not the other way around. We are so unaware of how much God cares about our every need. You may meet the Lord in His house, but He is there with you on the road as well.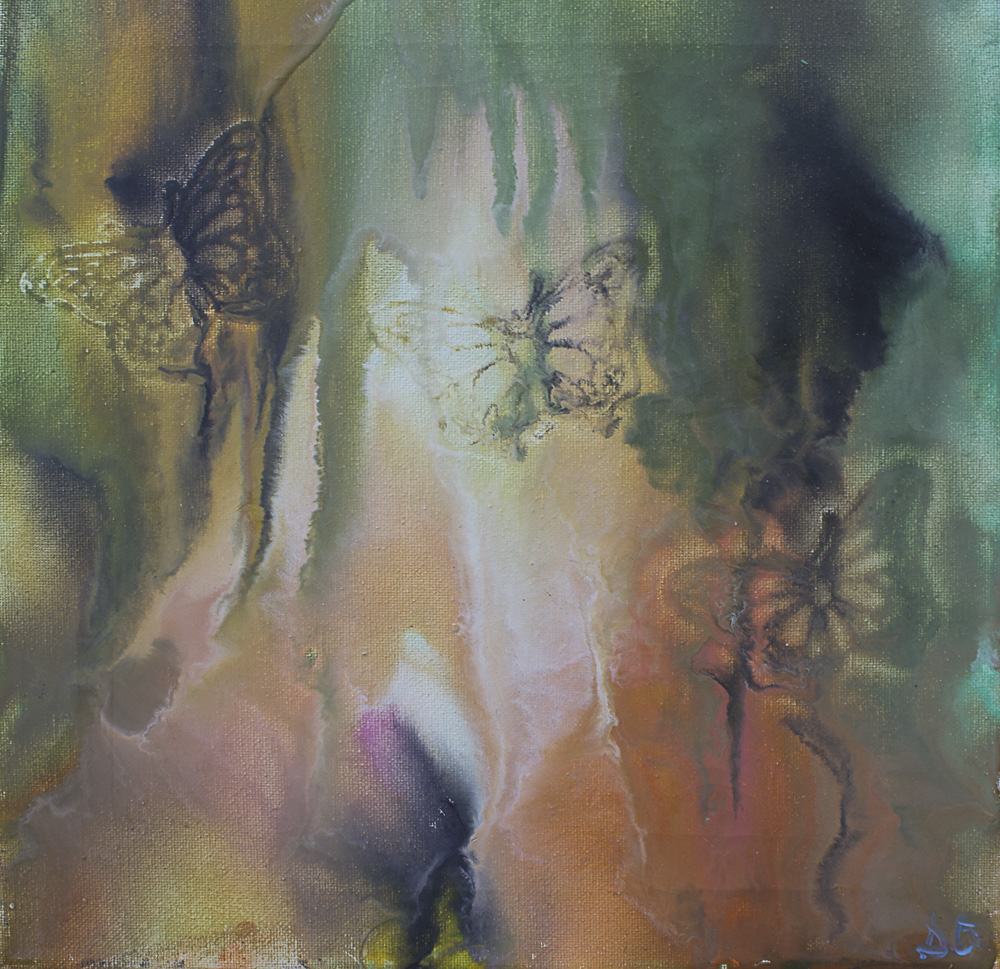 The Transformation
12x12 Traditional Canvas, Encaustic (Sold) Prints Available
"Do not conform to the pattern of this world but be transformed by the renewing of your mind. Then you will be able to test and approve what God's will is - his good, pleasing and perfect will."
Materials: Crayon wax and Brass template butterflies by Art C. Tool used was an embossing heat gun.
Again, prints are available…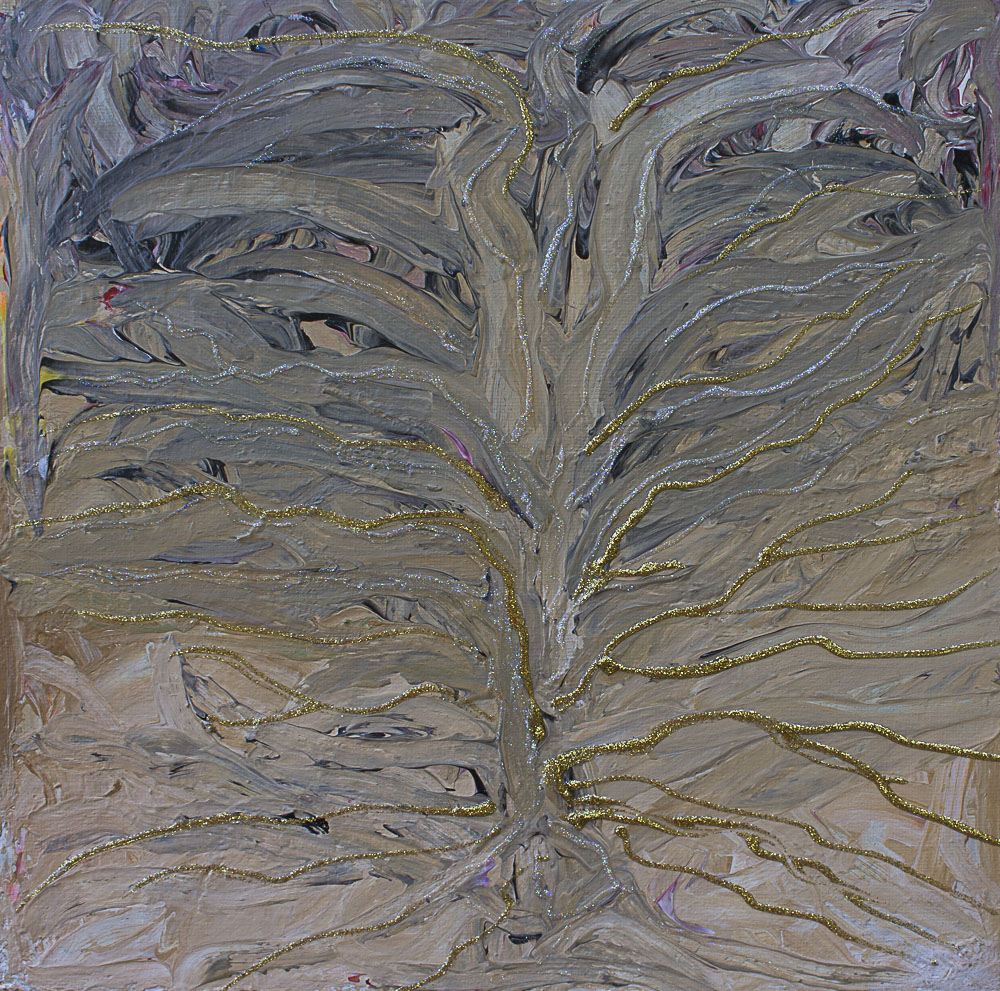 Tu B'Shevat
12x12 Canvas Panel, Mixedmedia Acrylic
"They shall not build, and another inhabit; they shall not plant, and another eat: for as eh days of a tree are the days of my people, and mine elect shall long enjoy the work of their hands." (Isaiah 65:23)
Tu B'Shevat is a celebration in Israel of trees, kind of like Arbor Day in the USA.
Materials: Paints in acrylic and Scribble Pop 3D; fingerpainting technique.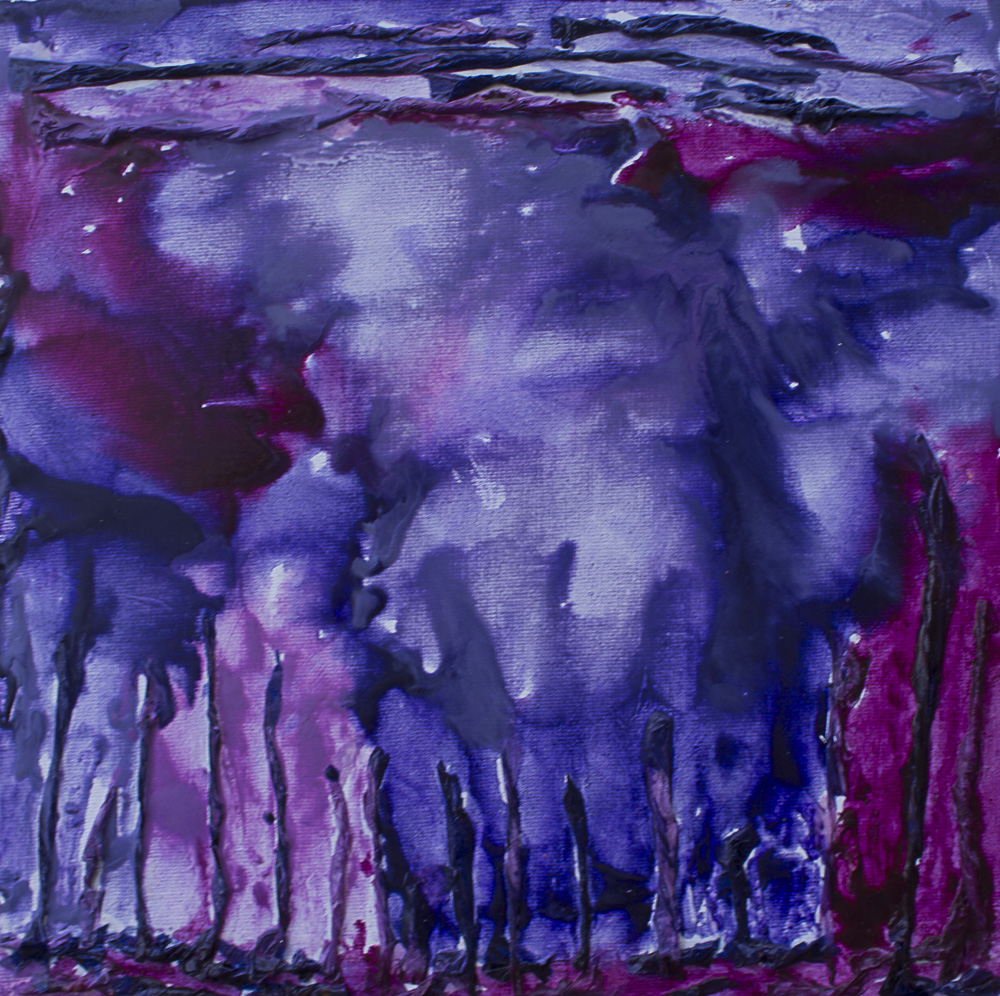 Twilight
12x12 Canvas Panel, Encaustic
"When Aaron trims the lamps at twilight he shall burn incense. There shall be perpetual incense before the Lord throughout your generations,." Exodus 30:8.
Material: Tissue papers and Crayon wax
Two Cute Girls
12x12 Traditional Canvas, Mixedmedia Acrylic (Gifted)
"Don't let anyone look down on you because you are young, but set an example for the believers in speech, in conduct, in love, in faith and in purity." 1 Timothy 4:12
Materials: acrylic paints, yarn, cloth, paper
Available in prints….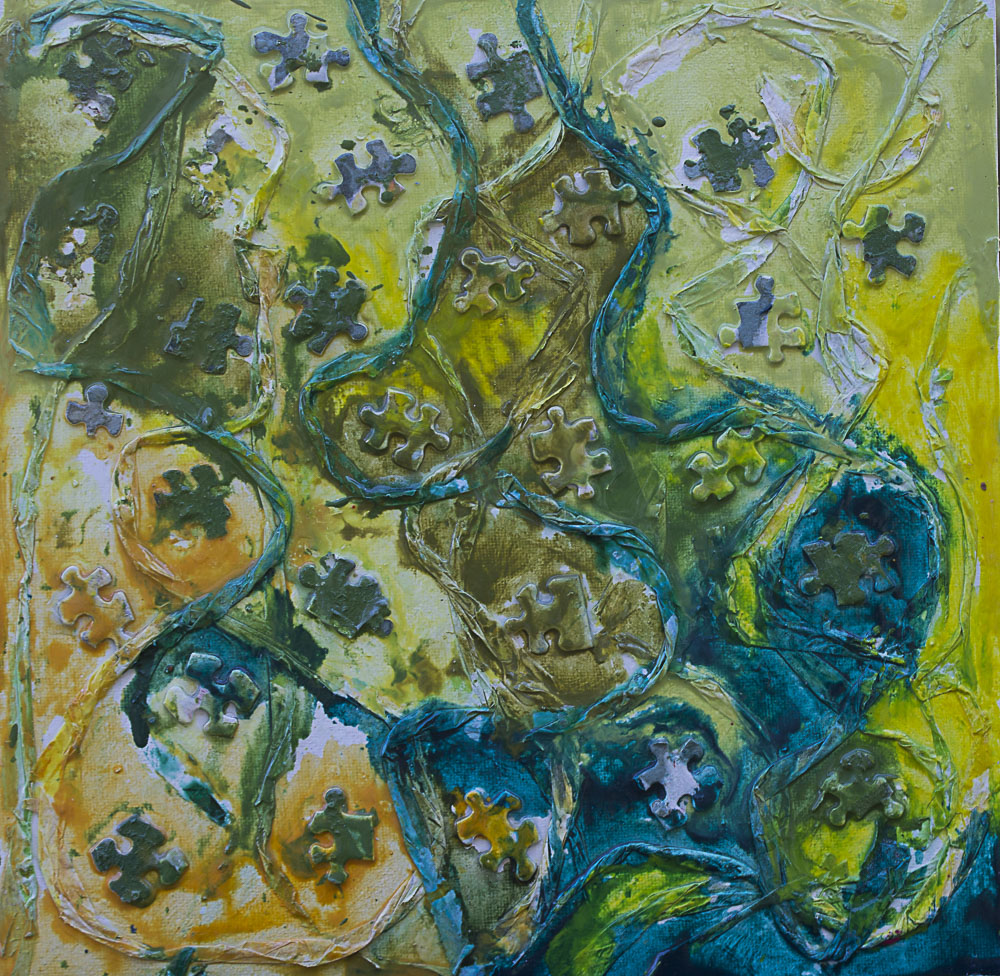 Uncommon Paths
12x12 Canvas Panel, (Mixedmedia Encaustic)
"The wind blows wherever it pleases. You hear its sound, but you cannot tell where it comes from or where it is going. So it is with everyone born of the Spirit." John 3:8
In honor of National Autism Awareness Month and its spectrum.
Materials: Crayon Wax and puzzle pieces….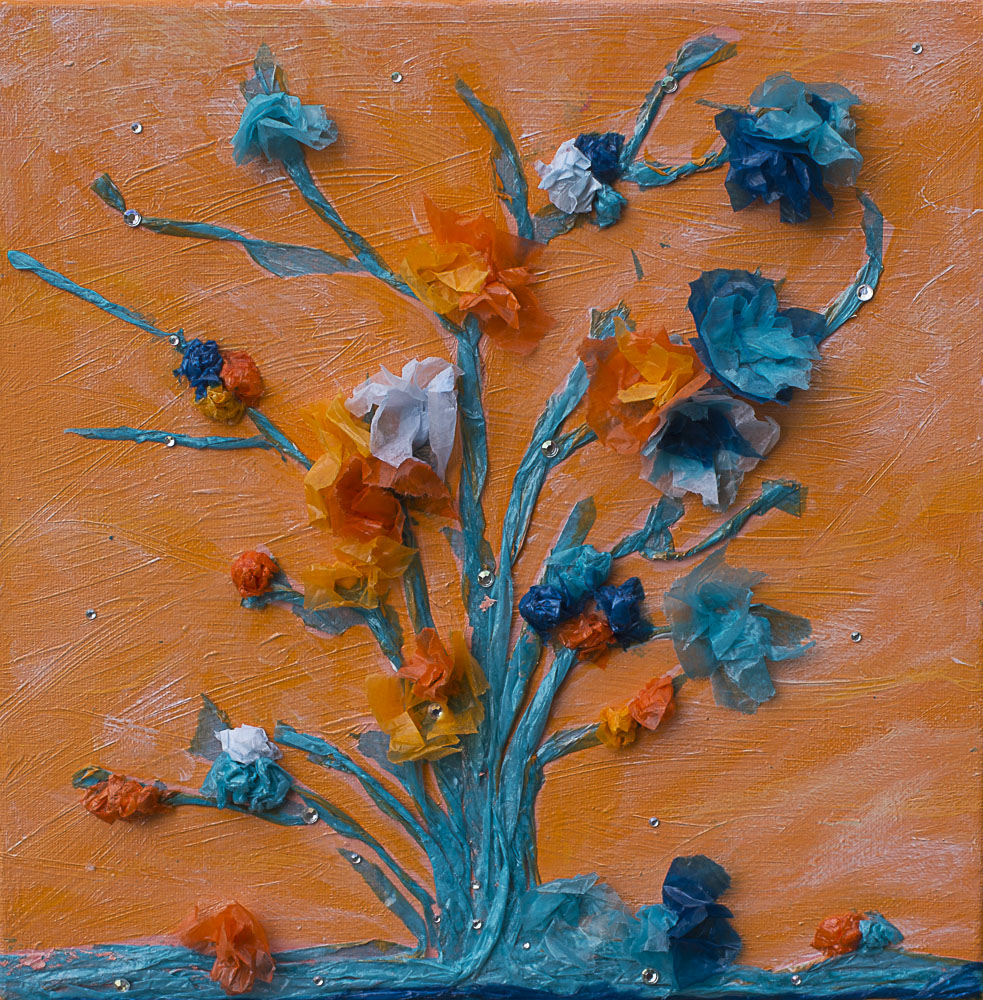 Unquenchable
12x12 Traditional Canvas, Mixedmedia Acrylic (Sold - Commission)
"Many waters cannot quench love; rivers cannot sweep it away. If one were to give all the wealth of one's house for love, it would be utterly scorned." Song of Solomon 8:7.
This was a commissioned artwork.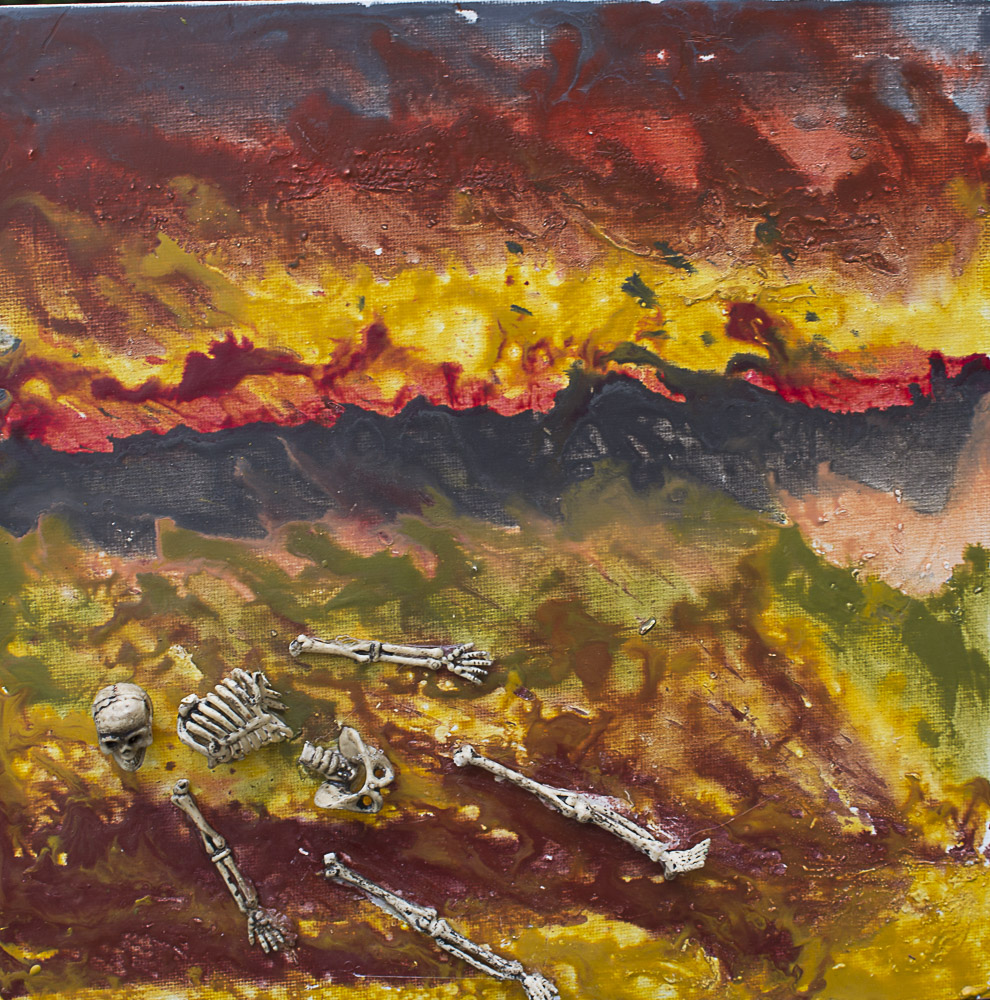 Valley of the Dry Bones
12x12 Canvas Panel, Mixedmedia Encaustic
Ezekiel 37:1-14
"This is what the Sovereign Lord says to these bones: I will make breath enter you, and you will come to life." Ezekiel 37:5
Materials: Crayon wax by Crayola; Skeleton bones by Ashland.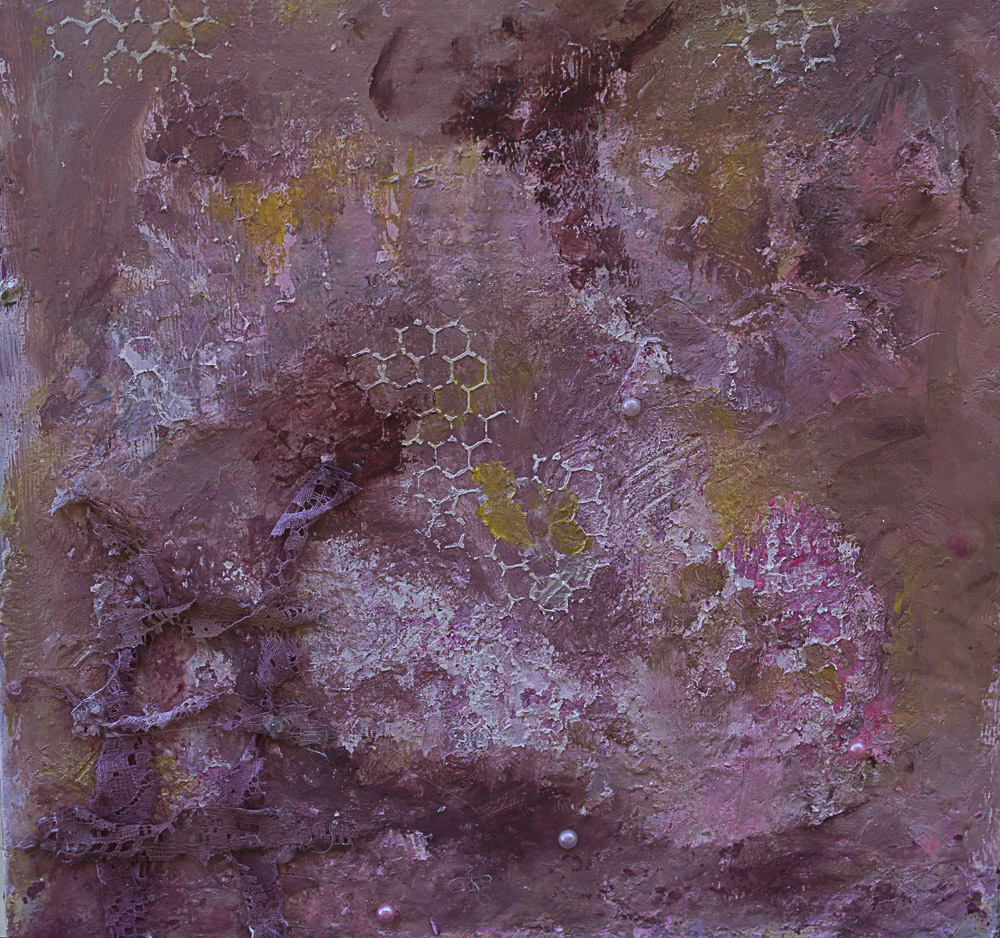 Virtuous Woman
12x12 Canvas Panel, Mixedmedia Acrylic
"An excellent wife who can find? She is far more precious than jewels. The heart of her husband trusts in her, and he will have no lack of gain. She does him good, and not harm, all the days of her life. She seeks wool and flax, and works with willing hands. She is like the ships of the merchant; she brings food from afar…(Proverbs 31:10-31).
"The wisest of women builds her house, but folly with her own hands tears it down." (Proverbs 14:1)
"House and wealth are inherited from fathers, but a prudent wife is from the Lord." (Proverbs 19:14)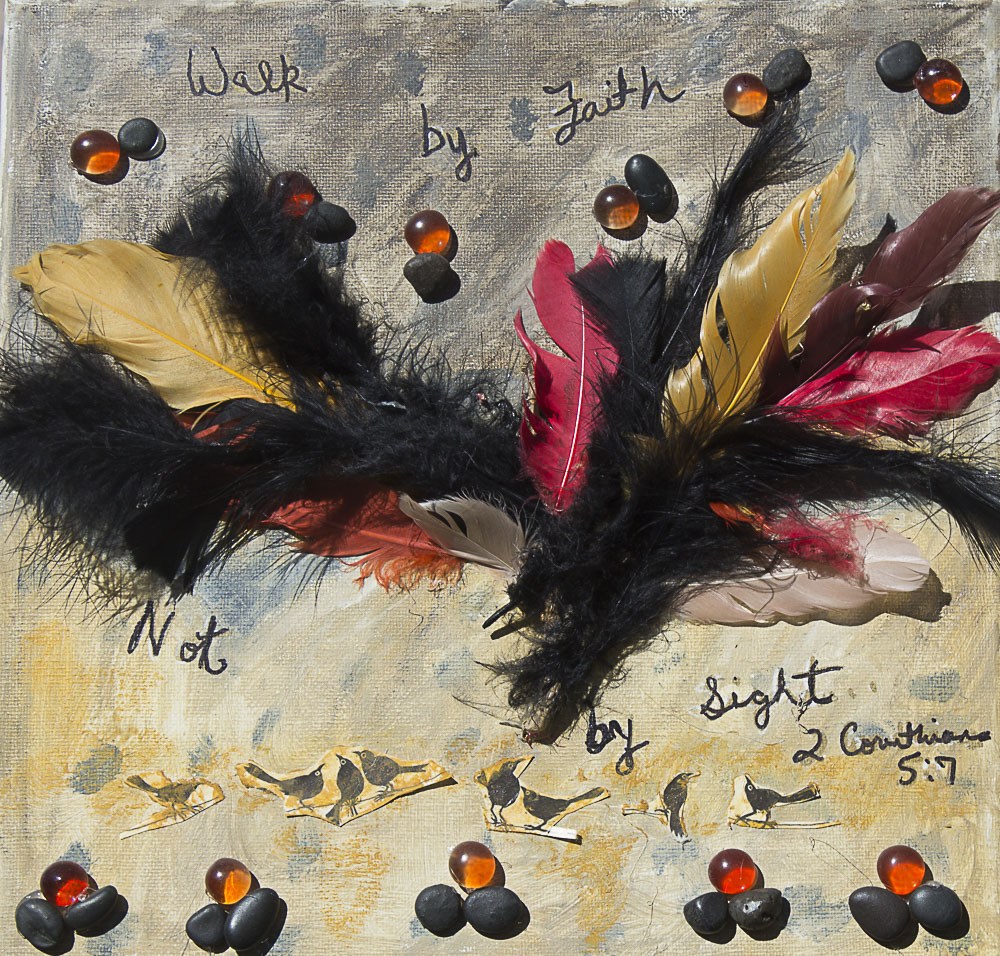 Walk by Faith
12x12 Canvas; Mixedmedia Acrylic
(only available in a print.)
"For we walk by faith, not by sight." (2 Corinthians 5:7)
This piece was inspired by a dream or nightmare I felt driven to figure out.
Materials for the original: Acrylic paint in greys, browns, and creams. Gem Stones (Ashley), in black and fiery orange red. Feathers in black, yellow, red, orange and white arranged over a tree branch. Blackbirds clipart and verse in black marker.
Watched Over
12x12 traditional canvas, mixedmedia acrylic/ink
(Original is a gift for my grandfather).
"The Lord keeps watch over you as you come and go, now and forevermore." Psalm 121:8
"So do not fear, for I am with you; do not be dismayed, for I am your God. I will strengthen you and help you; I will uphold you with my righteous right hand." Isaiah 41:10
Bad circumstances do not make you bad. They do not mean God has abandoned you. He promised to be with us in everything.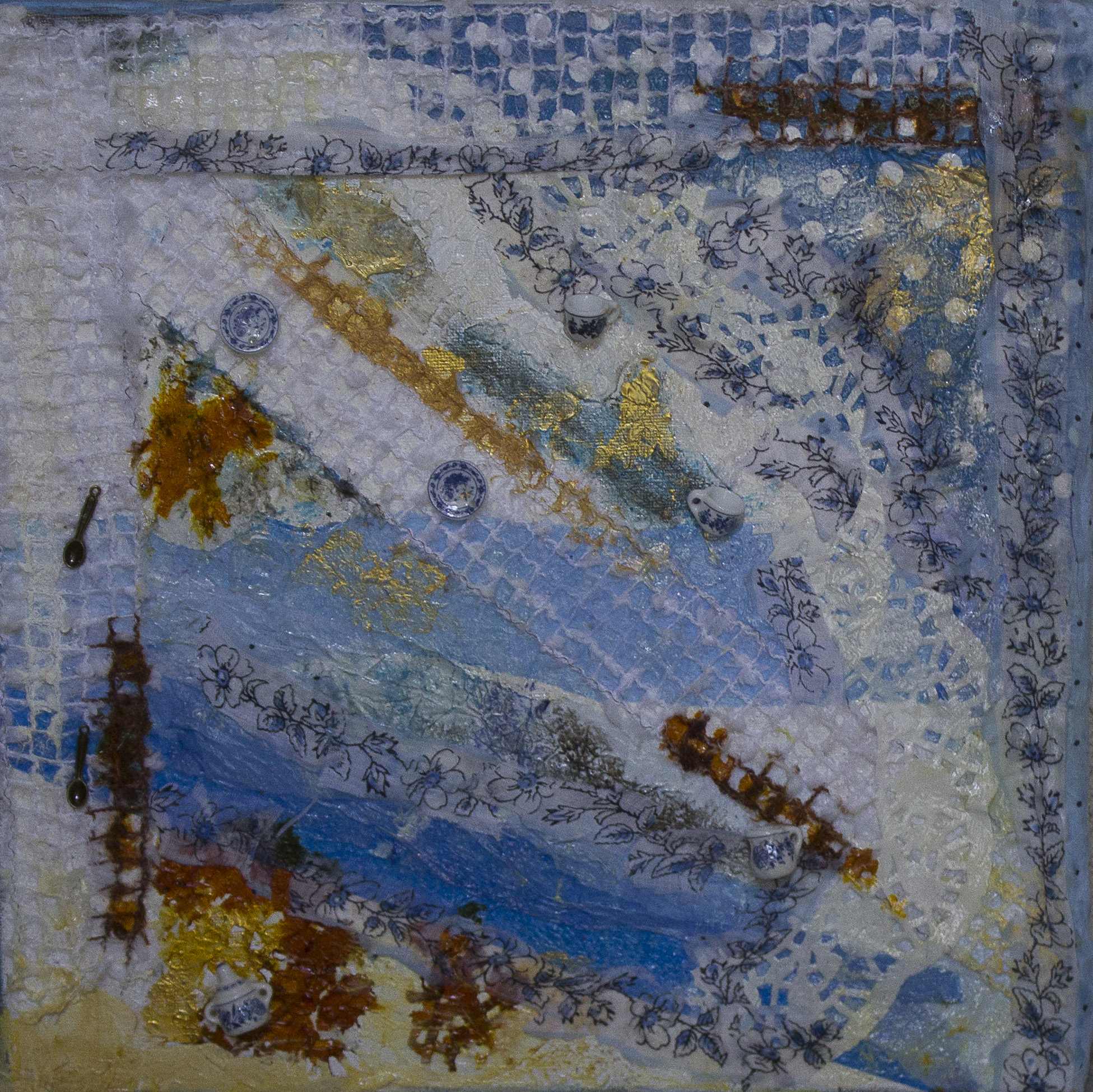 Wherever the River Goes
12x12 Mixedmedia Collage
"And wherever the river goes, every living creature that swarms will live, and there will be very many fish. For this water goes there, that the waters of the sea may become fresh; so everything will live where the rivers goes…..Ezekiel 47:9
"Whoever believes in me, as the Scripture has said, 'Out of his heart will flow rivers of living water.'" Now this he said about the Spirit, whom those who believed in him were to receive, for as yet the Spirit had not been given, because Jesus was not yet glorified." (John 7:38-39)
Wonders in the Woodland
12x12 Mixedmedia Watercolor
"Shepherd Your people with Your scepter, the flock of your possession which dwells by itself in the woodland, in the midst of a fruitful field. Let them feed in Bashan and Gilead, as in the days of old." (Micah 7:14) It is for Israel that Micah asks of God to be merciful. Even while in the midst of judgment, the Lord still cares for their needs, just as the way He would care for any of His children.
"Know this well, then. Take it to heart right now; God is in Heaven above; God is on Earth below. He's the only God there is."(Deuteronomy 4:39)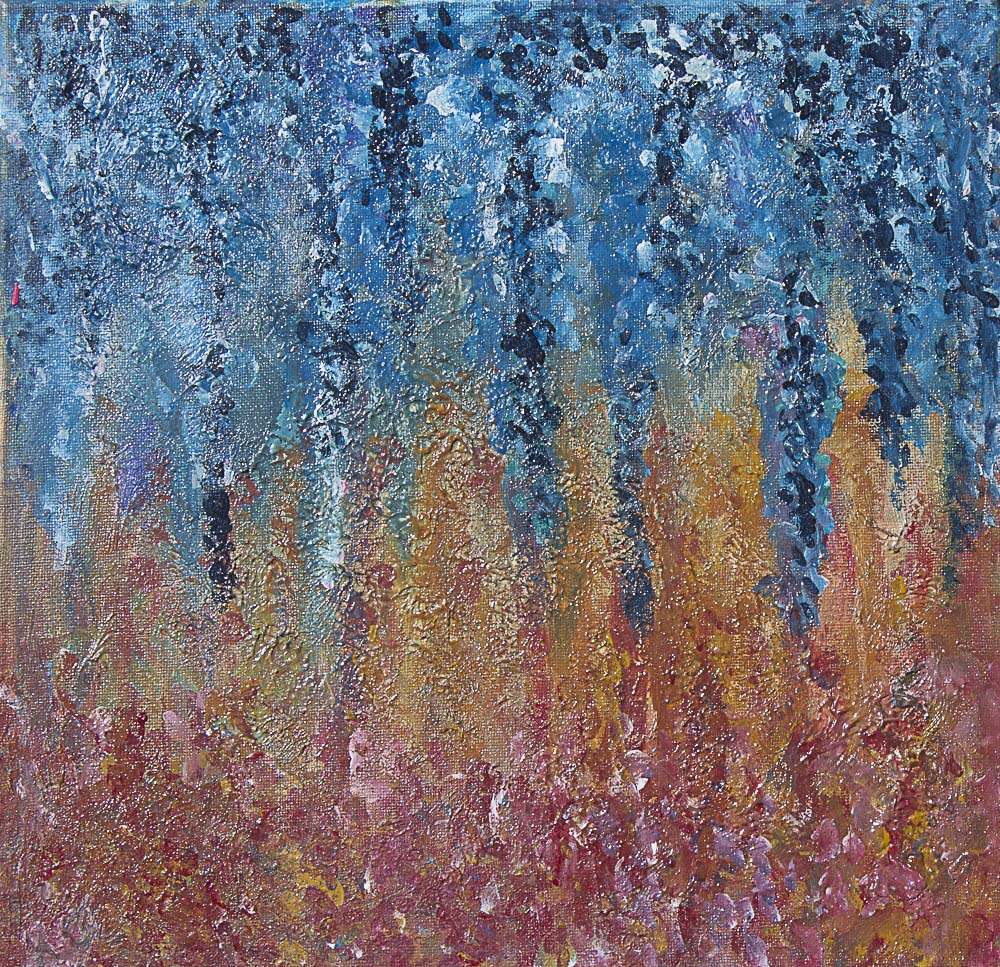 Yielded
12x12 Gouache (Sold)
"For there will be peace for the seed: the vine will yield its fruit, the land will yield its produce and the heavens will give their dew. And I will cause a remnant of these people to inherit all these things." (Zechariah 8:12).
All that I have or am able to do well comes from the Lord God. The rain and the sun comes to me with purpose.
Materials: Gouache is an opaque type of watercolor.
Sanctuary
16x20 Canvas, Mixed Media Encaustic, Gifted
"For since the creation of the world God's invisible qualities - his eternal power and divine nature - have been clearly seen, being understood from what has been made, so that people are without excuse." Romans 1:20
The natural world is a testament to our Creator. Out of nothing all this was created. That spirit of creativity is thus also part of mankind.
The original was a birthday gift for my mother.
Materials: Crayon wax, silk flowers, encaustic gesso, gel medium, and clear varnish.
Hadda 'at (the knowledge)
16x20 Mixedmedia Acrylic
"But as for you, Daniel, conceal these words and seal up the book until the end of time; many will go back and forth, and knowledge will increase." Daniel 12:4 (NASB)./ In the end days knowledge will increase exponentially. At the same time the knowledge of God may be decreasing. Some consider the verse (Daniel 12:4) as referring to the eyes of the reader running "to and fro" in reading the Word of God. (2 Chronicles 16:9). There is a secondary meaning some hold to that many will study the prophetic Word and knowledge of it will increase in the Great Tribulation.' (http://prophecyforum.com/run.html.)
Materials: Inks and Acrylics, home-made texture paste and stencils
Line in the Sand
16x20 Canvas Panel, Mixedmedia Encaustic
"To the angel of the church in Laodicea write….'I know your deeds, that you are neither cold nor hot. I wish you were either one or the other! So, because you are lukewarm — neither hot nor cold — I am about to spit you out of my mouth." (Revelation 3:15-17).
2 Timothy says, "having a form of godliness but denying its power therof…from such turn away."
America has been referred to as a sleeping giant in the past. Is the Church here asleep? We need to wake up. We need to keep watch. We need to share, no matter who or what takes offense at us. Beach weather can be balmy, which is also to say it is pleasantly warm and breezy, to lull one to sleep. It is a word that also means crazy or foolish. G.A. Parks once quipped, "the whole country has gone slightly balmy."
Joseph's Angel
16x20 Traditional Canvas, Mixedmedia Encaustic
"Now, when they had gone, behold an angel of the Lord appeared to Joseph in a dream, and said, 'Get up! Take the Child and His mother and flee to Egypt and remain there until I tell you; for Herod is going to search for the Child to destroy Him." The story: At the time an angel instructs Joseph to take his family to Egypt for awhile. Jesus is now 2 years old and the Magi (Astronomers) have just departed. Herod's intent is to kill every child in Belthlehem 2 years of age and younger.
Materials: Feathers, florals; and faux pears. Crayon wax in colors of gold, olive green, mustard yellow, copper, coral and white.
What started out as an idea for the carol, The Twelve Days of Christmas, became totally something else. I left some influences in, though, such as the pears.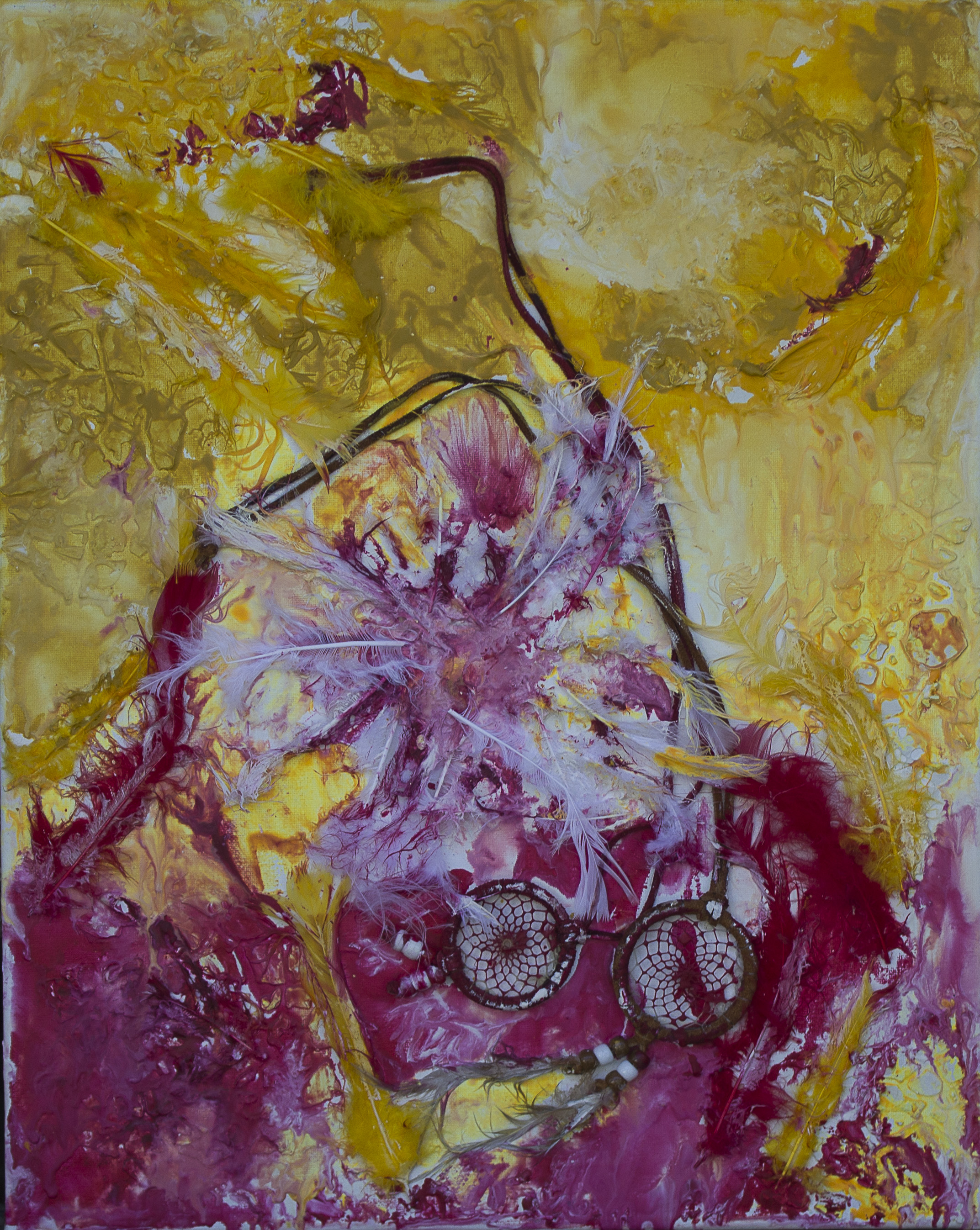 Lev Tahor (A Pure Heart)
16x20 Mixedmedia Encaustic
lev - tahor be-ra-li E-lo-him,
veruach - nakhon - cha-desh - be-kir-bi "Create for me a pure heart, O God, and renew a right spirit within me" (Psalm 55:10)
Also, in Acts 10:9-23, in a vision, Peter is admonished not to call impure or unclean what God has called clean.
And they sang a new song, saying, "Worthy are You to take the book and to break its seals; for You were slain, and purchased for God with Your blood men from every tribe and tongue and people and nation." (Revelation 5:9)
Materials: Feathers, miniature dream catchers, crayon wax.
Call of Wisdom: A Personification
16x20 Canvas Panel, Mixedmedia Collage
Proverbs 1:20-33
"Wisdom calls aloud outside; She raises her voice in the open squares. She cries out in the chief concourses, at the openings of the gates in the city She speaks her words: "How long, you simple ones, will you love simplicity? For scorners delight in their scorning, and fools hate knowledge. Turn at my rebuke; Surely I will pour out my spirit on you; I will make my words known to you…." (Proverbs 1:20-23).
Materials: Feathers, threads, ribbons, tissues, and gems.